Animal Plug Covers
Animal Plugs: Kid Friendly or Are You Kidding?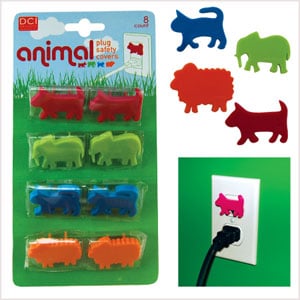 There's something about an electrical outlet that just gets the best of an infant's curiosity. As soon as they are able to crawl around, tots want to know what's up with those slots in the walls.
Most parents plug them up with the standard clear outlet covers, while some opt for tape. The folks at Decor Craft Inc. chose to liven up the options with these whimsical animal plug safety covers. Adults can keep their wee ones' fingers safe with a red dog, blue cat, orange sheep, or green elephant.
Here's my question — are they too alluring, to the point of harm where a child may be more inquisitive than usual?