Annabel Karmel Food Tips For Kids
Annabel Karmel: Appropriate Food Portions For Children
Editor's note: The following is a guest post written by Annabel Karmel, the British children's chef and kiddie cookbook author. This week Annabel shares tips for ensuring lil ones get enough to eat throughout the day!
There is no definitive guide to portion sizes for tots. Babies' appetites vary for many reasons, so it is important to be flexible and not to worry if some days they don't eat very much. A baby's appetite may increase during a growth spurt and they may eat less when cutting teeth as the gums can be very sore.
Generally tots will tell you when they have had enough as they often stop opening their mouths or they throw food on the floor! Between nine-12 months, babies need to drink 18-21 ounces of breast milk or formula — any more may fill them up so they will not eat as much as they should. Giving the daytime drinks in cups (with teats) is another good way to ensure baby doesn't fill up on fluids but still remains hydrated.
For toddlers it is a good idea to make individual portions in small ramekins or bowls such as mini fish pie. Small versions of your family meal will be appetizing, rather than daunting, for them and will look more attractive than a dollop of food on the plate. You can make several individual portions at a time and then freeze them so you have your own healthy convenience food on hand on days when you don't have time to cook.
To see three of Annabel's perfectly portioned recipes,
.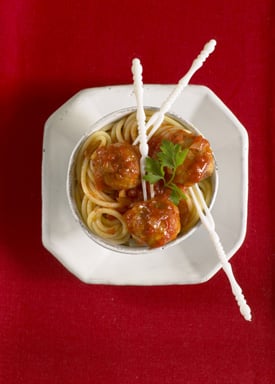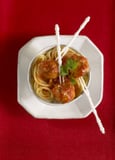 Ingredients
Meatballs
1 tbsp canola oil
1 onion, finely chopped
Half small red bell pepper, diced
1 lb lean ground beef
1 apple, peeled and grated
1 tbsp chopped fresh parsley
1 chicken bouillon cube, finely crumbled
2 tbsp cold water
salt and freshly ground black pepper
all purpose flour, for dusting
2 tbsp canola oil
Tomato Sauce
1 tbsp olive oil
1 medium red onion, finely chopped
1 garlic clove, crushed
Two and two third cups canned chopped tomatoes
1 1/2 tbsp tomato ketchup
One third cup water
salt and freshly ground black pepper, to season
Directions
To make the meatballs, heat 1 tablespoon canola oil in a pan and sauté the onion and bell pepper for about 5 minutes or until softened. Mix together with all the other ingredients for the meatballs and chop for a few seconds in a food processor. Using floured hands, form the mixture into about 20 meatballs. Heat the 2 tbsp canola oil in a frying pan and sauté the meatballs, turning occasionally, for about 5 minutes, until browned and sealed.
Meanwhile, to make the sauce, heat the olive oil and sauté the red onion for 5 minutes. Add the garlic and cook for 1 minute. Add the remaining ingredients and season with salt and pepper. Bring to a simmer and cook for 5 minutes. You can add a little more water if the sauce thickens too much. Add the meatballs, half cover with a lid and simmer, stirring occasionally for about 10 minutes or until cooked through. You need to be careful when stirring the meatballs in the sauce — if you are too vigorous, they may break up.
Serve with rice.
Makes 5 portions.
Information
Category

Main Dishes, Beef

Cuisine

Italian
Mini Shepherd's Pie
From Annabel Karmel's Superfoods
Ingredients
2 medium potatoes, peeled and diced
2 medium carrots, peeled and sliced
1 tablespoon vegetable oil
1 small clove garlic, minced
1/4 cup chopped onion
4 ounces lean ground beef or lamb
1 tomato, peeled, seeded and chopped
1 teaspoon ketchup
1/2 cup unsalted chicken stock
1 tablespoon unsalted butter
2 tablespoons your baby's usual milk
Directions
Put the potatoes and carrots into a saucepan, pour in boiling water, and cook the vegetables until tender (about 20 minutes). Meanwhile, heat the oil in a small saucepan and sauté the garlic and onion until softened. Add the ground meat and sauté. Stir occasionally, until browned all over. Add the tomato and ketchup and pour in the stock. Cover, bring to a boil, and then simmer for about 20 minutes. When the potatoes and carrots are cooked, drain and return to the saucepan together with the butter and milk, and mash with a potato masher until smooth; you can also put the mixture through a potato ricer. Mix the meat with the mashed potato and carrot.
For young babies, puree the meat in a food processor before mixing it with the mashed potato and carrot. As your baby gets a little older, make this into a mini shepherd's pie and decorate with a face made from vegetables.
Makes 2 portions.
Information
Category

Main Dishes, Lamb
Apple and Mixed Berry Ice Pops
Annabel Karmel
Ingredients
2 medium apples
1 pound mixed berries (e.g., strawberries, raspberries, blackberries)
2 tbsp water
Heaping 1/3 cup sugar
Directions
Peel, core and dice the apples and put them in a medium saucepan with the berries and water. Heat gently until the berries have released some juice, then bring up to a boil and simmer for 5 to 7 minutes until the apples are soft.
Remove from the heat and stir in the sugar until dissolved. Taste the fruit and add a little more sugar if it is too sharp (this depends on how ripe the berries are). Puree the fruit and strain to remove the seeds. Let cook, then pour into ice pop molds and freeze overnight.
Information
Category

Desserts, Frozen
Have a picky eater who refuses to eat his greens or a lil girl who is begging to be your sous chef, but you don't know how she can help? Submit your cooking and feeding questions to The Children's Table group over in the LilSugar Community, and we'll have Annabel answer them!