Annabel Karmel Interview: Introducing Children to New Foods
There's no denying that popular children's cookbook author, Annabel Karmel is one busy mum. In addition to her three kids, she has 15 cookbooks on US bookshelves and lines of food prep equipment and prepared children's foods available in the UK.
We recently sat down with Annabel to discuss her latest books, tips for getting children to brave new foods and her views on hiding healthy food in your kid cuisine. Stay tuned for all the interview snippets that will run this week!
If you've got a fussy eater, try Karmel's tips for getting your child to try new foods:
To check out Annabel's child friendly corn quesadilla recipe,
.
Annabel's recipe for corn quesadillas is as follows:
Annabel Karmel's Corn Quesadilla
Annabel Karmel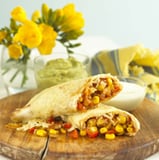 Ingredients
1 tbs olive oil
1 small red onion, chopped
1/2 red or orange pepper, deseeded and diced
1 can Green Giant sweetcorn, drained
1 tbs balsamic vinegar
1 tbs runny honey
4 flour tortillas
4 heaped tbsp salsa (mild or medium , according to your taste)
3 1/2 oz. grated Cheddar
Sour cream or guacamole
Directions
Heat the oil in a large pan or wok and stir fry the onion and pepper for 3 minutes. Add the corn and continue to cook for another 2 minutes or until the onion and pepper are soft. Add the balsamic vinegar and honey and cook for a further minute, then remove from the heat and season to taste.
Spread each tortilla with a tablespoon of salsa. Scatter a little cheese over the salsa and divide the corn mixture between the tortillas. Top with two thirds of the remaining cheese, roll up and arrange on a baking sheet. Sprinkle over the remaining cheese. Preheat the grill to high and grill the quesellidas for 1 – 2 minutes until the filling is hot and the cheese has melted.
Serve with sour cream and guacamole (optional).
Information
Category

Main Dishes, Dairy

Cuisine

Mexican