Annabel Karmel's New Year Resolutions
Annabel Karmel: 5 Food Year Resolutions Moms Should Make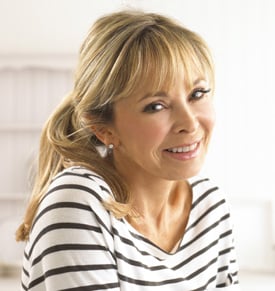 Editor's note: The following is a guest post written by Annabel Karmel, the British children's chef and kiddie cookbook author. As the year comes to a close, Annabel shares her thoughts on making kid's mealtime healthier.
I always find the New Year a great time to start afresh, and I think it so important to find new inspiration to feed my family and myself a balanced and nutritional diet that will shake us out of the slightly overindulgent Christmas month that has just gone by. Below are a few resolutions that might help re-energize your cooking habits through January.
Try to keep introducing new fruit and vegetables into your children's diet. For example hidden in a sauce or threaded onto a straw for the lunch box.
Variety. Give your children a wide variety of different foods, for example trying recipes from different cultures such as Asian or Italian. Encourage a balanced diet of different foods – it will reduce the likelihood of your children developing into fussy eaters and make them more interested in trying new foods.
Try not to give into demands when taking your children to the store. Establish a rule to allow them one treat, and one treat only, otherwise you can end up with grocery bags full of sweet cereals and candy.
Try to be organized with 'Smart Snacking'. Kids are always hungry when they come home from school or activities. Keep a supply of healthy snacks available in the lower shelves of the fridge such as a Spanish omelette or cut up fruit.
Try to stay clear of ready-made processed food that is high in saturated fats and sodium. Where possible make food from scratch using fresh ingredients, but if that is not possible, look for ready-meals that are designed for children and therefore lower in salt.
Have a picky eater that refuses to eat his greens or a lil girl who is begging to be your sous chef, but you don't know how she can help? Submit your cooking and feeding questions to The Children's Table group over in the LilSugar Community and we'll have Annabel answer them!