Apple Park Eco-Friendly Toys
Apple Park Plush Green Toys For Ecotots!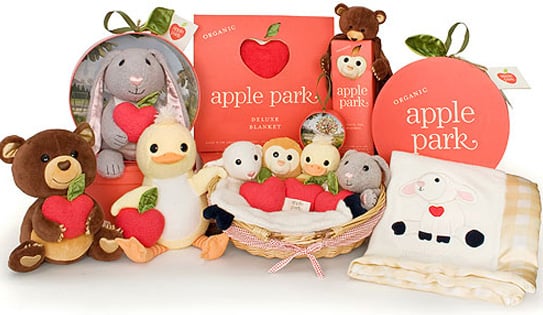 The world of eco-friendly toys is filled with plush animals, reclaimed wood, and natural dyes, but it's not every day that I come across a green toy that has packaging that is just as exciting as the product inside it.
San Francisco-based Apple Park's line of Picnic Pals ($48 each) is five soft animals made with organic cotton "fur," sustainable corn fiber, organic cotton, and recycled, non-toxic plastic pellet stuffing, and recycled, non-toxic plastic, child-safe eyes. Each pal comes in a red hatbox illustrated with a make-believe park from which the toys gather and play. There is also a book ($8) to accompany the toys – a story about the importance of playing outside – with more books planned for the future. Manufactured in China's first soft toy factory to be certified by the Global Organic Textile Standard, the playthings are not just sending good messages, they're safe.