Atlantis Kids Club Review 2010-02-03 09:00:03
Atlantis Adventure: Bringing Technology to Kids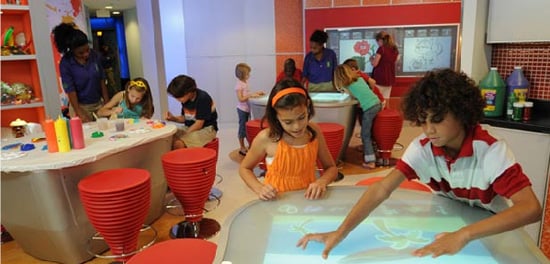 The Bahamas is a place where families go to get away, but it's also cool to stay connected. When Atlantis, JetBlue and LEGO invited us to be their guest at the resort, we were surprised by all of the new gizmos in their kids club.
As we mentioned, the club is for kids only and parents aren't allowed past the check-in counter. Each lil vacationer is given a GPS-enabled wristband that is worn throughout their stay and allows the staff to easily locate children when their parents come to pick them up, and when they leave the AKA site for group outings.
The Performance Room's interactive projected floor games (dodge ball, fish catching, soccer goalie, etc.) and iWall games will keep even the youngest visitors on their toes, but it was the Arts and Crafts Room's iTables and iWall that had us hooked. Much like an iPhone, the tables are loaded with apps for various age groups. The scribble-like app allows kids to color in Caribbean-themed coloring pages, the "fish tanks" are filled with virtual fish that scurry away when a lil hand touches them and the Whac-A-Mole-like Sea Scoop game teaches older kids about water conservation as they clean up the garbage-littered beach. The "create your own treasure map" game (which can be printed out) was a clear winner in my 3-year-old's book.
To read more about the technology at the resort and see photos,
.
Older kids at the club are often taken on "field trips" around the grounds (to visit the dolphins and see the water conservation projects at work) where they are given digital cameras to document their adventures. When they return to the AKA facility, they are encouraged to email the photos to their parents and friends back home. The AKA's use of the latest digital innovations for children was a true added benefit to the club.