Atlantis Kids Club Review
Atlantis Adventure: Bring on Cooking Class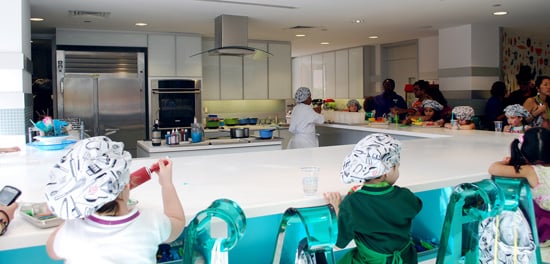 A Bahamian adventure wouldn't be complete without a taste of the local cuisine. During our trip down to the Bahamas, courtesy of Atlantis, JetBlue and LEGO, we headed into the AKA Culinary Adventure ready to cook up some local conch, or something tropical. Unfortunately, the class chefs had something a bit sweeter in mind, but we still walked away with a souvenir taste of the resort.
Housed in a state-of-the-art kitchen inside the Atlantis Kids Adventure, the Culinary Adventure offers kids 6-12 years old the opportunity to work with the resort's own chefs to cook up crowd-pleasing dishes. During our class, the chefs first demonstrated the melting properties of sugar to create a candy seascape. The students were then invited to participate in creating chocolate versions of the candy art. Showing the kids some fun tricks of the trade (by pouring melted chocolate over a cup filled with ice you can create a piece of chocolate coral) we were able to make a masterpiece of our own. Future classes ($45 for two hours and $65 for three) will work with chefs from the various restaurants at the resort, creating the meatballs from the Italian restaurant and wontons from the Asian one.
My child was a bit too young to fully appreciate (and sit quietly) through the demonstration portion of the class, but it did give me an opportunity to check out all of the cool and colorful cooking utensils the instructors had on hand, some of which I came home and ordered!