Finding a really good toy can be like searching for a needle in a haystack. There are so many out there, but nothing stands out from the crowd. Luckily that wasn't the case at Toy Fair this year. One toy truly wowed me with its unique take on combining fun and music education — B. Toys' Symphony in B Orchestra ($60).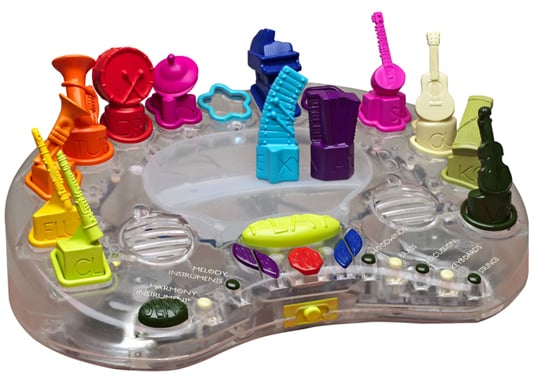 A virtual orchestra pit, the Symphony in B is preprogrammed with 15 songs and symphonies. It comes with 13 instruments that can be added one-at-a-time to the "stage" to actually create the music. So if the tuba, piano, and violin are on stage, the song sounds different from it does if the sitar, cymbals, and clarinet are there. When Gisela Voss, chief toymaker at B. Toys, introduced me to it, I was mesmerized. I couldn't stop playing around with the pieces and seeing what the different combinations would make. The question was would my LMFAO and Kidz Bop-loving boys find it as exciting as I did?
Who is this product designed for? According to B. Toys, the Symphony in B is for kids ages 3 to 13, but my 2-year old loves it! While he doesn't quite understand the music-making process, he enjoys placing the instruments in their shape-sorter-like places, as well as adding as many percussion instruments to the stage as possible. On the other hand, my 6-year-old is happily learning about the differences between woodwinds and strings.
What sets it apart? Truly, everything! I've never seen a toy that packs so much into one piece. Aside from simply teaching tots the sounds the instruments make (including some that are not typically taught in American schools like the Japanese koto and the Indian sitar), the entire device lights up to illustrate the instrument classifications such as woodwinds, brass, and strings.
Keep reading to see what could be better and if I would buy it.
What could be better? Not much! I only wish we could select which song we are going to play rather than going through them all in search of it.
How long did my child play with it? Until I took it away! Though I was skeptical about how they would react to it, my boys love this toy. They can't put the pieces down, and they love showing me what they create. The morning after we received it, one actually woke up early so that he could play with it before school. Two weeks later, they're still making it the first thing they play with each morning — we're even talking about it to my eldest son's school's music teacher about bringing it in to share with his class.
Would I buy it? In a second. I plan to convince some of our classmates' parents to go in on giving Symphony in B Orchestra as gifts to several of the kids in school too!
Share your favorite products, toys, and trends with other parents. Start sharing your opinion on millions of must haves for your tots in our Product Reviews group!