BABIES movie review
The Simple Beauty of BABIES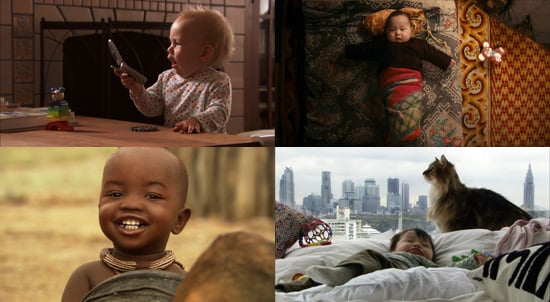 I've had three so watching director Thomas Balmes and producer Alain Chabat's beautiful documentary, BABIES, was a lot like my life only with better lighting. The film begins with four births and ends when each child takes their first steps. It's a journey most of us parents know all too well, but don't get a chance to fully appreciate because we have the distractions of daily living. The 79-minute movie is free of dialogue (aside from gurgling, squeals, occasional parental background noise and music), which gives the audience a raw opportunity to connect with the children from four parts of the world — Ponijao of Namibia, Bayarjargal (the only boy) of Mongolia, Mari of Japan, and Hattie from San Francisco.
It's a moving tribute to the things we struggle to achieve — a first smile, a first word, and a first step— and then quickly take for granted. Though the children are raised in different areas with socio-economic and cultural influences, it's clear that people are people. Bayar goes home from the hospital on the back of a scooter and has livestock sip his bathwater which is a striking contrast to Mari's elevator trips in skyscrapers and mommy and me outings, but the children both have the awe and curiosity of their surroundings and develop at a similar pace, proving that there are no borders because babies are babies. Without giving too much away, I'll just say it's a must see that will make moms nostalgic about holding a warm bundle of joy. In fitting fashion, the movie opens on Mother's Day.

Check back on Lil next week for our interview with Hattie's parents and the inside scoop on how the film was made.