Celebrities aren't the only ones debuting their babies in bed [1]! Common folks are also getting comfy between the sheets to showcase their offspring! The lair setting is less posed and true to the postpartum lifestyle. Professional photographer Nancy Alcott [2] has had plenty of practice snapping shots [3] of families. The artist and mother of two said, "My subjects tend to be more natural and at ease lounged on their bed, allowing me to capture expressions that are both relaxed and authentic." Alcott offered up these five tips for taking the perfect pillow-propped pose!
Photo courtesy of: Nancy Alcott Photography [4]
Set the Stage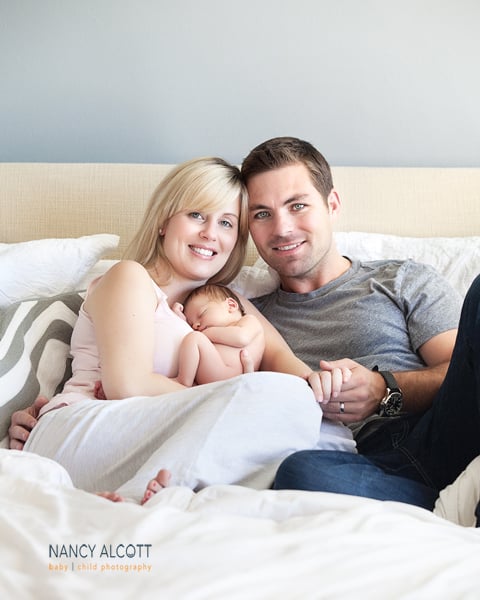 Just because you're shooting on a bed, doesn't mean that you shouldn't put thought into the setting. Because you're draping yourself in a less traditional place, you'll want to think through the details even more. Keep the background simple; remove extraneous things on the walls or nightstand, and make sure your bedding is simple and chic. Crisp white sheets are always preferred, but if you opt for a bolder bed set, make sure you dress in an understated way so as to complement, not compete with your setting.
Photo courtesy of: Nancy Alcott Photography [5]
Lighten Up
Use natural indirect light as much as possible. Lift the blinds, open the curtains, and let Mother Nature drape you in soft, warm light. Natural light gives faces and skin the most beautiful glow so if you can, turn off surrounding lights and avoid using the flash.
Photo courtesy of: Nancy Alcott Photography [6]
Dress For the Occasion
In the case of the baby, I usually prefer that they're undressed for the occasion. Baby skin is a thing to celebrate, not conceal in bulky, distracting clothing so crank up the heat and show off that birthday suit. If you're worried about accidents on your bedding, try a chic diaper cover. I use Etsy [7] or mamique [8]. designs.
For you, dress in simple, uncomplicated clothing with colors that complement both your skin tones as well as your bed set. You want the focus to be on your baby and you, not your outfits.
Photo courtesy of: Nancy Alcott Photography [9]
Positions, Everyone!
It's not always easy for my subjects to get comfy when there's a camera in the bedroom. So first — relax. This isn't your parents' stiff family photo. Hold your baby upright cradled in your arms. It may seem like a no-brainer, but you'd be surprised how often I have parents holding their baby slumped back lying flat in their arms. Your audience wants to look at your beautiful baby's face, be it straight on or a side profile, but not straight up his nostril. If needed, tuck a small pillow or blanket behind his head to keep it upright.
For the parents, create a sense of coziness by angling yourselves slightly towards one another with your baby in the center. If your shoulders are square with the headboard, you'll lose that sense of intimacy. Also angle your legs out so your feet aren't in the foreground.
Photo courtesy of: Nancy Alcott Photography [10]
Set to Portrait
Last, set your camera so that it creates a blurry background and foreground. Most cameras have a "portrait mode" or "defocus" setting that makes it easy to make the faces pop out while blurring out details on the surrounding walls or bedding in the foreground.
Photo courtesy of: Nancy Alcott Photography [11]