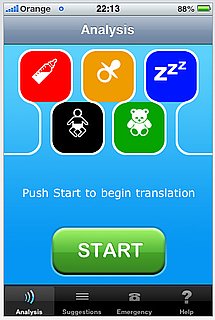 Every parent has listened to the painful sound of their child crying and wondered what the heck she's upset about, but usually we always seem to figure it out. She's hungry. She's tired. She pooped. She needs love.
The Cry Translator iPhone app, which costs $29.99, claims to help parents understand "the meaning of a baby's cry in less than 10 seconds." It's said to decode the five distinctive cries — hungry, sleepy, annoyed, stressed or bored. You know, cause parents haven't been doing that for centuries. Similarly, the Baby Translator app ($1) records a baby's noises and then "interprets" them to tell you just what your lil one is trying to communicate.
Clearly there are hundreds of iPhone apps that make a mama's life easier, but these translators border on entertainment. Does the idea of decoding baby's weeping with your phone make you go ga ga or gag?