Baby DJ School
Are the Hippest Tots in Town Headed to Baby DJ School?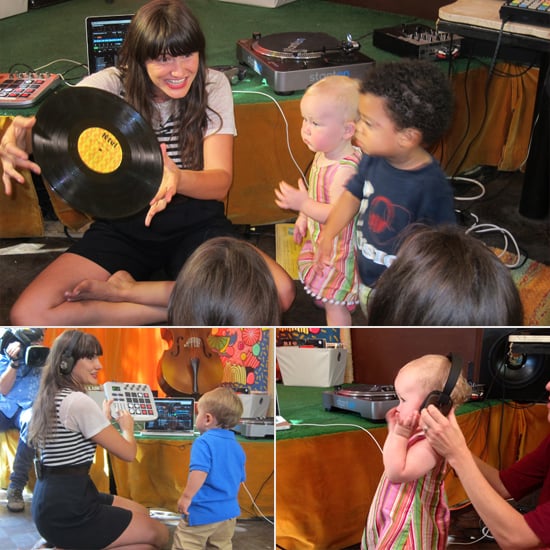 We've all heard of baby music, art, and movement classes. Baby yoga has even become commonplace in bigger cities. But baby DJ school?! When I first got an email about the impossibly hip (and possibly ridiculous) sounding class starting in my neighborhood this Fall, I knew I had to share it with our readers to see what their reaction was. And when I was invited to preview a demo of the class on Friday, I dropped everything, grabbed my baby, and headed over to the vintage clothing and used record store where DJ Natalie Elizabeth Weiss is hosting the class to see what it was all about.
Natalie was right at home in a room full of toddlers, engaging and interacting with them with warmth and ease. She's even penned her own tunes specifically for the class — her under-the-radar hits include "Makin Our Favorite Beat Drop" and "That's Why Daddy Loves Disco." Overall, it was a fun, energetic hour during which the moms and other caregivers were just as entertained as the kids.
My only criticism would be the suggested age range for DJs-in-training. Right now, the class is open to newborns through 3-year-olds. At the demo session I attended, the most involved kids were at least 2 years old. My own son is 14 months, and I felt that he was a bit young to know what was going on, and while the energy level was great for active tots, it would have likely been overwhelming for infants.
Right now, baby DJ school is only offered in Brooklyn, where a series of eight classes will cost you $200. If all goes according to plan, Natalie is hoping that the class will spread across the country. If it opened up in your city or town, would you send your kids?