Baby Eggi Clothing for Children
Trendtotting: Baby Eggi For Lil Chicks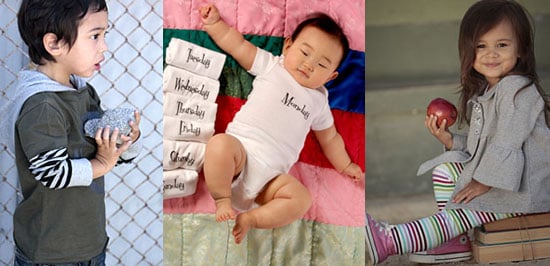 I don't know much about the Korean language but if it's as logical as this one word, I have a feeling I'll like it: eggi means baby. I love the simplicity and cuteness of it, much like the company that includes it in their brand: Baby Eggi.
A clothing label made just for kiddos, Baby Eggi is sweet, sassy and cool all in one. The stylish 3-button bell sleeved jacket is easily one of the most chic pieces of apparel I've seen for wee ones and its price tag is quite reasonable at $48. Young lads will look dapper but sporty in the long-sleeved jersey button-up that is suited for a dressy occasion or a roll in the mud. New moms, who are known to be dazed and confused, will enjoy the days-of-the-week onesies that will help keep her mush mind in line.
If mommy needs to legitimize her shopping cart, she might feel better knowing that Baby Eggi donates 20 percent of its net proceeds to partnering children's charities. Oh, and they're offering a 15 percent discount to our LilSugar readers for the entire month of November. Use the code LILSUGAR09 at checkout. Happy shopping!