Baby's First Christmas Onesies
9 Onesies For Baby's First Christmas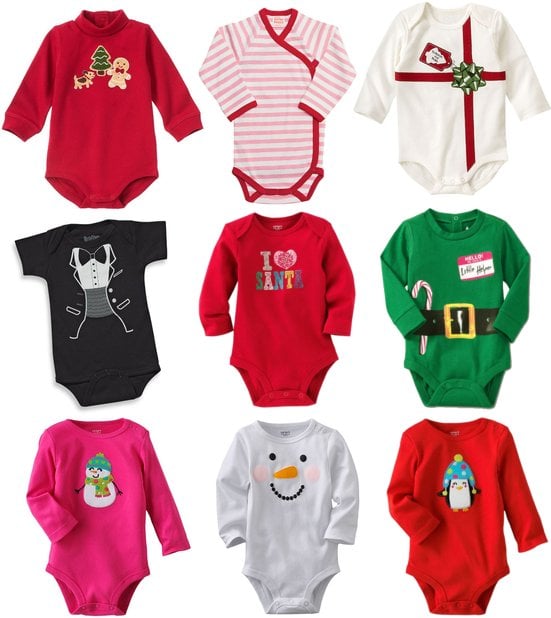 Have a comfy, merry Christmas! During the holidays, mama's tempted to dress up baby in frilly attire — but let's face it, that's not very comfortable for baby. And if baby isn't happy, no one is! Onesies are your lil one's favorites — and mama's go-to apparel item — because they're cozy and provide easy access for diaper changes.
Check out these nine festive bodysuits for baby's first Christmas and enjoy the holidays — without the baby drama!
Holiday charm for your sweet little boy! This Gingerbread Boy Turtleneck Bodysuit ($10) is extra-fun to wear. Your girlie girl can go modern this Christmas in this pink and red Better Basics Long Sleeve Stripe Side Snap Bodysuit ($20). Mama will think Santa came early this year with baby dressed up in this Holiday Gift Bodysuit ($13)! Dress your little one to the nines with this adorable Tuxedo Bodysuit ($15). A jolly, glittery graphic adorns this girls' "I ♥ Santa" Bodysuit ($7) for a cute, festive touch. Let your baby play the part of Santa's little helper with this Shamrock Holiday Fun Bodysuit ($15). For a winter-themed onesie, check out this Pink Snowman Bodysuit ($7) or check out this rosy-cheeked Snowman Bodysuit ($7) — it's perfect for a boy or a girl! We also love this happy Penguin Bodysuit ($7), so your baby can chill and enjoy the holidays.