Baby Gap Zodiac Onesies
Trendtotting: Sign Me Up
Your precious babe may be approached by potential suitors at the playground. Popular pick–up lines are "Your sandbox or mine?" and "Let's hang on the monkey bars."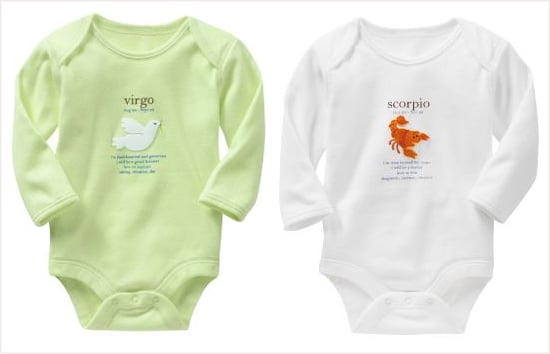 To avoid all the chit chat, doll your lil one up in one of these darling Zodiac Onesies from the Gap ($13). Astrological tots will know right off the bat who will be a good match. Each bodysuit has a symbol representing the sign and its meaning. The Scorpio tee reads:
I'm wise beyond my years. I will be a leader. Love to win. Magnetic. Intense. Creative.
That's likely to send those Gemini and Sagittarius tots running straight back to mommy's arms.