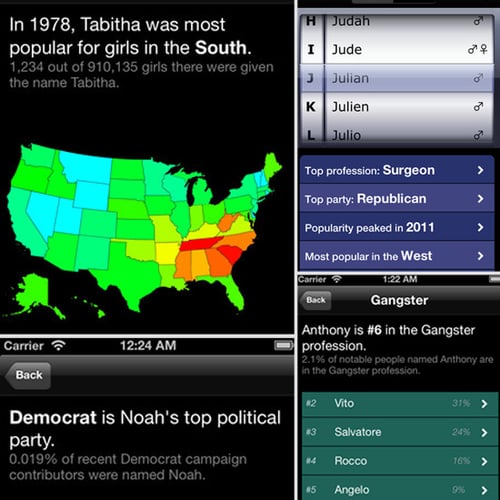 Want to know everything there is to know about your future child's name? Then consider downloading Nametrix, an app that tells you everything from a name's regional and historic popularity to how common it is among certain professions.
For example, did you know that an Isabella is most likely to be a poet, model, or actress, while Alexanders tend to be aerospace engineers or skeleton racers (not that we know what that is)? Noahs are most often Democrats, while Vito is the second most common name for a gangster. Julian is most popular in the American West, while the top five names for football players are Terrell, Darius, Dexter, Donovan, and Isaiah. Nametrix's software has analyzed millions of real people and their professions from Wikipedia and data provided by the US government. The result: a fun tool for curious parents who maybe don't want to give their kids a name most popular among strippers or criminals.
So what do you think? Would you refer to Nametrix on your baby name search? And if the results weren't what you hoped for, would they change your choice? Weigh in below.