Baby Name Inspiration
Stories Behind the Novogratzes' Names; What Inspired Yours?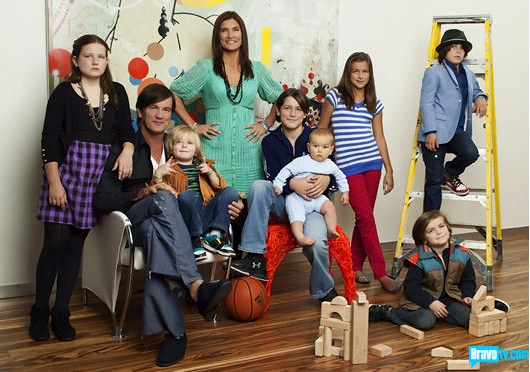 All of the Novogratz kids have unique names, but their parents, Robert and Cortney, of Sixx Design, didn't pick them at random. In an interview for The Futon Critic, the dad of seven explained the stories behind his kiddos' creative names. He said:

We're Austrian so Wolfgang is from Wolfgang Amadeus but our joke is that in New York and LA they think we named him after Wolfgang Puck. Bellamy we just heard it when we were in France and I think the correct pronunciation is Bel Ami, which means "beautiful love." Tallulah is very Southern and there's a town in Georgia called Tallulah Falls. Breaker was named after the movie "Breaker Morant" and Harry Breaker Morant who is the man, a horseman, a poet, a soldier and that's one of my favorite movies ever so that's Breaker. Five is kind of random and, of course, he was our fifth child. My Mom pressured us even after he was born to change it and we almost switched to Felix but we didn't. The older generation likes it. With Holleder, my father was an All-American football player at West Point and the quarterback on the team was Don Holleder and he was killed at Vietnam. He was on the cover of Sports Illustrated for football and then the cover of Life for dying in Vietnam. My father thought he had two heroes in his life and that was one of them so it had a meaning to it. Going back to the army thing, my father was a Colonel but when I was aged 7-12 he was Major so that's where we came up with Major (the newborn's name). We thought that was a cool name and he was pretty touched by that. So each of them has a story and they're not just crazy names.
What inspired your child's name? Share your story!
Photo courtesy of Bravo