The key to baby shower table success? Coming up with an unexpectedly beautiful centerpiece that sets the tone for the food and drink portion of your soiree. Whether your approach includes flowers, props, or themed decor, we've rounded up 12 inspiring ideas that are sure to be the shower's center of attention — after the guest of honor, of course!
A Beatrix Potter Table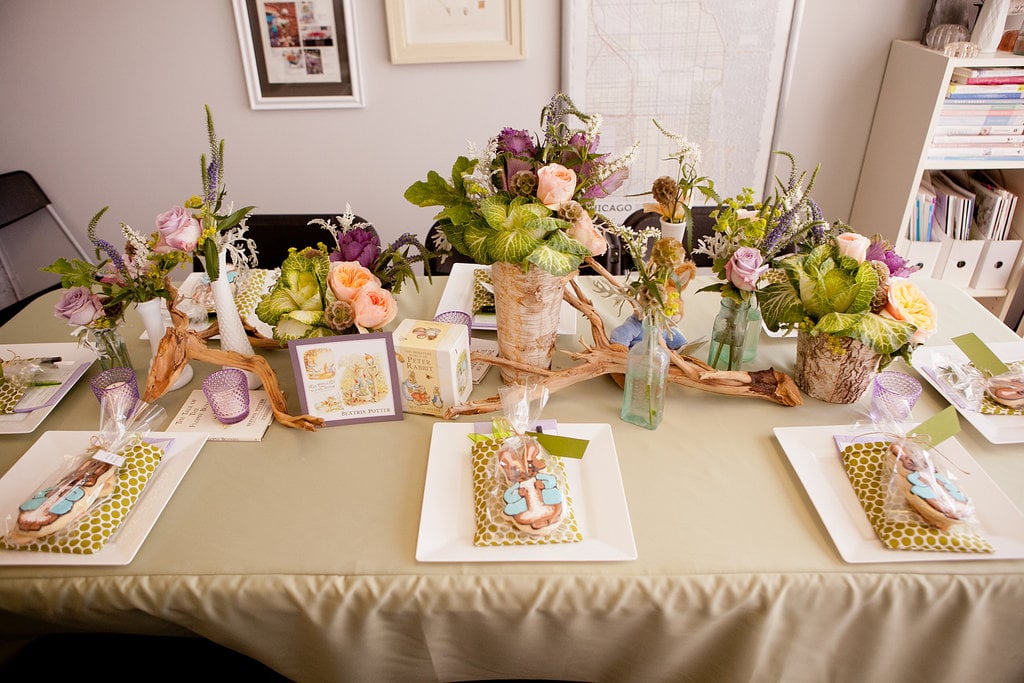 "Since I am a florist, of course the flowers were one of my favorite parts of the shower," party planner Kristen Janes of Kio Kreations says. "My staff helped make each table really feel like the author's literature was coming to life. The Beatrix Potter table featured kale, branches, and soft colors that were a nod to her watercolor illustrations."
Source: Kio Kreations [1]
Soft and Subtle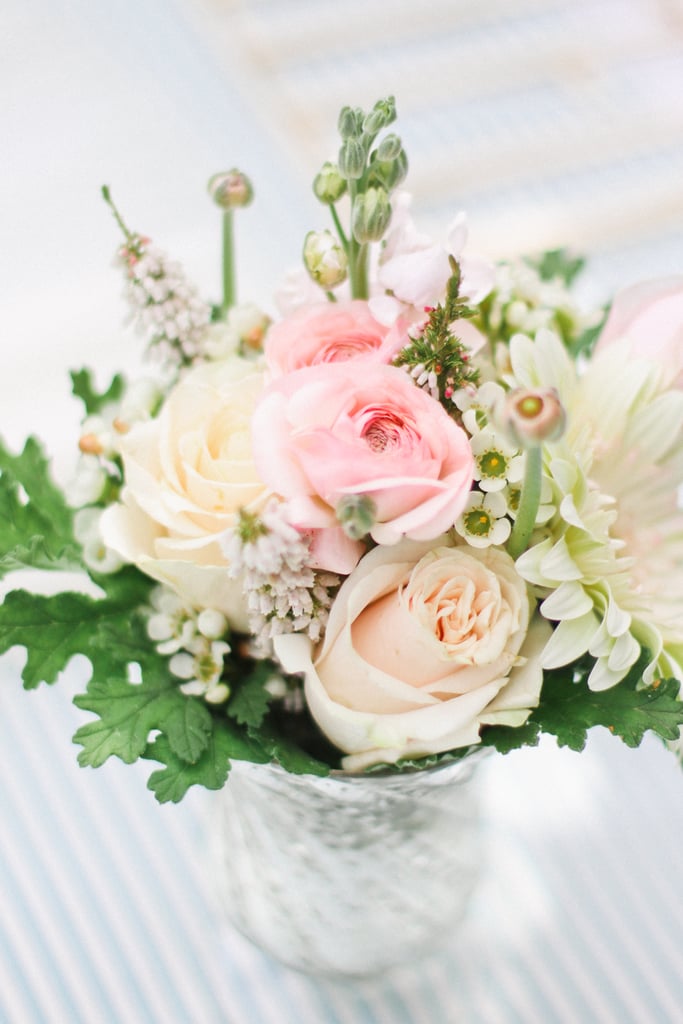 Mercury glass vases make for elegant containers that have the added bonus of reflecting light. At this sweet animal-themed shower, the floral arrangements were kept soft and simple.
Source: Wiley Valentine [2]
Carry Out the Theme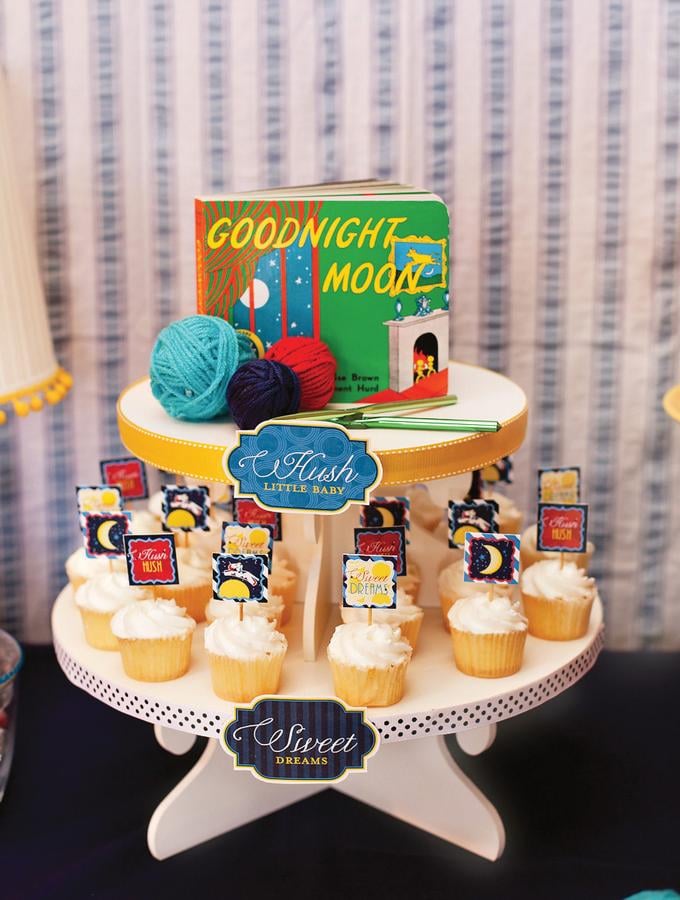 At a Goodnight Moon-themed shower [3], tiered cake stands put the book itself, and other props, front and center.
Source: Hostess With the Mostess [4]
Quack, Quack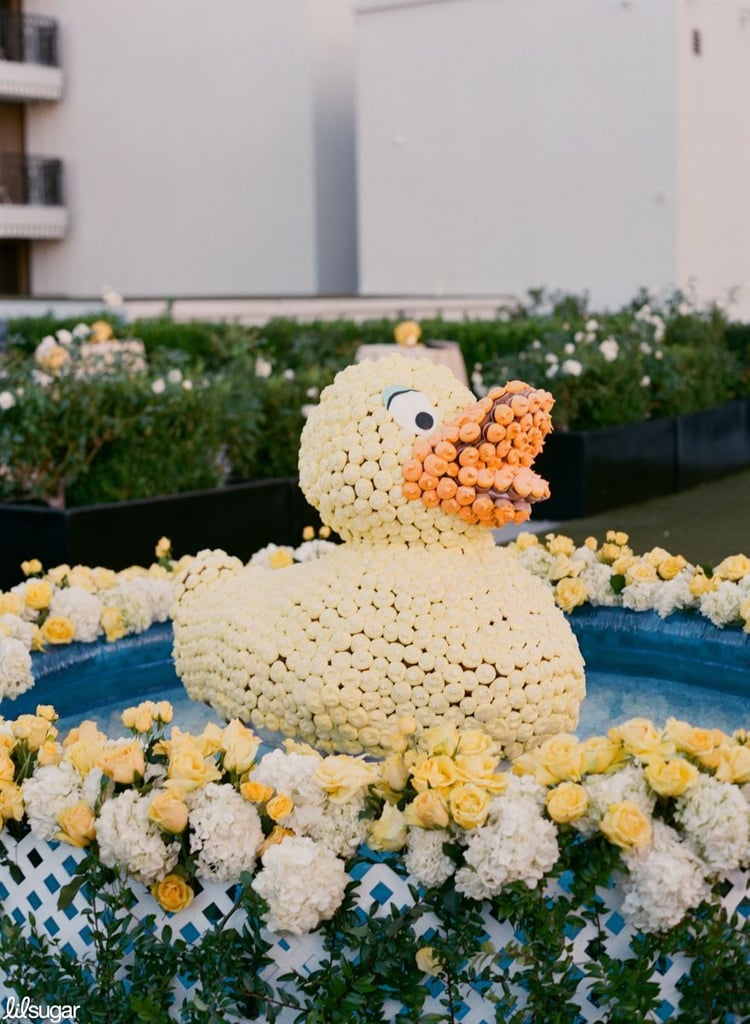 When the guest of honor is also the owner of Georgetown Cupcakes [5], of course some over-the-top cupcake decor is in order. At Katherine Kallinis Berman's elegant rooftop shower, a floating "rubber ducky" made of 2,500 mini cupcakes was the center of attention (next to the mom-to-be, of course).
Source: Elizabeth Messina [6]
A Smart Investment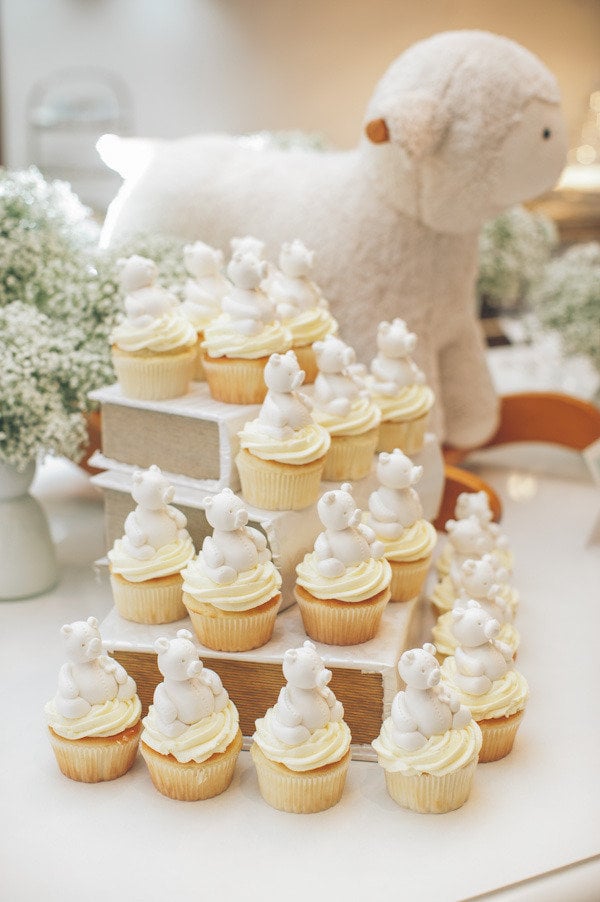 At this elegant all-white shower, a lamb rocking toy served as the table's (adorable) focal point and was accented by bouquets of delicate baby's breath. The best thing about the little lamb? He'll have a whole new life after the shower as a toy for the baby-on-the-way.
Photo by MIMMO & Co. [7] via Style Me Pretty [8]
Duck, Duck, Goose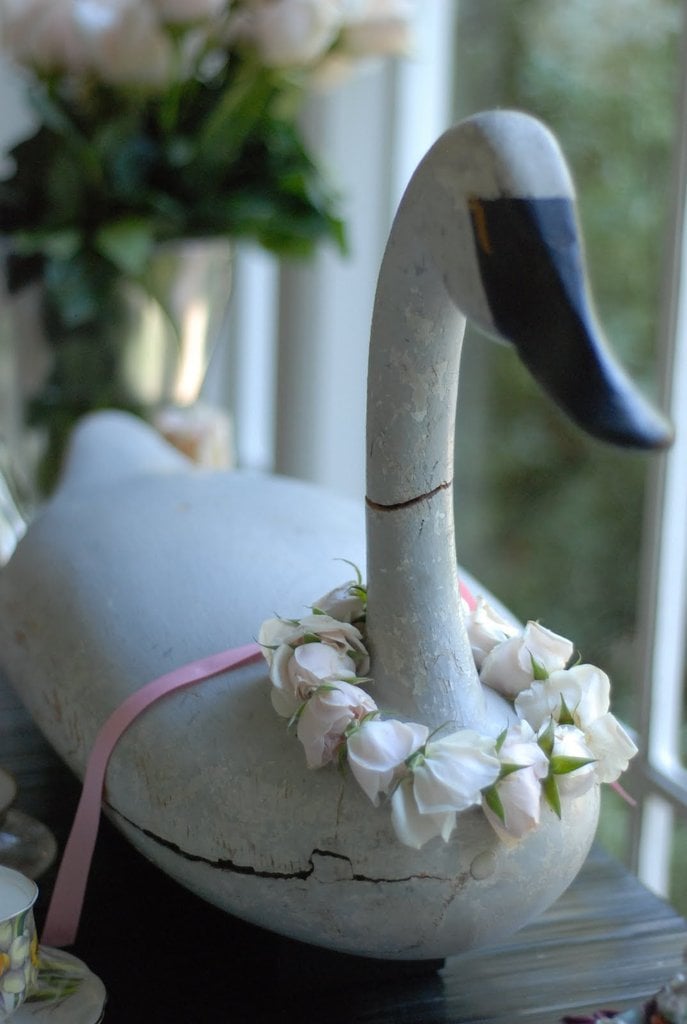 Proof that you needn't spend a fortune on elaborate flower arrangements was at this high tea baby shower [9], where the addition of a wreath of roses turned a wooden goose decoy into an elegant piece of table decor.
Source: Annie Campbell of Après Fête [10]
Upcycle Old Baby Food Jars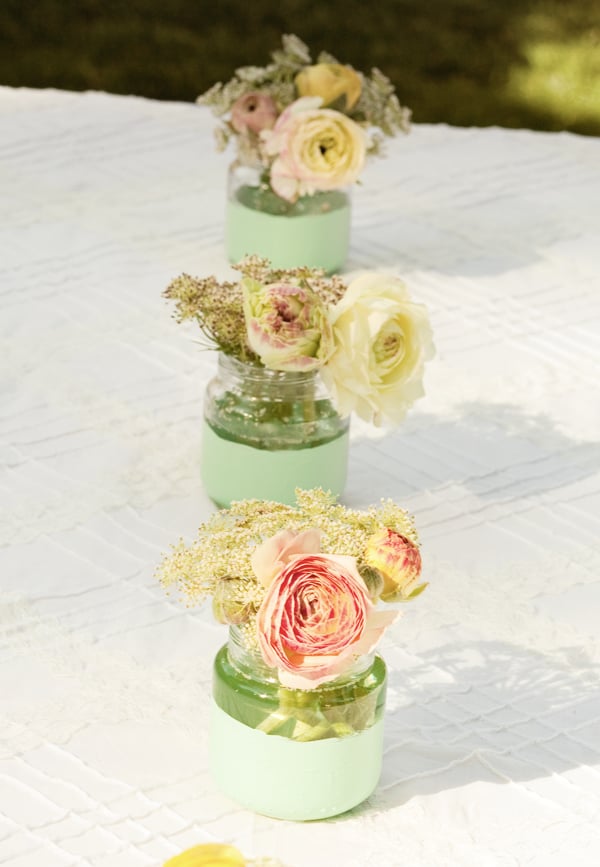 "I created a bunch of DIY [11] projects in these colors, but my favorite was partially dipping baby food jars in mint craft paint as a floral arrangement for each place setting," Becca Gorski of Cake Events says. "It was a super easy project and saved me from having to purchase expensive floral arrangements."
Source: Cake Events [12]
Flower Boxes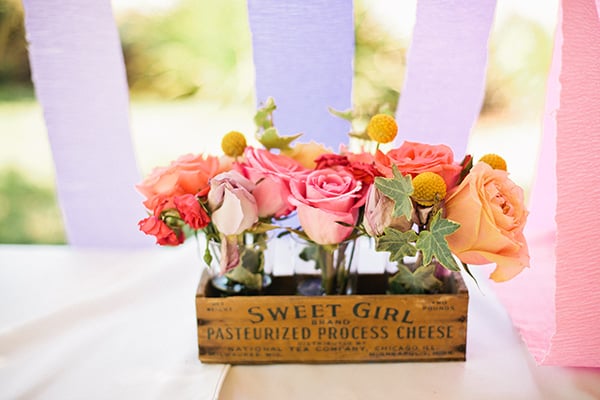 A vintage wooden box adds dimension to bright pink-and-peach blooms.
Source: Katrina Louise Photography [13]
Lovely Lace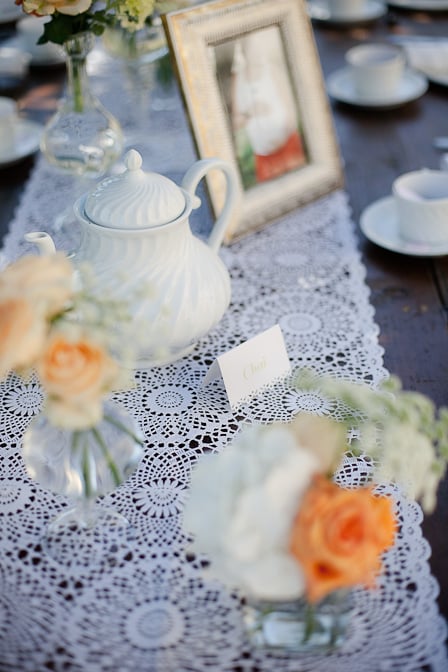 All of the decor, china, and food at this elegant outdoor tea party shower [14] came from the mom-to-be and her friends and family. A delicate lace runner adds to the vintage flea market vibe.
Source: Chic Up Your Party [15]
Bold and Bright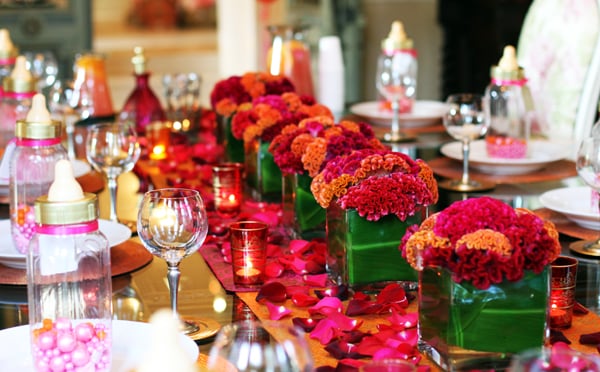 "I couldn't find a table runner that matched the party colors, so I lined the center of the table with beautiful printed paper from Paper Source," said designer Jessie of Lilyshop. "For the centerpieces, my friend, the wonderfully talented Cathy from Hollywood Vines, used coxcomb and wrapped the stems with giant leaves. A giant Moroccan baby bottle was then placed at every place setting."
Source: Lilyshop [16]
Lovely Lavender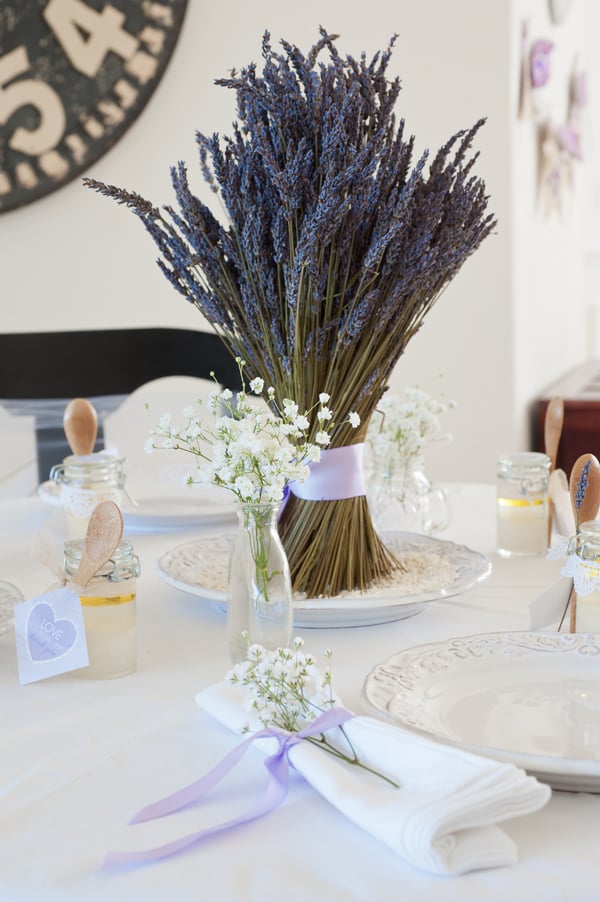 For an elegant lavender shower, Paula Biggs of Frog Prince Paperie went for a natural look. "Bundles of lavender served as centerpieces on cutwork lace tablecloths with personalized ribbon tying the napkin rings. A sprig of baby's breath was a simple yet elegant finish. Each guest had a lavender and lemon salt scrub at their place setting to take home as a favor," she said.
Source: John McLaughlin for Frog Prince Paperie [17]
Whimsical Details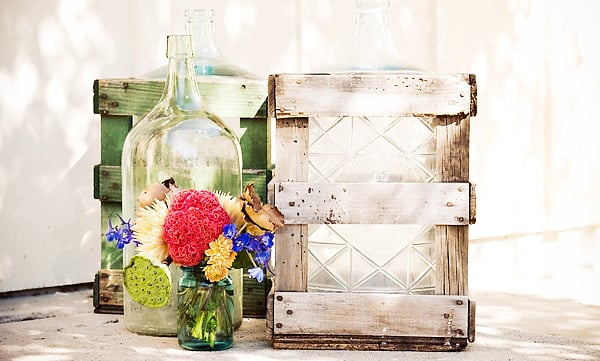 Rustic and textural details like vintage glassware and wood offer a whimsical feel to your shower.
Source: Krista Mason on Hostess With the Mostess [18]