Baby Sleep Travel Tips
Tired Traveler? 8 Tips to Get Your Baby Back to Sleeping
It's prime vacation time! While your pre-baby trips probably involved stocking up on sleep, travel with a lil one can be anything but restful. Just ask me: my 9-month-old was sleeping 12 hours a night last week, but since we arrived in Florida a few days ago, I'm back to 3-4 hour stretches. Torture. Luckily, one of the fellow guests at our resort is a pediatrician, and she helped with a few tips to get my go-go baby — and yours, too — back on the right track.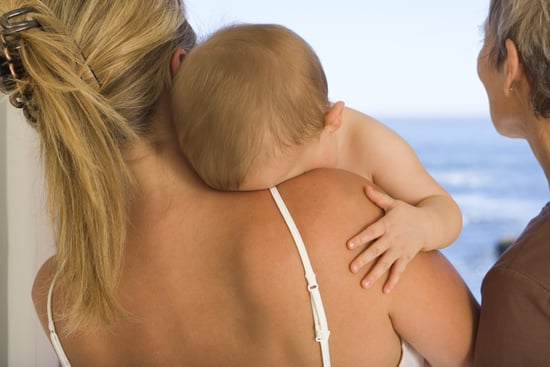 Try to arrive before bedtime so your lil one has time to acclimate. Let her explore the new room, and explain where you are and where everyone will be sleeping.
Bring a white noise machine or fan to mask strange new noises.
Follow your at-home bedtime routine; give your baby a soothing warm bath, read books quietly, nurse in a darkened room . . . whatever usually works for you.
Try to re-create her sleeping location as best you can by bringing a crib sheet or blanket from home (even a worn shirt of mom's can help). Also make the new room's lighting as similar to home as possible. Keep clicking for four more tips.
Try not to disrupt your baby's napping routine, even if it means you're letting her sleep in the stroller or car.
Book more than one room or divide the room in two. If you have to share a room, hang a bed sheet around the crib. If the baby can see you, she'll want to be with you.
And if all else fails, bring along relatives who are willing to watch the baby in the early morning, while you catch up on the sleep you missed in the middle of the night. Thanks, Grandma!
Resume your regular routine when you get home, and don't worry if it takes your baby a couple of days to get back into her normal sleep schedule. Consistency is key!