Baby Wellness: Smiling Gel Packs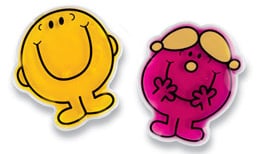 Bumps and bruises are inevitable for tumbling tots, but sometimes lil ones don't want to ice those areas.
Make it entertaining with Mr. Happy or Little Miss Helpful from the smile-inducing "Mr. Men and Little Miss" cartoon books you read as a child. Simply refrigerate to reduce swelling or warm in hot water to soothe aches. They are sold in gift packs ($20) or individually ($10) at The Container Store.