BabyGap Introduces New Denim Collection
Interview With Jennifer Giangualano: babyGap Designer Sizes Down Denim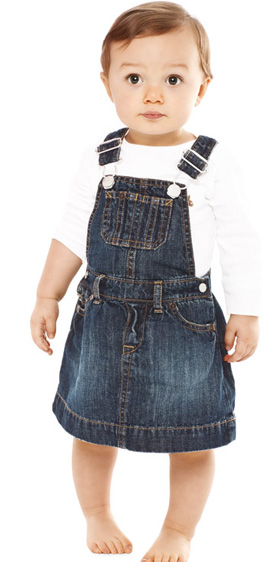 What happens when a group of parents look at a clothing line and wish it could be downsized for their tots? The 1969 babyGap Premium Denim line. It's a mini-version of the adult line that was introduced last year and extends hip designer style to basic wardrobe items. The wee set of overalls, jackets, shirts and pants range in price from $15-$29.50.
Jennifer Giangualano, Head Designer for babyGap, chatted with us about the process of making apparel for the small set. Knowing how fussy babies can be, the design team spends most of their time focused on comfort and fabric so the garments are soft and wearable. An adult pair of jeans uses fabric weighing 11-13 ounces while the infant fabric weighs eight. The team also considers function — like easy closures for quick diaper changes.
The new collection fits into Giangualano's philosophy that a newborn wardrobe should include a decent mix of practical and whimsical items. With a foundation of basic knits, leggings,and jeans, the mom-of-two likes to up the cool factor with printed tops and jackets to move away from the "matchy-matchy" look of a head-to-toe outfit. As seasons and styles change, babyGap will introduce new core pieces to the 1969 collection, ensuring that even the youngest member of your family can be a fashionista.