Back Pain During Pregnancy
Beware of Extreme Back Pain During Pregnancy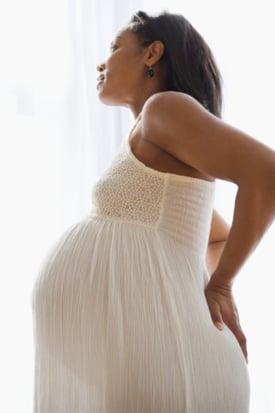 Aches and pains are part of pregnancy, but some are harder to handle than others. The sciatic nerve, which runs from the lower back, through the glutes, and down the back of each leg, is the largest nerve in the body. Because of the nerve's placement under the uterus, it is pressed as the baby grows, often creating sharp or aching pain during pregnancy.
Most women first notice sciatica after spending a significant amount of time on their feet. According to the American Pregnancy Association the best remedies include:
"The simplest remedy is to lie on your side, opposite of the pain. This may help relieve the pressure on the nerve. Avoid heavy lifting and minimize standing for long periods of time. If you experience pressure while standing, try elevating one foot and resting it on something. Swimming may also ease discomfort. You may experience relief by applying heat or cold to the troubled area."
Sciatica isn't considered to be a dangerous condition, but the amount of discomfort it causes does vary. If you experience sciatica for an extended period of time, contact your doctor about possible treatments. A prenatal massage may do the trick for some women, while waiting for the baby to move to a new spot will help others. If you've experienced pregnancy-related sciatica, how did you comfort yourself?