Banana Bread For Kids
Snack Attack: Westside Market's Maria Zoitas's Best After-School Treats
Our tasty Snack Attack series continues with celebrity chefs sharing their favorite after-school snacks that won't spoil kids' dinner appetites. Today's recipes come from Westside Market NYC's chef Maria Zoitas.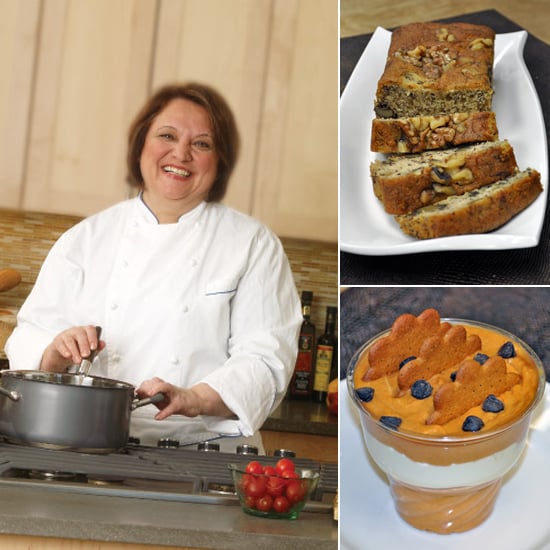 The postschool snack is more than just some food to fill kids until dinnertime. Maria Zoitas, the creator of creator of "Maria's Homemade" line of prepared food sold exclusively at Westside Market NYC, knows that the snacks are a necessity. She says, "After-school snacks are the perfect pick-me-up and are great for a boost of energy after a long day of classes."
That's why she fills her treats with fruits, vegetables, and nuts to pack kids full of nutrients — even if they don't realize they're getting them. Her recipe for banana bread with pecans "is one of my favorite recipes as the sweetness of the bananas matches perfectly with the crunch of the pecans, allowing for a delicious treat," while her pumpkin mousse "is a light, tasty snack and it reminds me of the Fall season."
Keep reading for Maria's tasty recipes!
Banana Bread With Pecans
Maria Zoitas of Westside Market NYC
Ingredients
2 cups all-purpose flour
1 1/2 teaspoons baking soda
1/2 teaspoon salt
4 ripe bananas
1 cup sugar
1 1/2 sticks melted unsalted butter
2 eggs
1 teaspoon vanilla extract
1/2 cup pecans, finely chopped
Directions
Preheat oven at 350⁰F and grease a 9" x 5" loaf pan.
In a large bowl, combine flour, baking soda, and salt, and set aside.
In another bowl, use a fork to mash the bananas and then use an electric mixer to combine melted butter, eggs, and sugar; beat well and scrape down the sides of the bowl.
Mix the dry ingredients into the bowl with the banana, eggs, butter, and sugar.
Fold in the nuts and mix for additional 20 minutes.
Pour the batter into the prepared loaf pan.
Bake for an hour in a preheated oven or until golden brown.
Insert a toothpick in the center (to ensure it comes out dry) and remove bread from oven.
Set aside bread and let it cool in the pan for about 10 minutes, then transfer bread to a wire rack to cool completely.
Information
Category

Snacks, Kids