Battle of the Baby Weight: Working Out With Your Kids!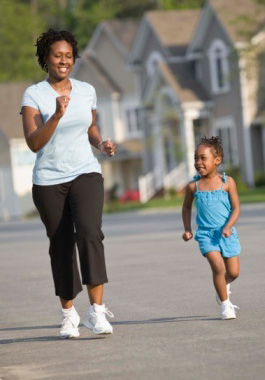 Work it out! This week Fit challenged us to journal our fitness routine and was kind enough to hook me up with some of her awesome workout downloads. I was excited to hit the gym and test them for my vlog when a couple of mom emergencies interfered. Due to scheduling conflicts and a sick child, I didn't get to work out. But life with kids is always go, go, go, so I've decided to share some tips on keeping active with your little ones rather than feel guilty for not getting to the gym.
On your mark, get set, go! Play tag with the kids. It takes a lot of running to exhaust a child, and you'll burn calories trying.
Let them ride! Strap on their helmets and let the kids roll down the open road on their bikes. Put a little pep in your step and keep their pace on foot.
Use your offspring as weights. This concept is popular in mommy and me classes, and as your kiddos get bigger so will your biceps.
Tone your arms while pushing your children on swings at the park.
It's a new year, and I want my old body back! Inspired by FitSugar's health challenge, I'll spend the next 10 months hitting the gym to burn the baby fat. If you're a mom who wants to bid your postpartum baggage goodbye too, set a goal and join the Get Fit For 2010 community group for support! Check out my updates here each week.