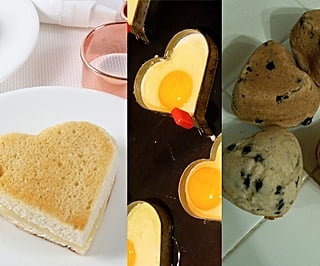 Between all the candy, cupcakes, cookies, and chocolate your tots eat on Valentine's Day, they might have a hard time winding down at night. A light snack may help them to snooze. The best bedtime snacks contain carbohydrates and calcium, since those foods are high in the sleep-inducing substance tryptophan. I've rounded up some great heart-shaped snacks. Check out these cute ways to cap off the day of love and get the kids sleeping soundly after the break!
Eggs. Use egg molds to fry up some love, and serve it with a slice of toast.
Waffles. Carb-rich waffles are the perfect versatile snack — top them with a little peanut butter or bananas to keep your lil ones full.
Grilled cheese sandwich. Although too much protein before bed can make it harder for your kids to get to sleep, use a little cheese to make this gooey favorite. Use a heart-shaped cookie cutter to get the sandwich Valentine's Day ready.
Cereal and milk. It's quick, easy, and super cute when served in a heart-shaped bowl!
Muffins. If you started out your day with home-baked heart muffins, leftovers can make a great snack to help your hyper cuties wind down.
Source: Flickr Users HeatherHeatherHeather, Stefan, Laffy4k, and tristansf; ANNA Magazine