Moms-to-be love to be showered with love — and lots of baby gear — at their baby showers, and we've discovered themes to suit every expectant mom's interest. From celebrations inspired by baby animals, classic storybooks, and vintage finds to sprinkles [1] for experienced moms and gender-reveal parties for mamas who want to add even more excitement to their showers, these 65 amazing ideas are sure to please everyone on your guest list, including the mom-to-be! Keep clicking to find the shower that speaks to you!
A Vintage-Cool, Color-Filled Baby Shower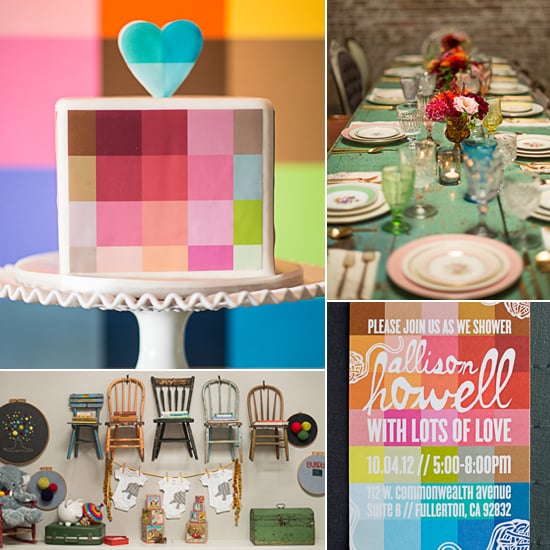 When Jeni Maus, owner of vintage rental company Found [2] in Orange County, found out her good friend and co-worker Allison Howell was expecting, there was no question who was planning her shower, but Allison couldn't have expected how insanely awesome the event would turn out. "My favorite foods, people, superfun decor . . . ," Allison says. "I mean, she created a whole wall inspired by a print I had picked for my baby's art gallery!" That wall was just one of many standout decor items [3], which also included an amazing DIY [4] yarn chandelier and cool colorblocked invites and a matching cake.
Source: Found Vintage Rentals [5]
A Velveteen Rabbit-Inspired Shower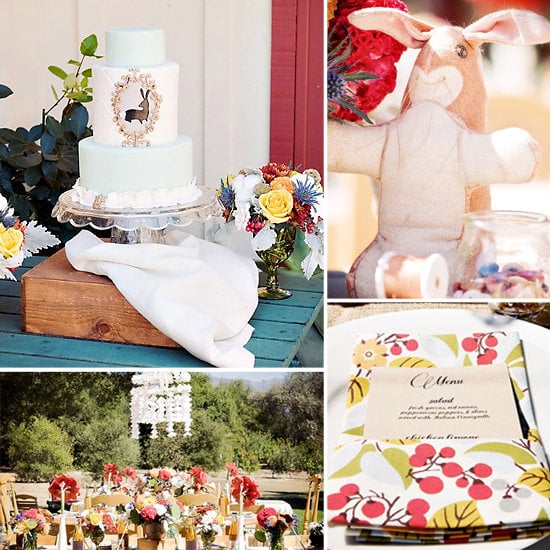 Whether or not you were an avid reader before baby, books will become a big part of your post-lil-one life. Classic books, like The Velveteen Rabbit [6] still line many babies' bookshelves and serves as a great jumping off point for a baby shower [7].
Source: Hostess With the Mostess [8]
A Cute and Clever Robot-Inspired Shower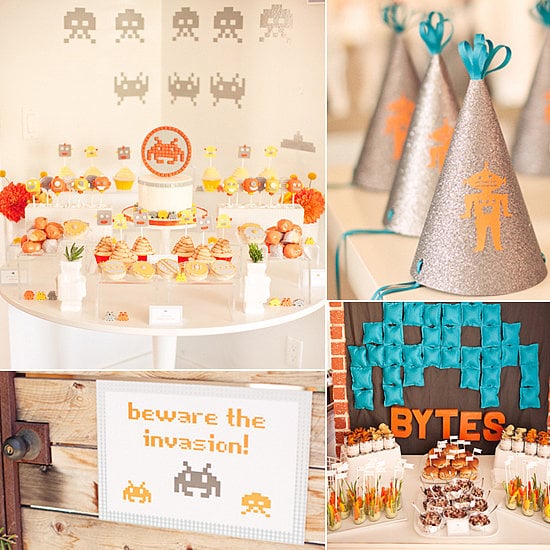 Leila Lewis of Inspired By This [9] definitely thought outside of the box when it came time to plan a shower for her good friend Carissa Jones of floral and event styling company JL Designs [10]. The theme: Space Invaders (quite appropriate, if you think about it, right?). From that jumping off point, Leila created one of the most inventive baby showers [11] we've ever seen, somehow making old-school robots look modern, cute, and totally baby shower-friendly.
Source: Inspired By This [12]
A Bun in the Oven Shower
Using a vintage toy kitchen (a gift for the baby-to-be) and full-size baking tools as shower decor; adorable and cleverly worded paper goods; and a sweet aqua-and-red color scheme that translated beautifully into an aqua red velvet cake, this bun in the oven shower [13] is perfect for the lil baker in your life. While this shower totally makes sense for a professional baker, we think it would work equally well for any mom-to-be who loves baked goods — in other words, pretty much every mom-to-be!
Source: Meredith Nelson Photography for Lil Hoot [14]
Rustic, Camping-Themed Baby Shower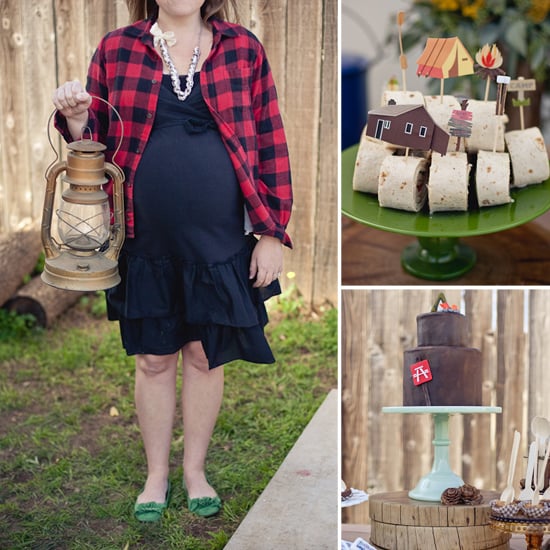 Take your baby shower outdoors with a Camping-Themed Baby Shower [15] and celebrate mama-to-be with a rust bash!
Source: Jesi Haack Design [16]
A Minty Fresh "Hooray For Baby" Shower
This "Hooray for Baby" shower thrown by Becca Gorski of Cake Events [17] for three of her friends who all happened to be pregnant at the same time (don't you just love that?!) is one of our all-time favorite gender-neutral showers.
"The 'Hooray for Baby!' theme started as the subject of an e-mail I sent wishing them congratulations," Becca says. "The more I thought on it, the more it felt like the perfect concept for a shower. I picked a gender-neutral palette of mint green and yellow." The combination of the pastel color palette and the exuberant theme makes for a supersweet combo [18].
Source: Cake Events [19]
A Western-Themed Baby Shower
This Western-themed, turquoise-and-black-toned shower [20] is stuffed full of thoughtful details — from a cowboy diaper cake [21] and braided rope sign to tons of sweets and amazing signage.
Source: Whimsically Detailed [22]
A Baby Shower Inspired by Breakfast at Tiffany's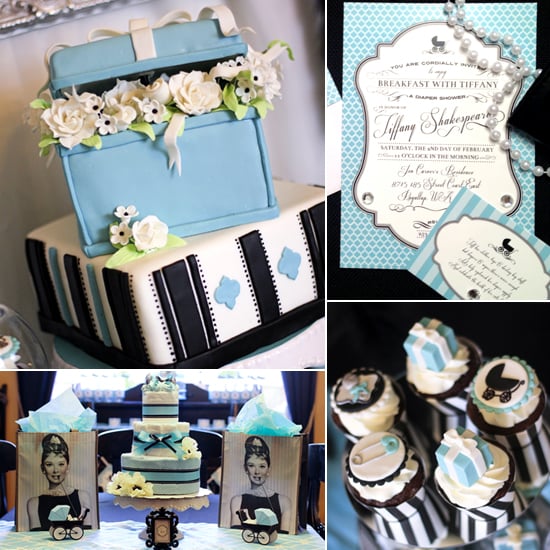 "When you have a gorgeous and glamorous friend named Tiffany who just so happens to be expecting a baby boy, hosting a 'Breakfast With Tiffany' baby shower is a no-brainer," says Jen Carver, the party guru behind Banner Events [23].
To make her vision come to life, Jen recruited some of the best party minds in the business, including 4 Kids Cakes [24], which provided a beautiful, totally impressive flower-box-esque creation. A breakfast-food buffet, a cute diaper cake [25], and so much more made this one of the most detail-filled showers [26] we've ever seen.
Source: Banner Events [27]
A Ready to Pop Baby Shower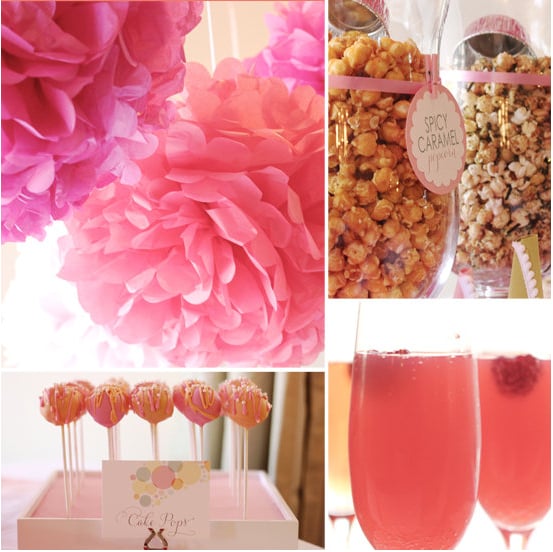 This pink- and pop-filled baby shower [28], is packed with creative "pop" ideas ranging from mini champagne bottles to popcorn to the ever-popular cake pops. It has high impact, but — the part we really love — it's pretty easy to re-create!
Source: Le Partie Sugar [29]
A Sunny Breakfast Shower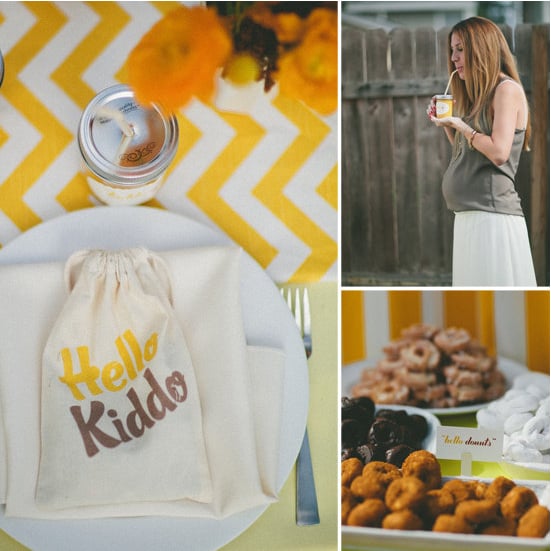 While a heavy-on-the-dessert lunch might be your typical baby shower meal, we're loving this breakfast-themed party [30] as a fun alternative. Inspired by phrase "Hello, Kiddo," the morning affair featured a heavy dose of sunny yellow fabrics, golden flowers, and of course, orange juice, along with an omelet bar, kid-inspired foods, sweet signage, and a cute activity that would please even the most shower-game averse friend.
Source: Jesi Haack [31]
A Welcome to the World Sip and See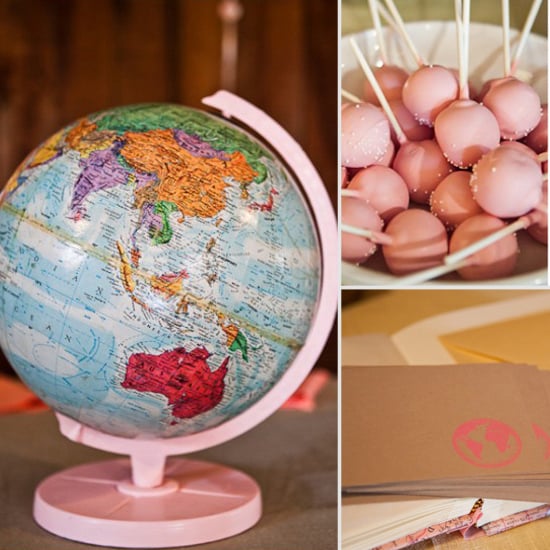 We're completely enamored with this sip and see's Welcome to the World [32] theme. A host of stylish vintage maps and globes, hanging map mobiles and garland, colorful globe centerpieces, travel-stamped suitcases, and a beautiful handmade guest book covered in a world map — not to mention the gorgeous venue — are just a few of the details we're loving.
Source: Allyson Wiley for A Little Savvy Event [33]
An Airplane-Themed Baby Shower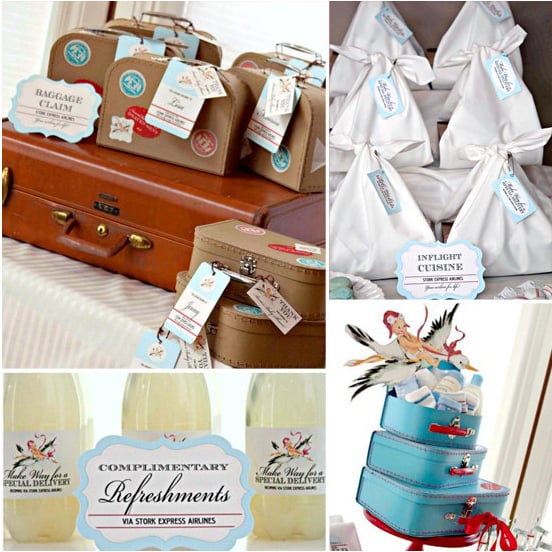 This adorable shower is a special delivery: airmail! Taking vintage elements to a high-flying level, the airplane-themed shower [34] incorporated airline-themed food, luggage, and more — think pretzel and peanut bags, baggage claim gift bags, "in-flight" cuisine boxed and tied for easy stork access!
Source: Jen Lee Photography for Loralee Lewis [35]
A Luxe Gold and Pink Circus Baby Shower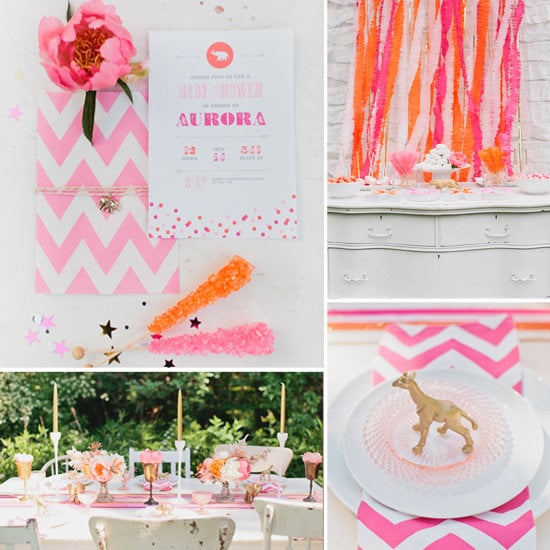 Maddy Hague of Somewhere Splendid [36] put together this showstopping baby shower [37] inspiration shoot with gorgeous invitations, a bold, modern color scheme, and some seriously awesome details (gilded animals! confetti notebooks! metallic balloons with fringed streamers!).
Source: Canary Grey Photography for Somewhere Splendid [38]
A Red and Aqua Baby Carriage Shower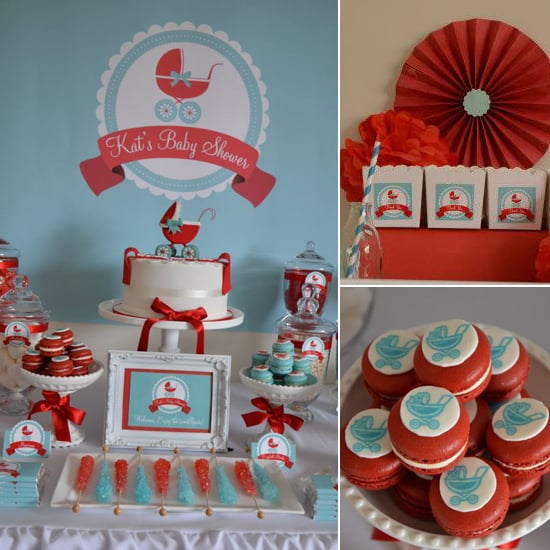 Forget light pink and baby blue! We're loving the combination of bold red and aqua used in this baby-carriage-inspired shower, thrown by Maja Ristevska of Sugar Coated Candy & Dessert Buffets [39]. Maja created a stylish, gender-neutral shower with sweet treats and a bold color scheme. "I think it works perfectly for a different take on a gender-neutral baby shower [40]," she says. We agree, and you will, too, after you check out the awesome details!
Source: Sugar Coated Candy & Dessert Buffets [41]
A Little Pink Birdies Shower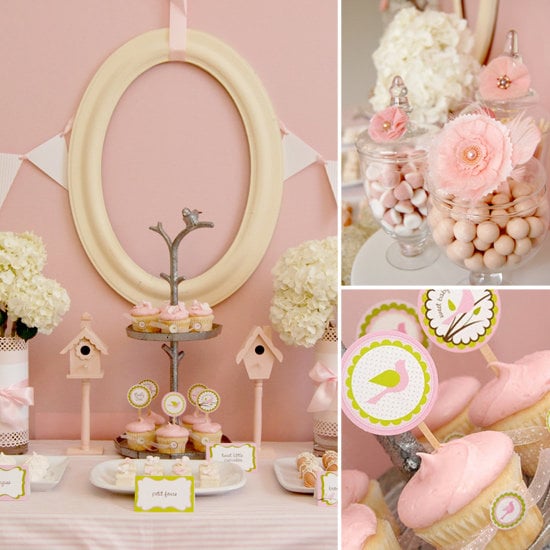 This Little Pink Birdies-themed baby shower [42] is packed with stunning details sure to inspire.
Source: Frog Prince Paperie [43]
A Pink Ruffles and Ribbon Shower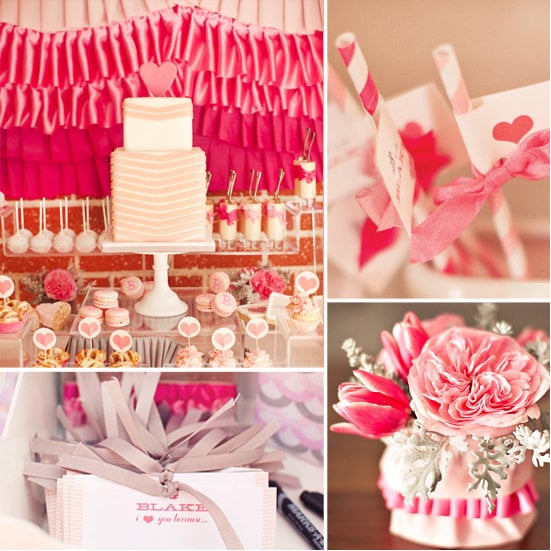 This ruffle- and ribbon-filled shower [44] thrown for a pastry chef just might take the cake in terms of cuteness.
Source: Gabriel Ryan Photographers for Hostess With the Mostess [45]
An Old-World Glam, Sparkling Baby Shower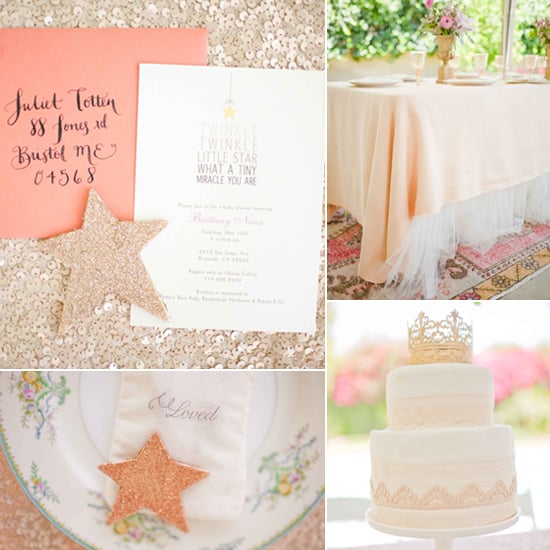 Summer Watkins, the stylish mind behind Grey Likes Weddings [46] and Grey Likes Baby [47], is inundated with some of the most beautiful events out there, so when it came time to throw a baby shower of her own, celebrating her sister Brittany, it had to be a showstopper. Summer partnered with tableware company Casa de Perrin [48] to craft an old-world, romantic concept, full of tulle and sequin table linens, antique Persian rugs, and gorgeous blooms. A sweet and savory biscuit bar and a gorgeous cake made by the grandma-to-be are just two more ">must-see elements [49] at this baby shower.
Source: Grey Likes Baby [50]
A Sweet Lullaby-Themed Baby Shower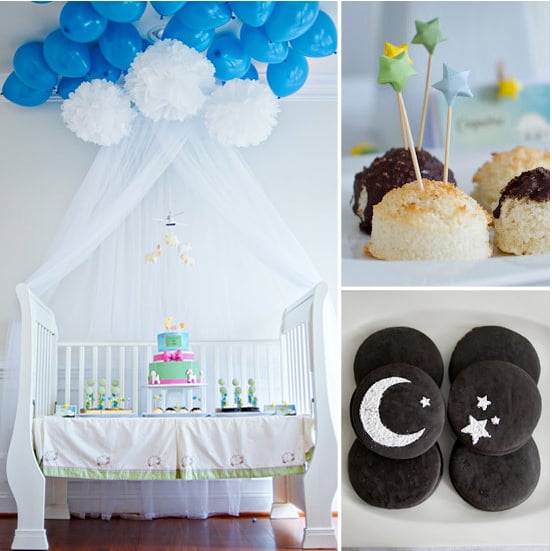 Lullabies may be designed to send your baby off to dream land, but this lullaby-themed shower [51] is anything but sleepy. The party was inspired by a vintage lamb planter the dad-to-be's father gave to his mom the day he was born, along with a Cuban lullaby his mom sang to him when he was a baby. A sleigh-crib dessert table, Cuban desserts and Vietnamese food (celebrating the parents-to-be's heritage), as well as an abundance of clouds, stars, and sweet lambs add to the shower's lullaby appeal.
Source: Rebecca Watkins Photography for Pure Joy Events [52]
A Sweet Baby Shower For Wiley Valentine's Founder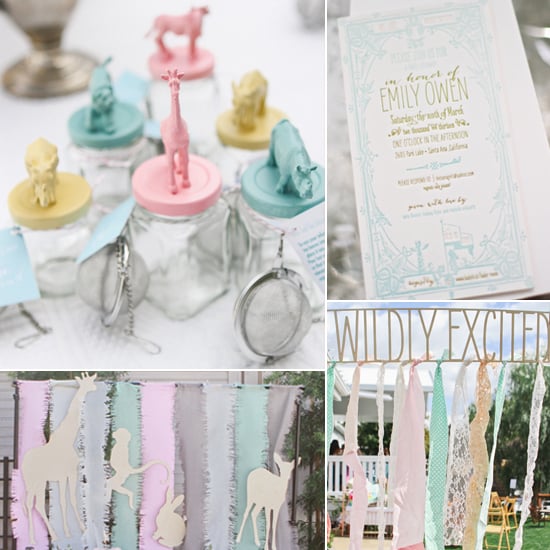 We've been obsessed with Wiley Valentine [53]'s gorgeous paper products from first sight, so it's no surprise that we're over the moon about the adorable baby shower thrown for Wiley Valentine cofounder Emily Owen by her business partner and friend, Rachelle Schwartz.
"Emily's style is understated vintage with tiny hints of whimsy. She absolutely adores animals, so I knew we had to incorporate animals into the shower," Rachelle says. "Rather than doing games, we had interactive stations such as a tea bar and the DIY [54] mobile station." There are so many inspirational elements of this shower [55], including, of course, the awesome Wiley Valentine invitations.
Source: Wiley Valentine [56]
A Thai-Themed Baby Shower
When a mommy-to-be got pregnant on a trip to Thailand, her friends jumped on the international theme and planned a Thai-themed shower [57].
Source: Circle of Moms [58] user Cakes7873
A Sprinkle Baby Shower For Experienced Moms-to-Be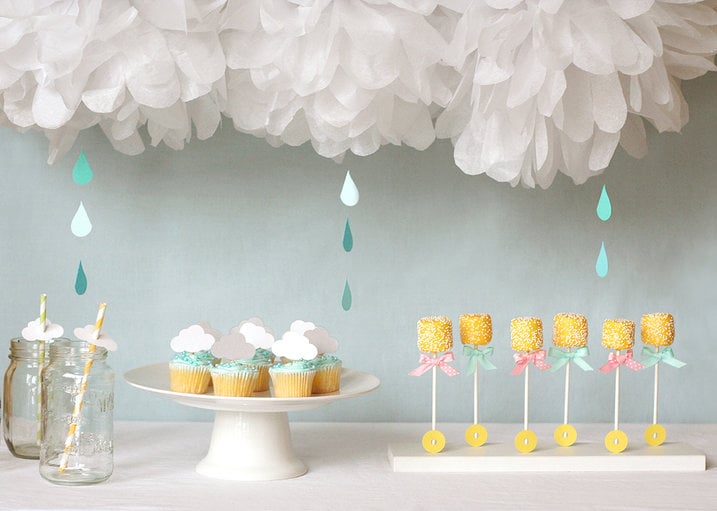 We love sprinkle showers for experienced mamas-to-be and this rain-themed soiree takes the theme — literally — to a whole other level! Check out this adorable Sprinkle Baby Shower [59], the perfect theme for honoring a mom-to-be (again) while updating — and upgrading — her baby gear from her last tot's arrival.
Source: Lisa Storms [60]
A Mod Gender Reveal Party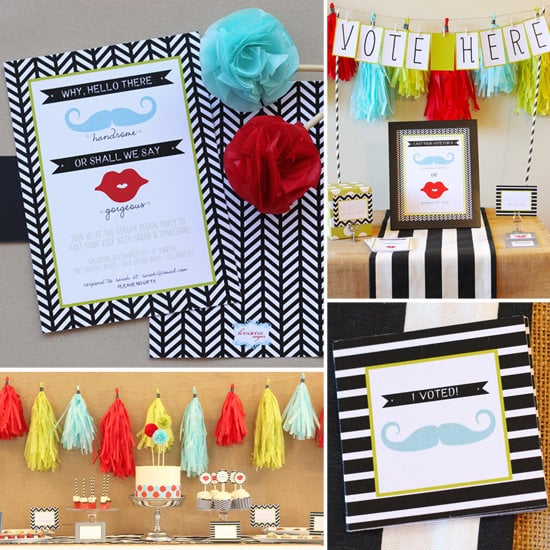 Cristina of Le Partie Sugar [61] is known for creating inventive events with gorgeous paper goods, and this modern gender reveal party is no exception. Adorable mustaches and ruby red lips and a clever voting station add style to one Click here [62]color-poppin' party designed to lead up to a big reveal.
Source: Le Partie Sugar [63]
Pat the Bunny Baby Shower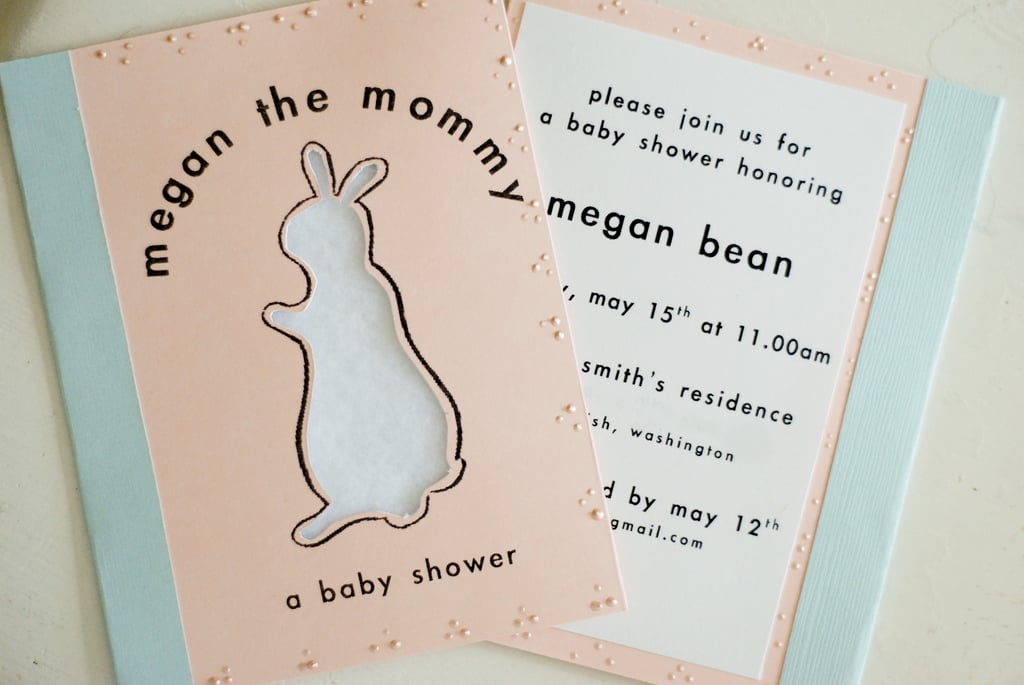 The classic baby book, Pat the Bunny [64], is a standard on many lil ones' bookshelves — and the inspiration for this lovely Pat the Bunny Baby Shower [65].
Source: Whitney Smith [66]
A Vintage Newsprint Shower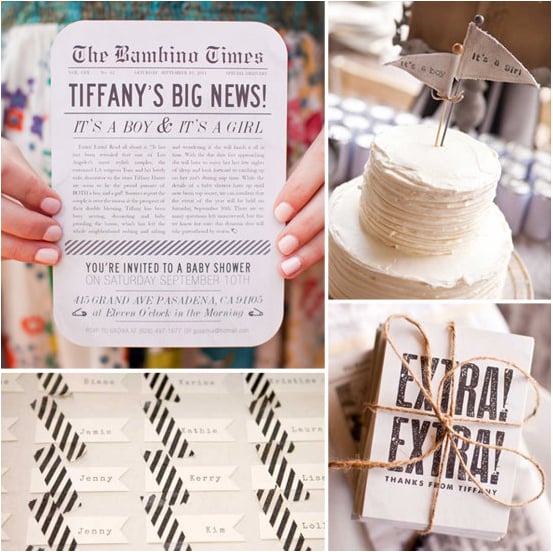 This insanely beautiful vintage newsprint-inspired shower [67] proves that, when it comes to baby showers, blue, pink, and pastel doesn't have to reign. Chic, understated grays can have just as big of a style impact.
Source: Tara Rochelle for Layla Grayce [68]
A Long Distance Baby Shower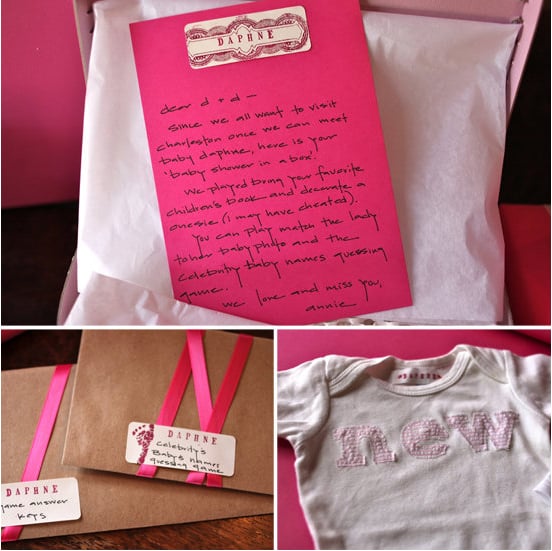 If hundreds of miles or expensive flights have ever kept you from celebrating a friend's special occasion, you're likely to love this Baby Shower in a Box [69] concept as much as we do.
Source: Apres Fete [70]
A Sunshine Baby Shower
Put down the umbrella and celebrate the sun! A celebration for a mama-to-be may call for a shower, but it's usually filled with sunshine and bright smiles. This sunshine baby shower [71] is featured in Party Barn Kids' website along instructions for re-creating the sophisticated party on your own
Source: Pottery Barn Kids [72]
A Vintage Nautical Shower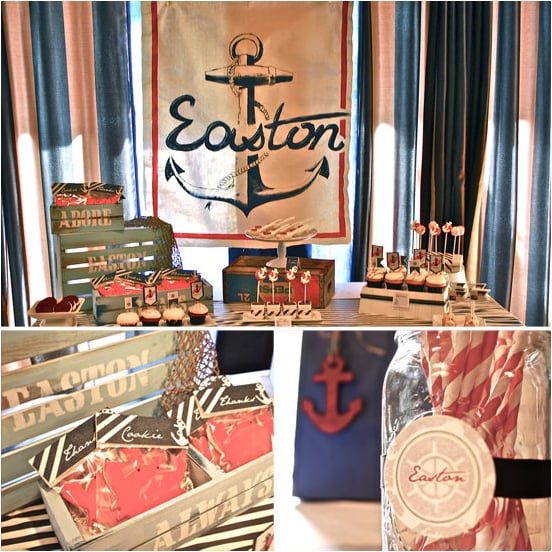 If you've ever been on a boat, near the ocean, or just have a thing for seafood, this nautical baby shower is seaworthy perfection [73]. Using the iconic rope-wrapped anchor as a jumping-off point, the vintage-inspired party came together in shades of blue, off-white, and a bit of red. Gorgeous desserts, messages in a bottle, and the cutest crab cookie favors ever are just some more of the enviable shower elements.
Source: Honeycomb Events & Design [74]
A Classic Storybook Shower With Modern Details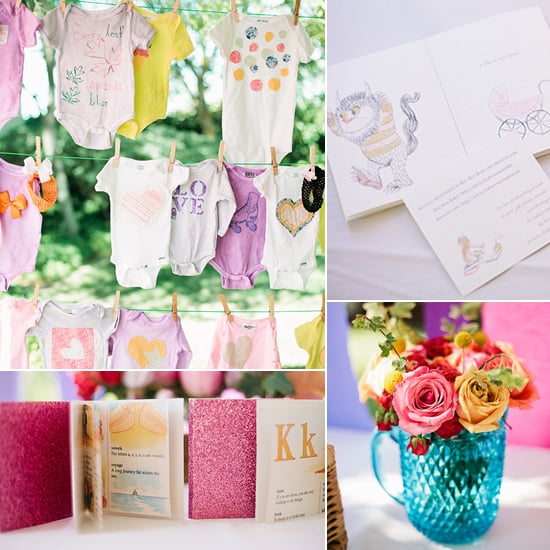 Classic children's books seem to have a knack for inspiring adorable baby showers, and this event, thrown for Katie Vowels, the creative talent behind Katrina Louise Photography [75] and now mom to baby girl Rowan, proves it! We love how this shower put Click here [76]a modern spin on classic kids' books by incorporating glitter, girlie colors, and even a DIY [77] onesie decorating station.
Source: Katrina Louise Photography [78]
She's About to Pop Bubble-Themed Baby Shower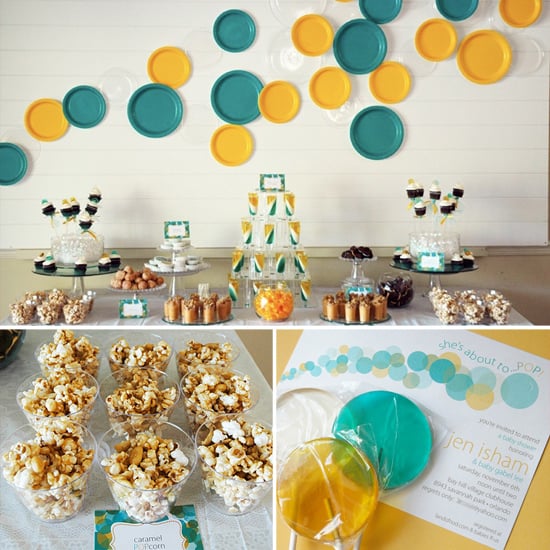 Starting with lollipop invitations and a bubble machine that greeted guests at the door, the theme for this She's About to Pop Bubble Baby Shower [79] was also carried through to the menu — which included POP 'ems, POPcorn, soda POP, and more.
Source: Pen n Paper Flowers [80]
An Heirloom Baby Shower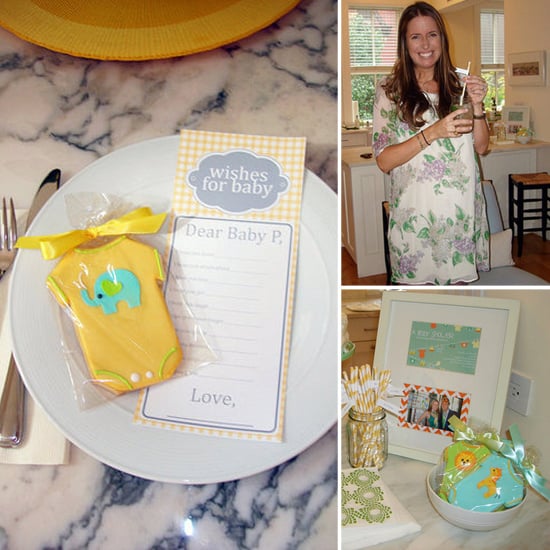 Inspired by LilSugar's Wishes for Baby! [81] — a fill-out keepsake — this Heirloom Baby Shower [82] was as sweet as can be without a lot of bells and whistles.
Source: Circle of Moms [83] user lkstraw
A Sweet Rubber Ducky Shower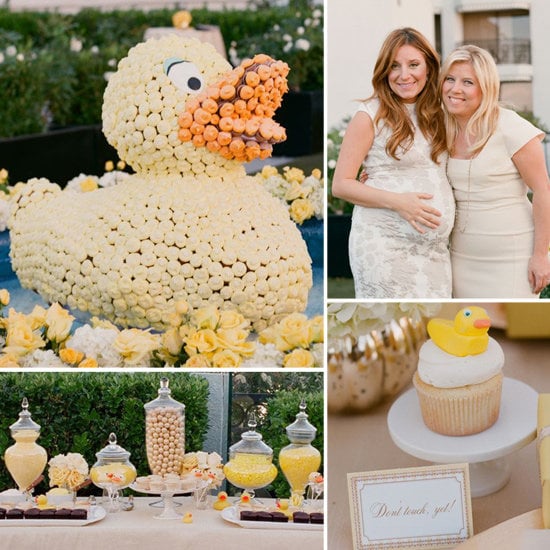 It's no surprise that a baby shower thrown for Katherine Kallinis Berman, the co-owner of Georgetown Cupcake [84] and the co-star of TLC's DC Cupcakes [85], was filled with sweet treats and adorable decor. But we didn't expect a luncheon that pretty much redefines our image of a rubber-ducky-themed party [86] for a mom-to-be!
Source: Elizabeth Messina [87]
A School Theme Baby Shower For a Teacher and Mama-to-Be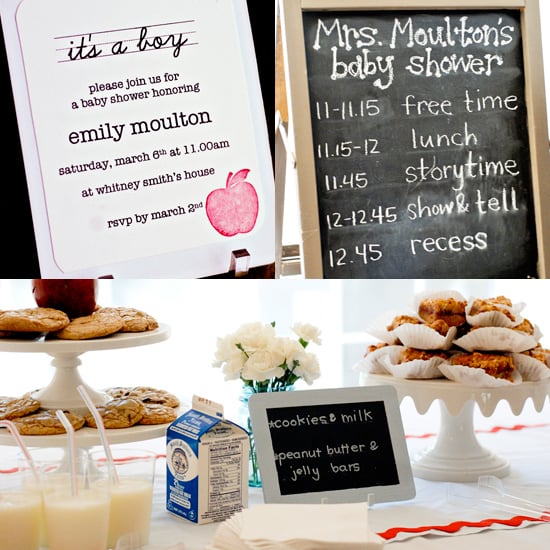 There's a lot of learning to be done when a new baby comes along, and when the mama-to-be is a teacher, there isn't a more appropriate theme than a School-Themed Baby Shower [88].
Source: Whitney Smith [89]
A Goodnight Moon Baby Shower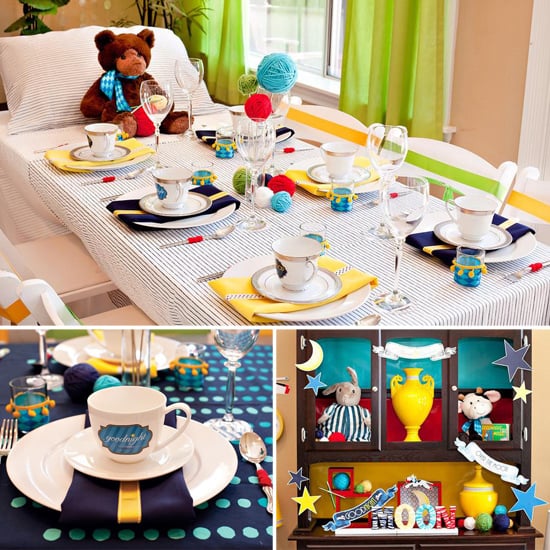 Goodnight stars. Goodnight air. Goodnight noises everywhere! Goodnight Moon, a bedtime classic and a staple in many nurseries, provides plenty of inspiration for a dreamy party theme — like this Goodnight Moon Baby Shower [90].
Source: Hostess with the Mostess [91]
A Charming Children's Book-Inspired Baby Shower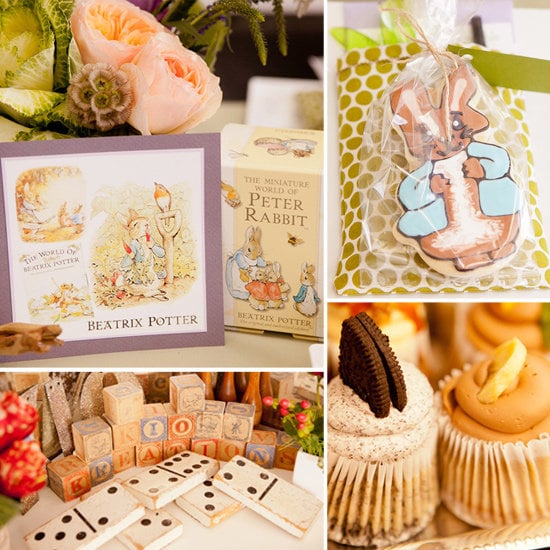 It's fairly unusual to plan your own baby shower, but for event planner Kristen Janes of Kio Kreations [92], it meant she got the party of her dreams [93]. "I have always wanted to have a classic children's book-inspired baby shower, since I have a degree in illustration and have been collecting children's books for years," says Kristen. "I wanted to start a collection for my soon-to-be-born daughter." Tables inspired by Eric Carle, Beatrix Potter, Dr. Seuss, and Little Golden Books introduced the theme to guests through flowers, decor, and food ("green egg salad and ham sandwiches" and "fruit salad made with leftovers from a Very Hungry Caterpillar" were just two offerings).
Source: Kio Kreations [94]
A Springtime Sprinkle Shower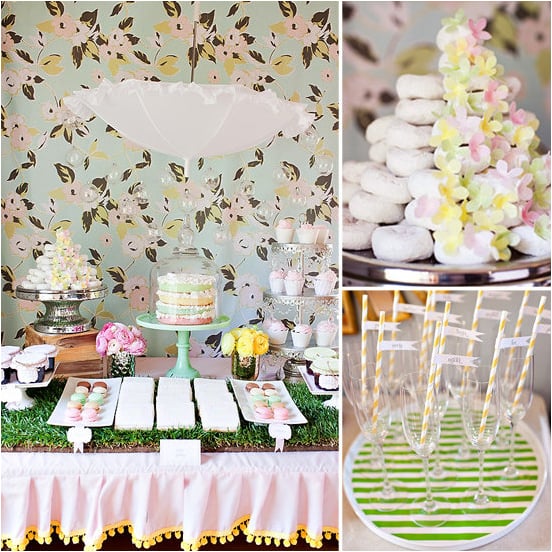 Just because a shower is small in size doesn't mean it can't be big on design. This springtime "sprinkle" [95] for a friend's second baby featured a pastel palette — perfect for Spring!
Photography by: Carly Taylor Photography [96]
Bright and Cheerful Baby Girl Shower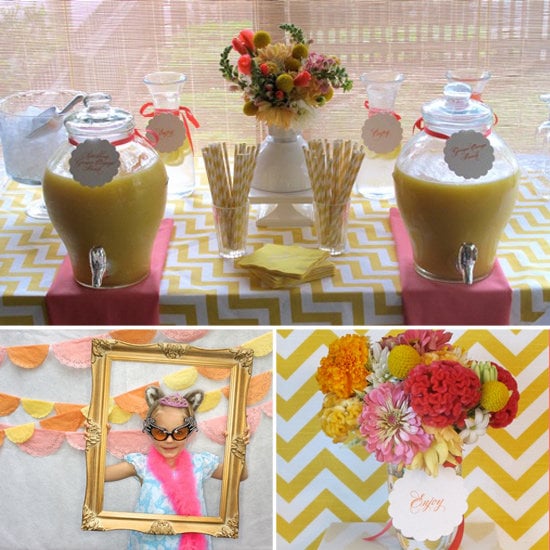 While a hurricane and a earthquake (seriously!) threatened to derail this beautiful baby shower, the party prevailed! The lucky mom-to-be, Courtney of Merriment Events [97], was honored with a bright, beautiful affair [98] in shades of pink, yellow, and orange.
Source: Merriment Events [99]
A Flower- and Owl-Filled Baby Shower
Leoni Jena of Just Call Me Martha [100] used The TomKat Studio printables [101] to create an adorable owl-themed baby shower [102] using some gorgeous, vintage-inspired florals, lovely sweets, and a beautiful tablescape.
Source: The TomKat Studio [103]
A "G" is For Girl Shower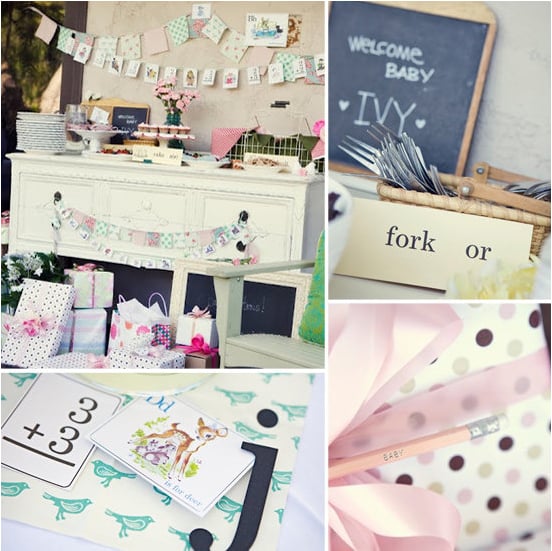 Throwing a baby shower for a mom-to-be who just happens to be a teacher? Get inspired by this absolutely beautiful, retro schoolhouse shower with a "G Is For Girl" theme [104].
Source: Sara Westbrook Photography [105]
A Breezy Beachside Baby Shower
Created by event designers Anders Ruff [106], this beachfront event is a fresh take on a gender-neutral baby shower [107], complete with yarn poms; hues of mint, aqua, lime, and yellow; and lovely printable paper goods [108].
Source: Anders Ruff [109]
A Simply Chic Orange-and-Blue Baby Shower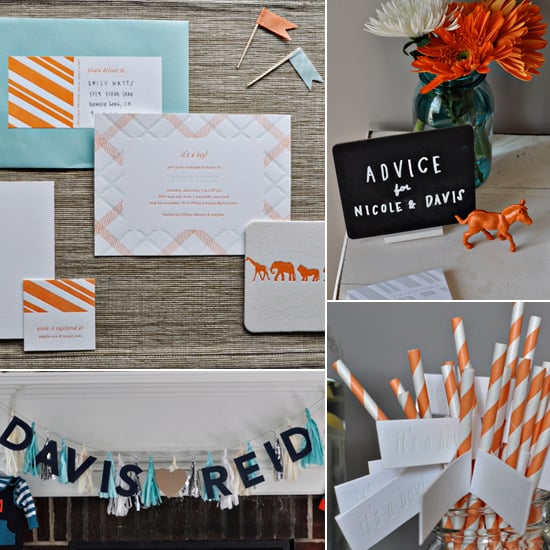 Sometimes all you need is one showstopping detail to take your baby shower from blah to wow. In the case of this orange-and-blue shower [110], it's all about the letterpress paper details, created by Sabrena of Dear Lola [111] for a shower she cohosted for a friend. Sabrena went all out with the paper suite, designing invitations and registry cards, thank-you cards, "it's a boy" straw tags and address labels, and even coasters. Add in some famed cupcakes [112], a DIY [113] tassel and name garland, and a cute advice station, and you have one simply sweet shower.
Source: Dear Lola [114]
A Philadelphia Phillies-Themed Shower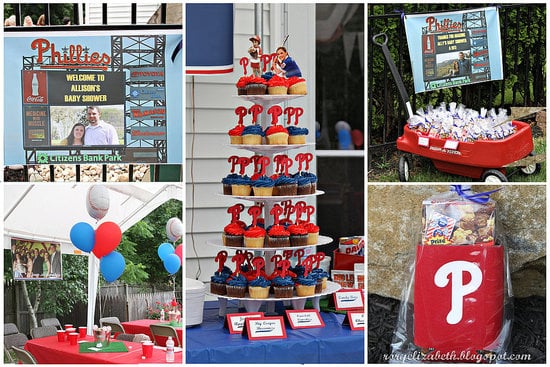 When an avid baseball fan found herself expecting a baby boy, her friends knew exactly what kind of shower they needed to throw her — a Philadelphia Phillies-themed party [115]!
Source: Circle of Moms [116] user LoveRoars
A Little Man Mustache Baby Shower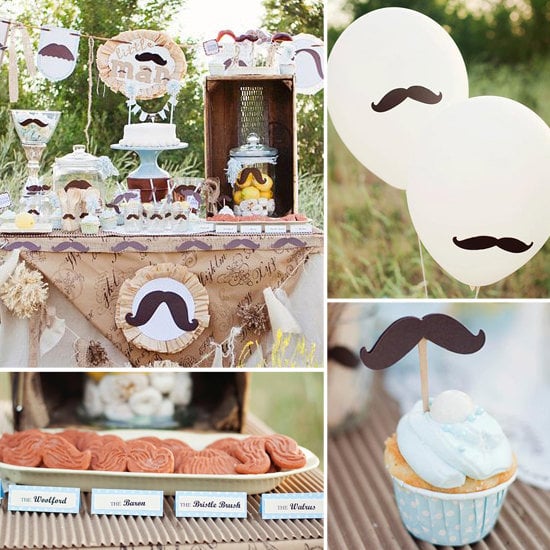 Jessica of Quilted Polka Dot [117], a mom of two and awesome Etsy shop owner, created this adorable mustache-themed baby shower for a client who wanted a mix of the fun mustache trend with a dash of vintage. By mixing in some hard edges (corrugated cardboard as a table runner, wooden crates) with the softness of ruffles, lace, fabric, and poms, Jessica created a truly unique event [118].
Source: Quilted Polka Dot [119]
What Will it Bee Gender Reveal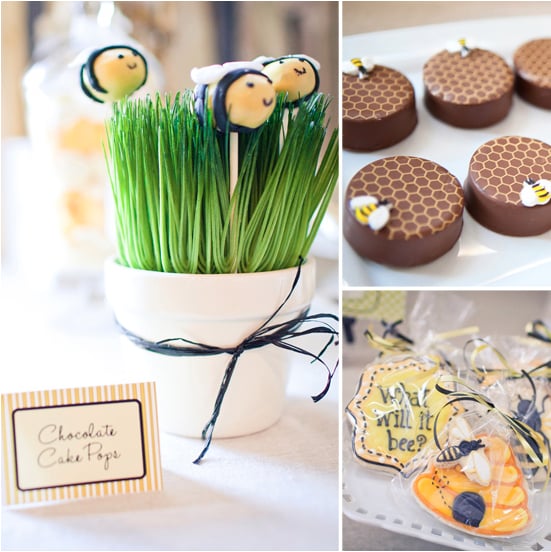 This bee-themed gender reveal party [120] is jam-packed with sweet bee and honeycomb-inspired desserts, and decor ideas.
Source: Libby Lane Press [121]
National Park-Themed Baby Shower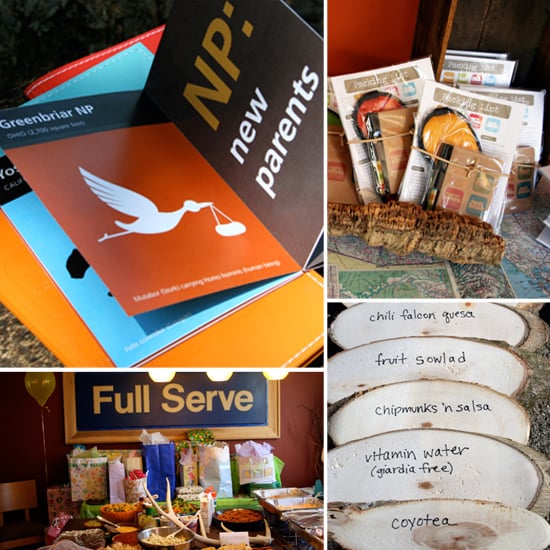 Adventure hits close to home with a national park-themed baby shower [122]! Passport invites were sent out, and included things like a shower itinerary, arrival logistics (comfortable shoes, water and bear bells are recommended, and use caution if packing in edibles), an equipment/survival gear list (a.k.a. registry info) and GPS coordinates.
Source: jdeer from Egg2Cake [123]
Sock Monkey Baby Shower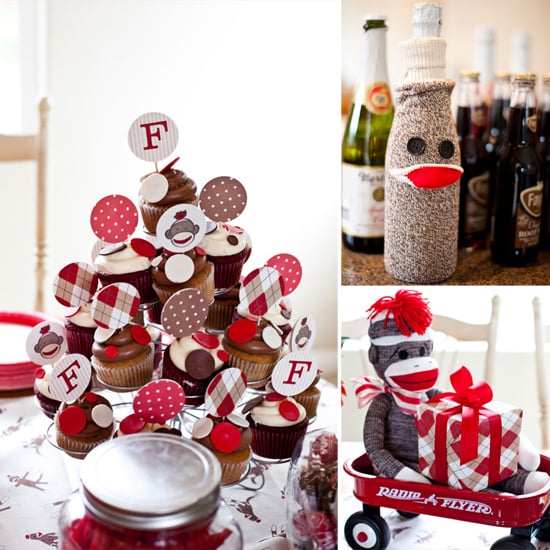 Go bananas! Vintage sock monkeys in red, brown and white made this Sock Monkey Baby Shower [124] unforgettable.
Source: Jackie Wonders [125]
A Lavender Shower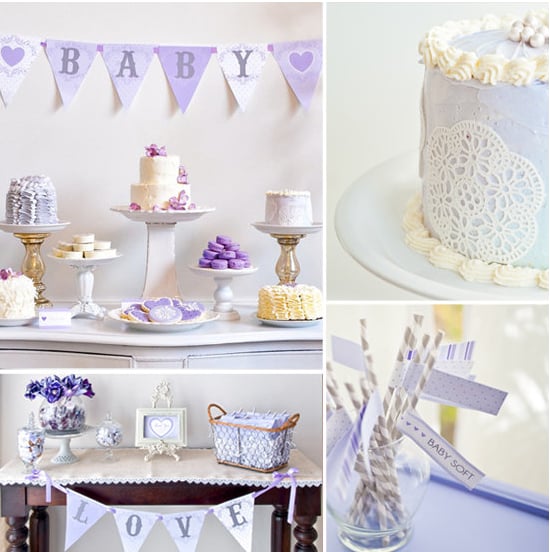 This Baby Love shower [126], had not one, not two, but five inspirational cakes, lavender bouquets, and sweet paper details to celebrate a baby girl!
Source: John McLaughlin for Frog Prince Paperie [127]
An Exotic Moroccan-Inspired Baby Shower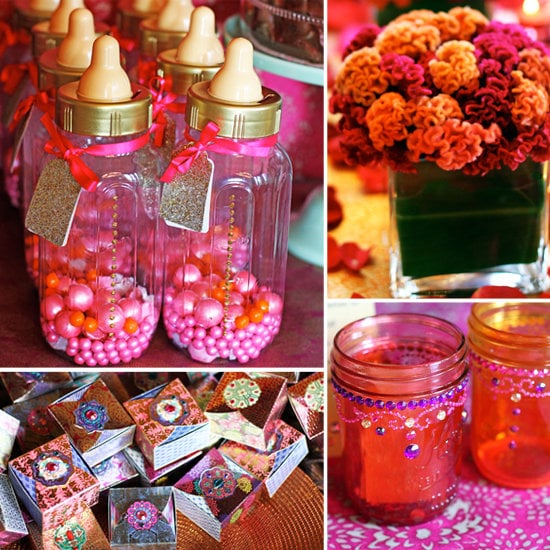 When Jessie of Lilyshop [128] started planning a baby shower for a close friend, she knew she had to think beyond the typical carriage-shaped cookies and onesie decorating games. Instead, Jessie took her inspiration from Morocco, creating a global, girlie evening shower [129] complete with fab flowers, rich shades of orange, pink, and gold, and even a henna tattoo artist!
Source: Lilyshop [130]
A Baseball-Themed Baby Shower For a Lil Slugger-to-Be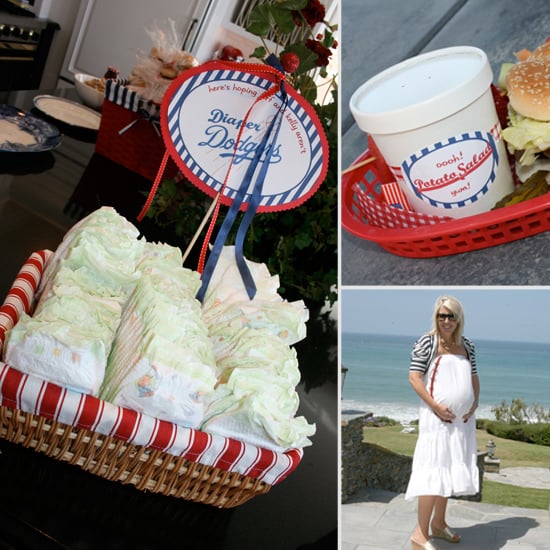 Who says a baby shower must be filled with pastels and frills. When Cakes Likes a Party [131] blogger Annika Lawrence threw her baseball-loving brother and sister-in-law a ballpark shower [132] that was a guaranteed home run.
Source: Cakes Likes a Party [133]
Sprinkle Mama-to-Be With a Unique Shower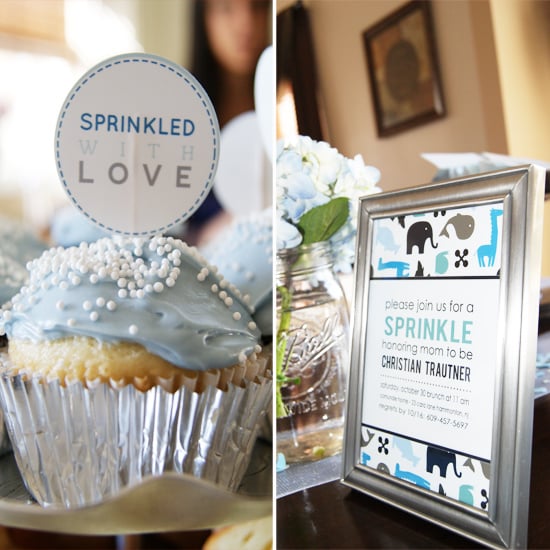 An experienced mama doesn't need a full-blown baby shower but she does deserve a celebration — and a few baby gear updates! We loved this sprinkle baby shower theme [134] for second and third time moms.
Source: Anders Ruff [135]
"Milkaholic" Coed Baby Shower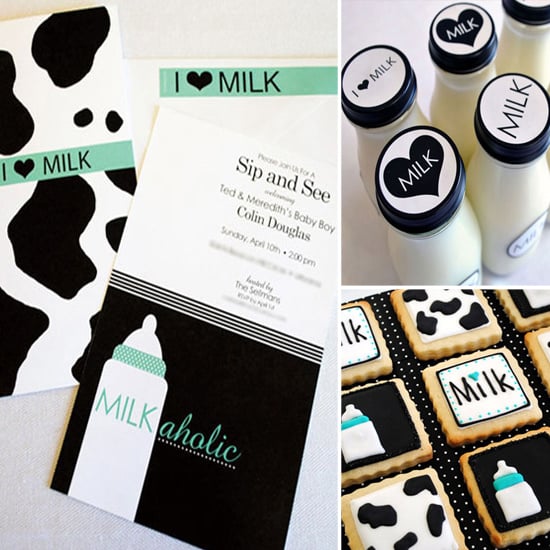 Many expectant couples prefer a coed baby shower — to include the soon-to-be-dad and other male friends and family members. This "Milkaholic" Coed Baby Shower [136] was a big hit with our readers. With custom cookies and a milk bar, this shower was a huge success with the gentlemen and the ladies!
Source: Carrie Sellman of Half Baked [137]
It's Anybody's Guess! Gender Reveal Party Fun For Everyone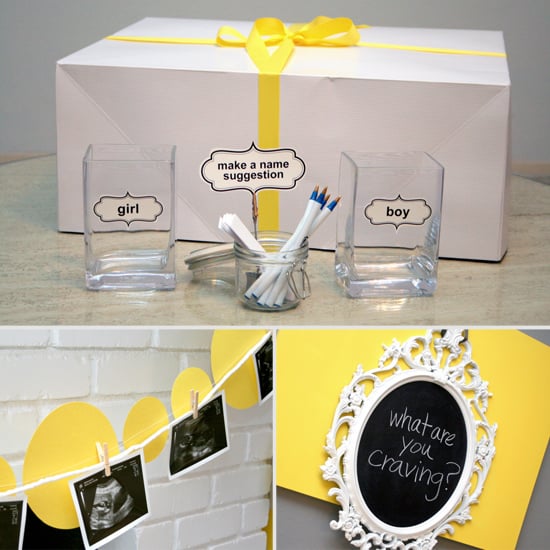 Baby showers come in all shapes and sizes and few are receiving as much attention these days as the gender reveal party [138]. Couples looking to bypass the traditional shower parties, and those looking for another reason to celebrate, are bringing family and friends together to witness the unveiling of their baby-to-be's gender.
Source: Paging Supermom [139]
A Birds and Bees Tea For a Nesting Mama-to-Be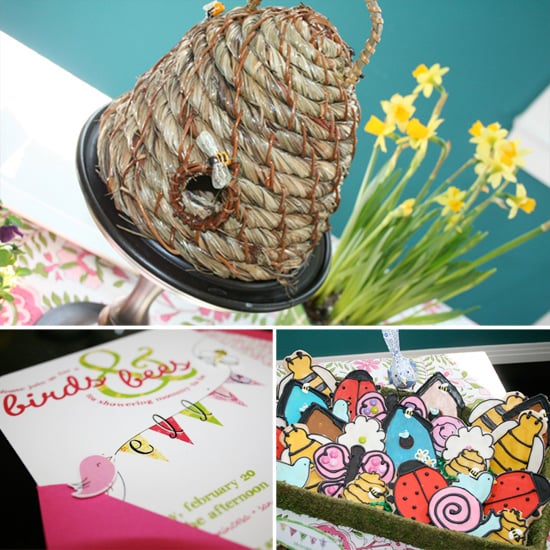 It's safe to assume that if you're throwing a baby shower for someone, they know a thing or two about the birds and the bees! But the cheekiness of a Birds and Bees Tea For a Nesting Mama-to-Be [140] is too cute to pass up.
Source: Cakes Likes a Party [141]
A High Tea Shower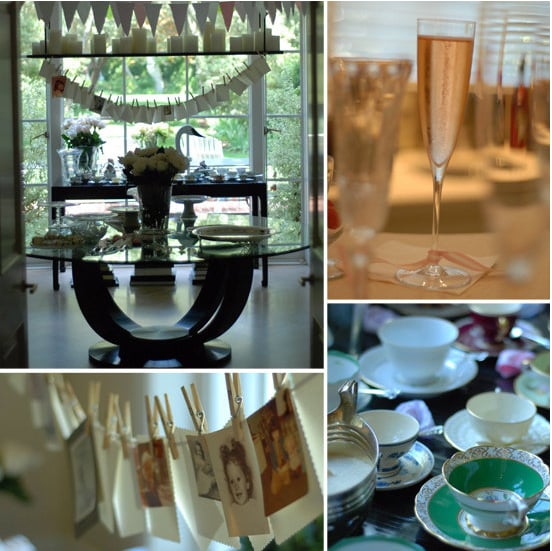 The classic British tradition was the inspiration for this classic high tea shower [142].
Source: Après Fete [143]
A Vintage Baby Shower
When baker and event designer Jenny Keller was asked to plan a shower for her cousin, she knew she had to go the vintage route. By scouring secondhand stores, flea markets, and estate sales, the woman behind Jenny Cookies was able to find everything she needed to create a truly classic shower [144].
Source: Kelly Bowie for Jenny Cookies [145]
A British Baby Shower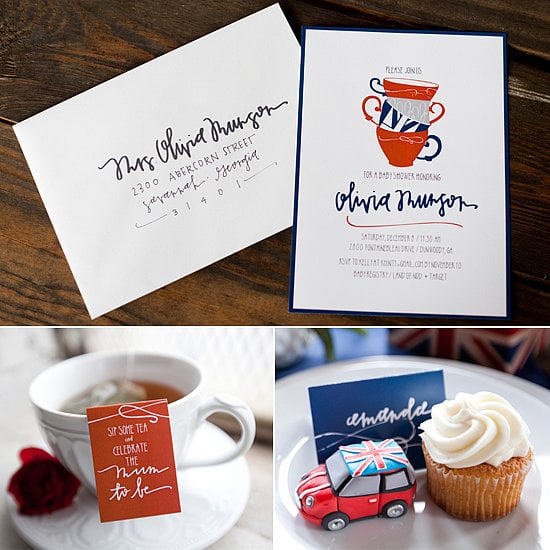 The royal baby [146] wasn't the inspiration for this British baby shower [147], but it was certainly a royal affair. Amanda Ready from Atlanta Event Studio [148] created a shower fit for a prince by mixing rustic farmhouse tables, wingback velvet chairs, and lots of English extras!
Source: Anchor & Eden [149]
A Pretty, Pastel Baby Shower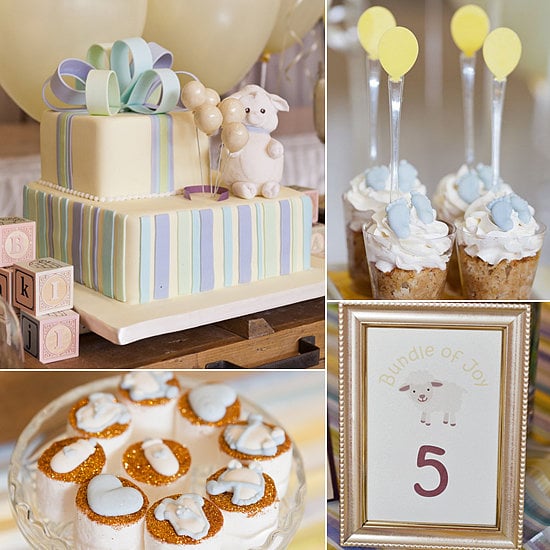 Little lambs, vintage decor, an ombré balloon backdrop, and a big gender reveal? There is so much to love in this adorable baby lamb shower [150] thrown by Diana Pires of Truly Yours Planning [151], who was inspired by pastel colors and her favorite little animal.
Source: Truly Yours Planning [152]
A Golden Books Baby Shower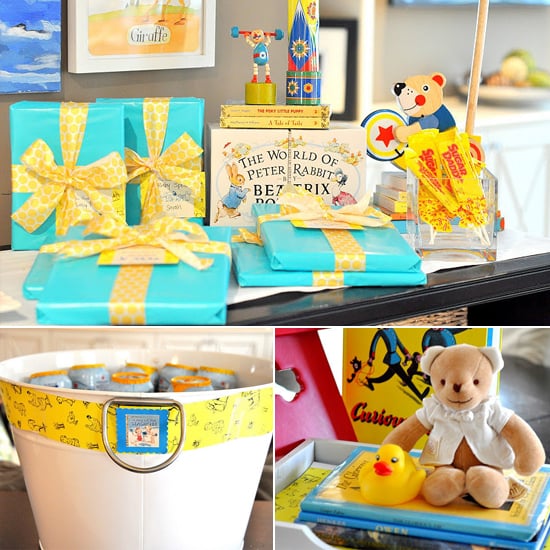 When Anneliese of Aesthetic Nest [153] was asked to plan a party for two expectant women, she knew she had to incorporate the beloved Little Golden Books. The mother and designer scoured thrift shops for children's books and classic toys and used design skills to create amazing paper accents. We love every aspect of this storybook shower [154], and you will too!
Source: Aesthetic Nest [155]
A Light and Airy Outdoor Baby Shower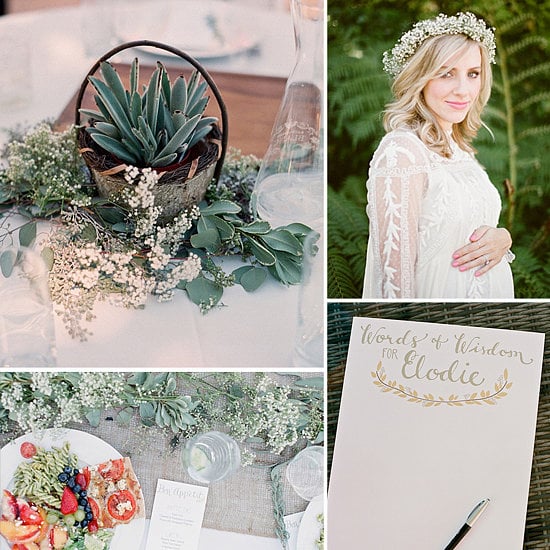 While Taylor Sterling, the stylish founder of lifestyle, fashion, and beauty blog Glitter Guide [156], loves everything sparkly and color-filled, she decided to go in a different direction for her own baby shower. Succulents, a gorgeous display of sweet and savory eats, and a bar filled with girlie cocktails are just some of the highlights of this gorgeous but subtle shower. [157]
Source: Glitter Guide [158]
A Nautical Baby Shower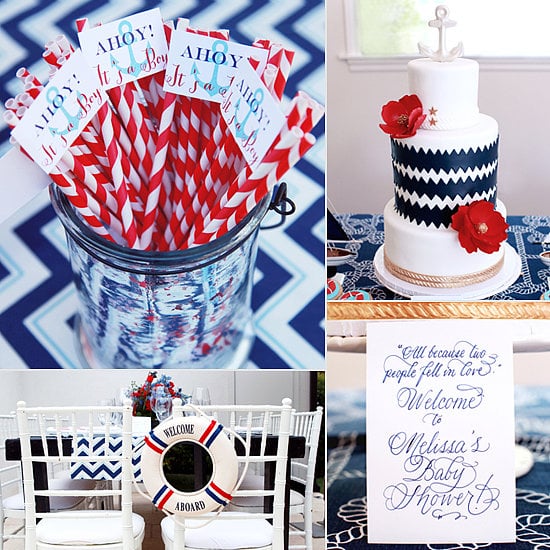 Ahoy, baby! Cool table linens and flowers, clever signage, and a gorgeous cake were just a few of our favorite elements from this seaside shower [159], perfect for a Summer birth.
Source: Fancy That! Events [160]
A Lovely Build-a-Library Baby Shower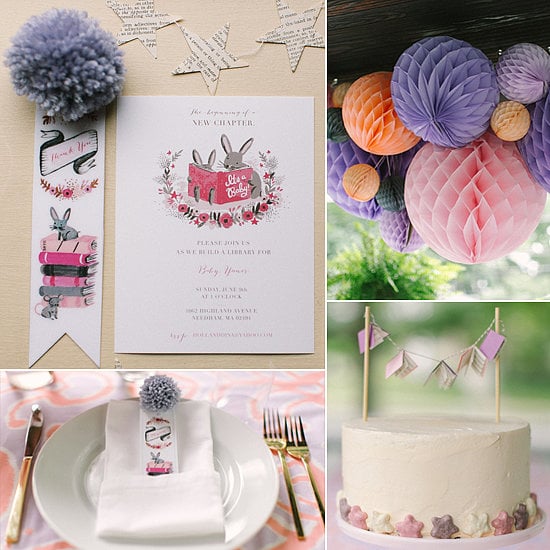 We're beyond smitten with the style and theme of this build-a-library baby shower [161] thrown by Dina Holland of Honey & Fitz [162]. Diane created this breathtaking shower by using lots of store-bought food, repurposed furniture, Rifle Paper Co. printables, and some adorable — but doable — DIY [163] projects.
Source: Honey & Fitz [164]
A Hundred Acre Wood Baby Shower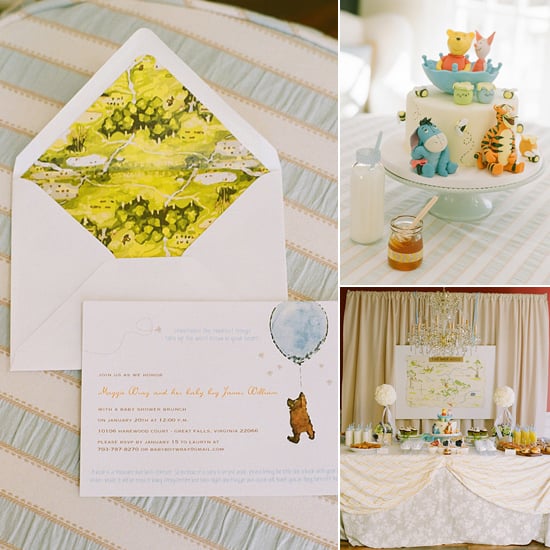 When it comes to hosting a themed baby shower, there's a fine line between subtlety and taking the motif a bit too far (especially when the honoree's an adult!). We think that this absolutely elegant Winnie the Pooh shower [165] hit the nail on the head. Soft colors, dreamy watercolors, and a menu of bite-size comfort foods made this grown-up journey to the Hundred Acre Wood an especially memorable affair for the mom-to-be and her lucky guests.
Photography by Abby Jiu [166] via 100 Layer Cakelet [167]
A Dreamy Baby Shower With a Dash of Humor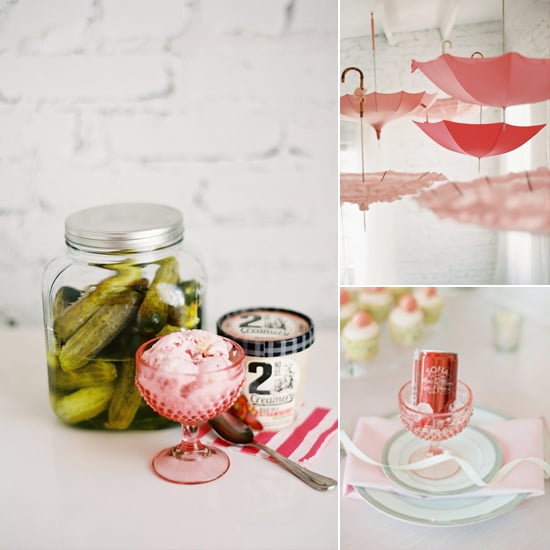 We love how this baby shower mixed quirky with cute in such a beautiful way! This pretty-in-pink shower [168] featured so many inspiring elements, including a collection of pink vintage umbrellas hanging from the ceiling (a tribute to a "shower") and a "craving station," which acted as a food table and a game (guests ranked the order of the items they thought the mom-to-be would crave the most).
Source: Karson Butler Events [169]
An Out-of-This-World Baby Shower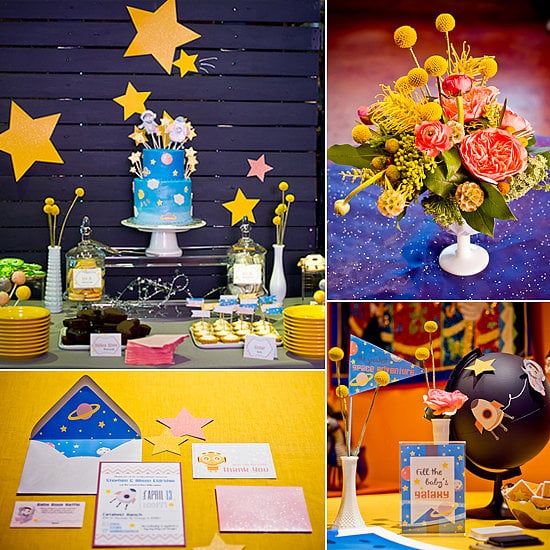 You might think an outer-space theme would only work for a baby boy, but this awesome shower proves that space is equally girl-friendly. Tiny details, like pink astronaut suits, polka-dot spaceships, and so many more make this a creative and literally out-of-this-world shower [170].
Source: Naturally Yours Events [171]
A Dreamy Watercolor-Inspired Baby Shower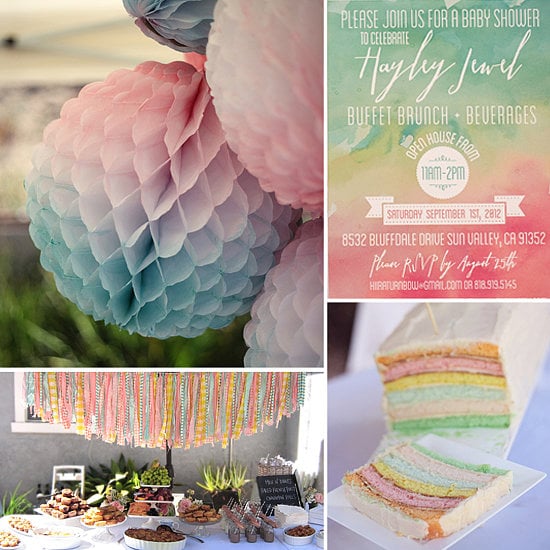 A piece of paper was the inspiration for this colorful shower [172]. Gorgeous decorations, DIY [173] onesies, a make-your-own bubbly bar, and more elements helped bring this watercolor dream to life.
Source: Eye Heart Pretty Things [174]
A Vintage Garden-Themed Baby Shower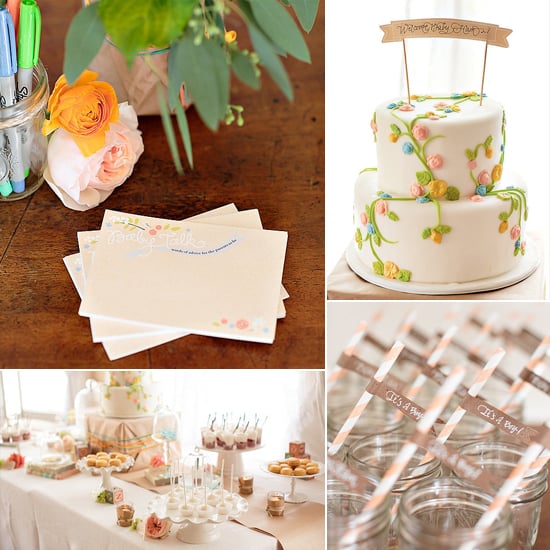 With a quaint Orange County, CA, teahouse as her background, Lina Wallace of A Stunning Affair [175] created an indoor garden space and filled it with a vintage beverage station — with the requisite mason jars and striped straws — as well as wooden crates filled with garden flowers, stacked baby books, and sweet china teacups. Her floral twist on the vintage theme [176] is one any mom-to-be would love.
Source: Suthi Picotte of Picotte Photography [177]