It's your little one's special day, so there's no stopping Mom when it comes to planning the perfect birthday bash. Kids wait all year to celebrate their big days, and with one of these amazing party themes, they're sure to have the best days ever. From parties inspired by glitter, sprinkles, strawberries, and lemonade to princess bashes of every variety to boy-perfect soirees featuring mad scientists, pirates, ninjas, and even construction cones, we've rounded up the best themes for the guest of honor! Keep clicking to find the party that best matches your little birthday boy or girl.
An Old-Fashioned Birthday Bash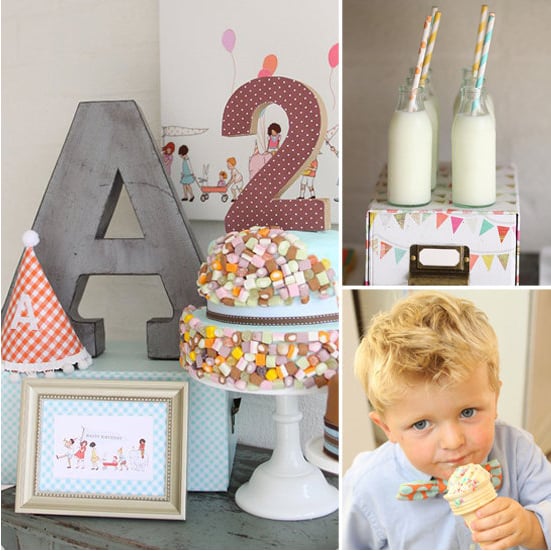 Vintage fabrics and illustrations are the inspiration for this simply charming party [1]. A licorice-allsorts-embellished cake, fabric pennants, and charming pom-pom details make this party one of a kind.
Source: Graeme Sharkey [2]
A Lego-Themed Birthday Party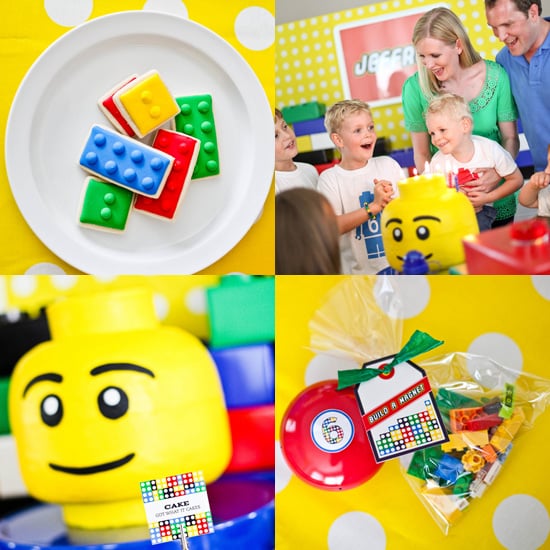 Let go of my Lego? Kids love Legos — and that's a fact! So don't be surprised if Mama's little brick lover requests a Lego-themed party [3] for his next birthday.
Source: Anders Ruff [4]
A Rainbow Birthday Party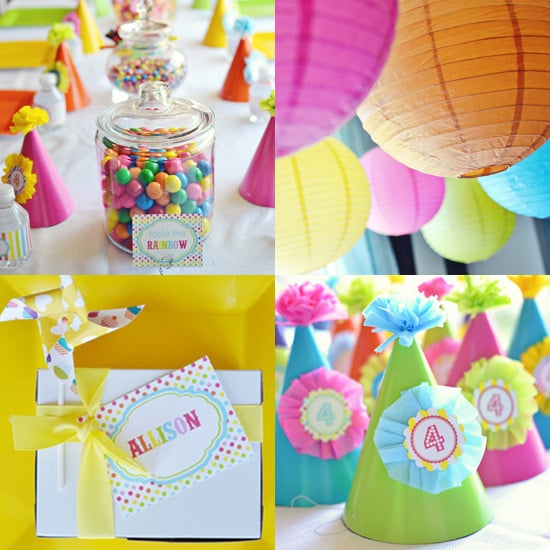 Perfect for a girl or a boy, a rainbow birthday party [5] is easy to plan and execute! Colorful decorative items — like paper lanterns and polka-dot pinwheels — and one-of-a-kind party hats make this party extra cheerful.
Source: Belva June [6]
A Super-Girlie First Birthday Party
This beautiful birthday party is as girlie as it gets [7], with a sweet dessert table, the prettiest rose-covered cake, and one seriously adorable birthday girl.
Source: I Heart Nap Time [8]
A Ghostbusters Party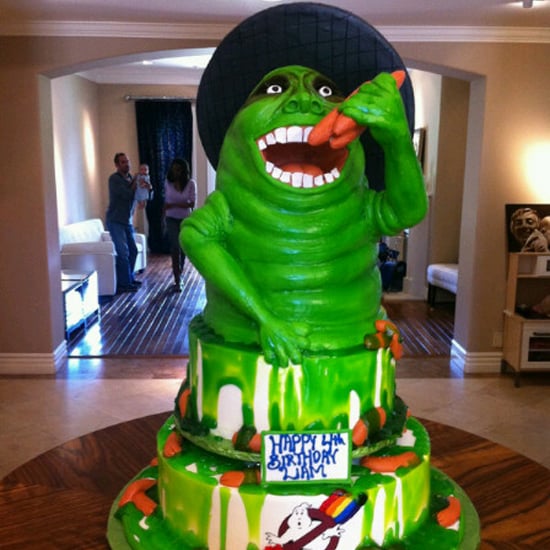 Who you gonna call for a Ghostbusters party [9]? Tori Spelling [10]! The 90210 alum and then mom of two threw her son a Ghostbusters-themed afternoon included a giant slime cake, custom cookies, cake pops, and homemade proton packs for the guests to wear — complete with silly string to fight oncoming apparitions.
Source: Plixi User Tori Spelling [11]
A Girlie Camping-Themed Birthday Party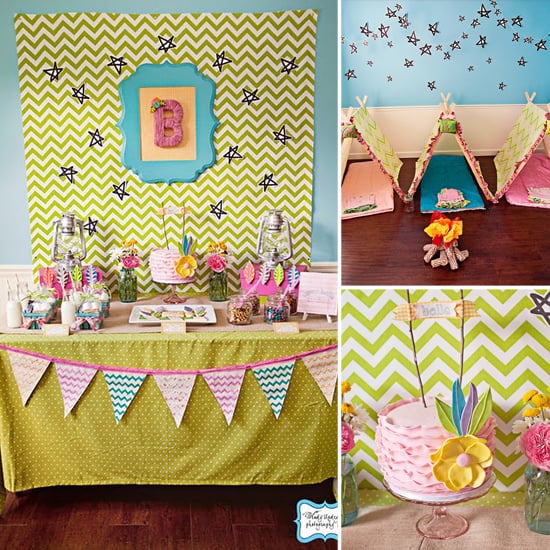 If your girlie girl has a romantic notion of camping, you don't want to miss this stylish girlie camping-themed birthday party [12]. It's the camping party little girls' dreams are made of!
Source: Wendy Updegraff Photography [13]
A Girlie Elmo Birthday Party
Finding a tot who doesn't love Elmo is like finding a needle in a haystack, and this girlie Elmo soiree [14] takes the Sesame Street party to a whole other level!
Source: Hostess with the Mostess [15]
A Wet and Wild Wipeout Party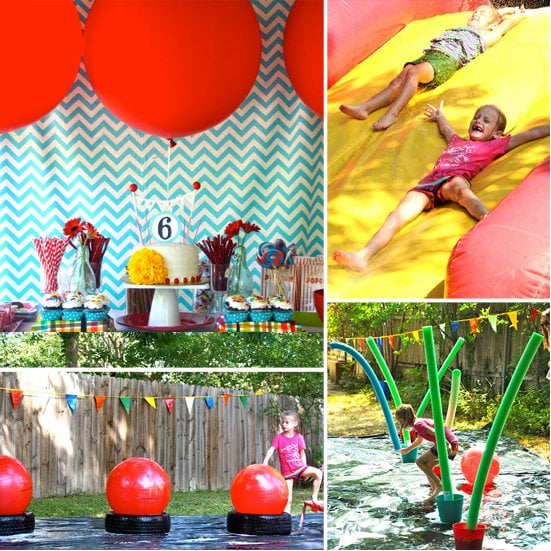 Inspired by ABC's Wipeout, this water-obstacle-filled party [16] would make any tot smile. With slippery slides, bouncing balls, and plenty of opportunities for getting wet and wild, this party is perfect for kids looking for a way to keep cool.
Source: Brenda Marafioto for Beth and Co. [17]
A Football Party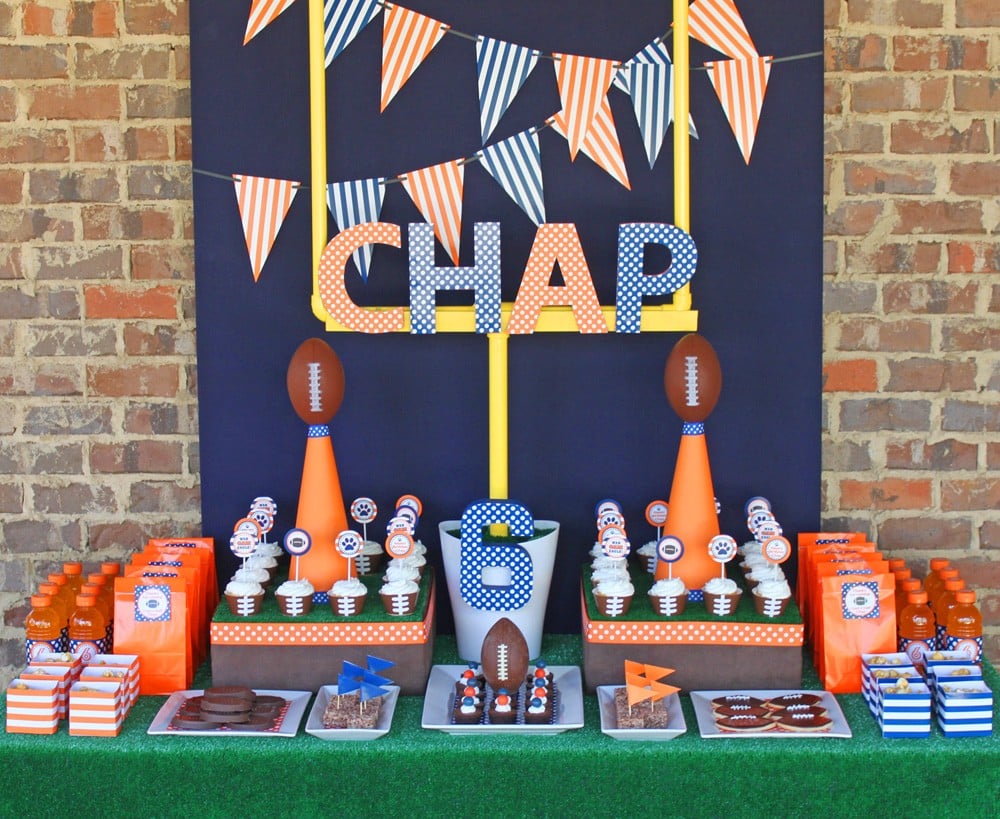 It doesn't have to be NFL season to throw a football-themed birthday party [18] for your lil pigskin fan.
A Snow White Birthday Party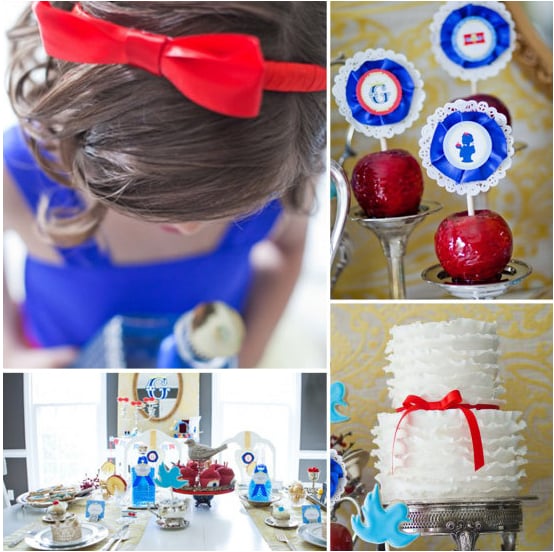 With "poisonous" candy apples, fairy-tale bluebird cookies, candy-gem-embellished cupcakes, a white ruffle cake, and make-your-own bejeweled mirrors, this royal Snow White birthday affair [19] is fairy-tale perfection.


Source: Becca Bond for Anders Ruff [20]
A Baking Party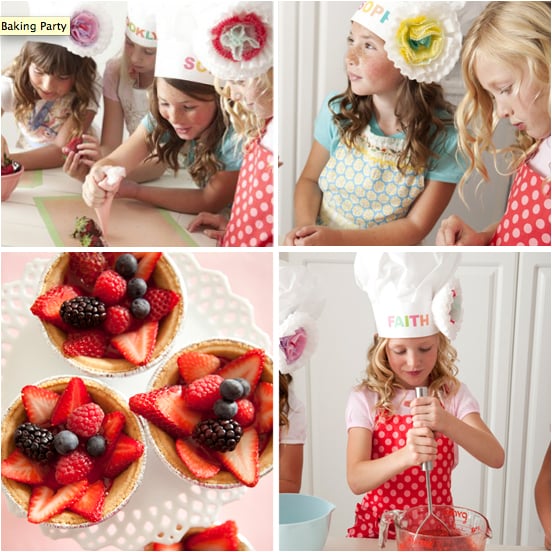 Guests at this adorable baking party [21] were put right to work after donning their custom chef's hats and aprons. Working their way through seven pastry stations, the guests made old-school treats, like strawberry tarts and chocolate-dipped strawberries.


Source: One Charming Party [22]
A Post Office Party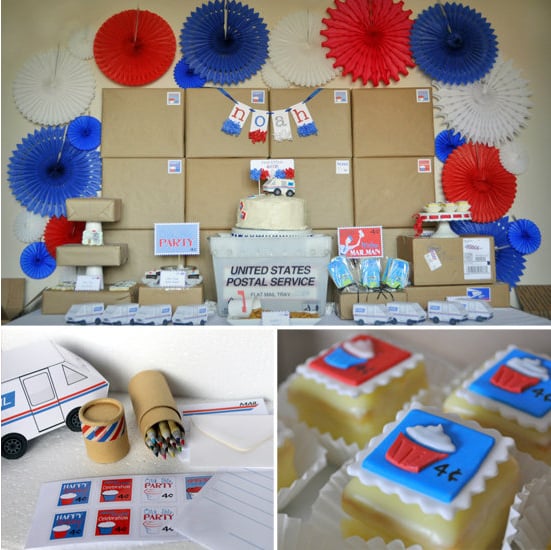 For the tot who can't wait for the mailman to arrive each day, this first-class post office party [23] is a way to ensure he's signed, sealed, and delivered to his next big day.
Source: Allison Kaharick for Crossing the Bugger-Dixon Line [24]
Pink Princess Birthday Party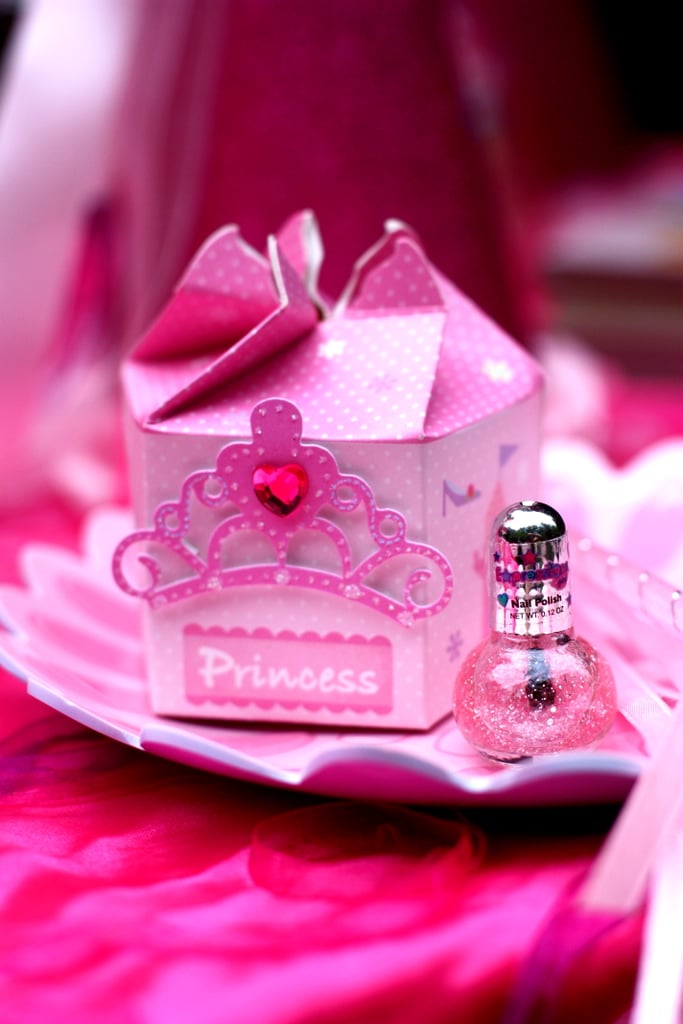 All little girls are princesses! If your little royal still hasn't decided on a theme for her upcoming birthday, a pink princess party [25] might be just what she wants. Dazzling details and sweet treats make this girlie birthday bash an affair to remember!
Source: Phronsie + Courtney for Pizzazzerie [26]
A Sweet Girlie Birthday Bash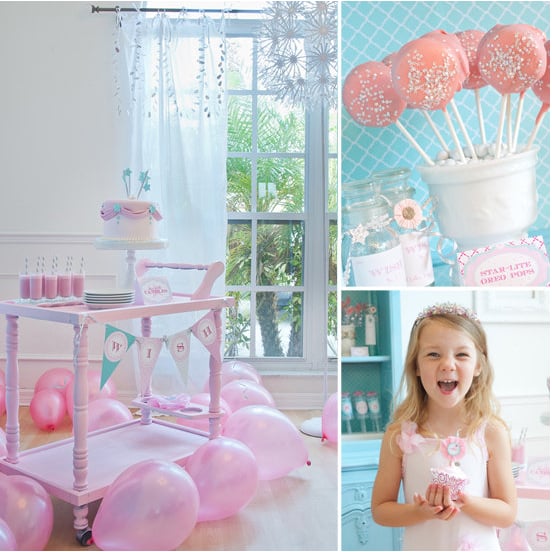 Birthdays seem magical when you're little, and for the lucky lil lady who celebrated her fifth birthday with this whimsical, sweets-filled bash [27], they probably always will.
Source: John McLaughlin for Frog Prince Paperie [28]
A Wizard of Oz Party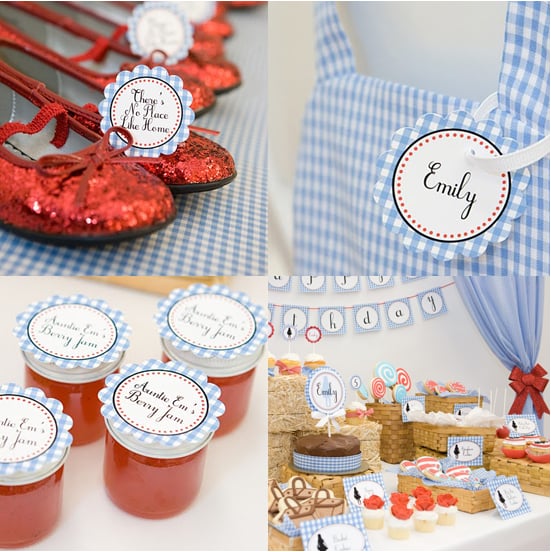 A trip to Oz and back was the inspiration for this beautiful Wizard of Oz [29] party. Each guest arrived to receive a pair of glittered ruby slippers, a handmade gingham apron, and plenty of treats (including basket and yellow brick road cookies and poppy cupcakes). Throughout the party, the girls made their way from the farm, through Oz, and back home through a series of games and activities!


Source: TomKat Studio [30]
A Candyland Party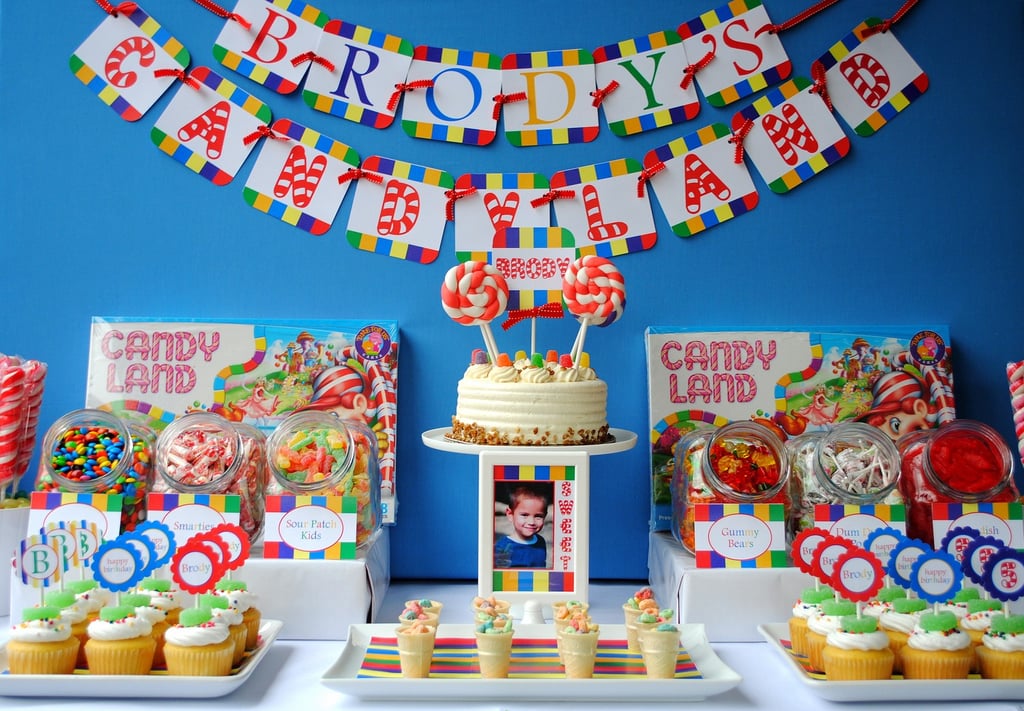 The classic board game Candyland has been a kid favorite since its debut in the 1940s. If your lil one can't get enough of Candy Cane Forest or Gum Drop Mountain, a Candyland-inspired birthday party [31] is easy to put together and fun to attend!
Source: sweetmetelmoments [32]
Butterfly Garden Birthday Party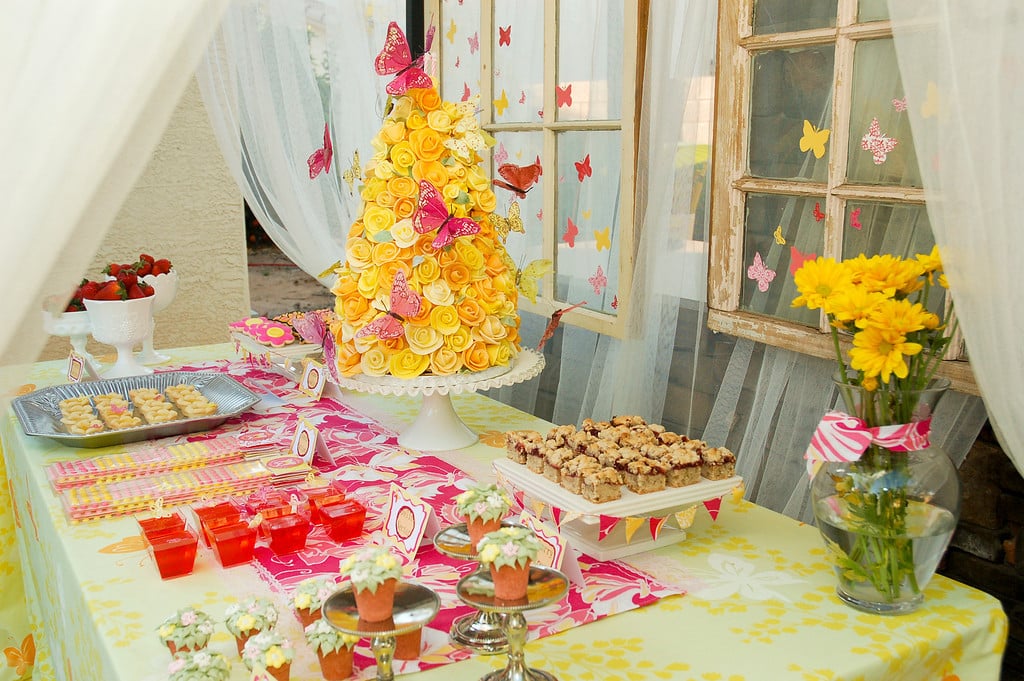 A little girl is never too young to host a garden party! This butterfly garden birthday party [33] featured a whimsical dessert table tent and lots of special handmade details for a second birthday celebration.
Source: Tikkido [34]
A Peter Pan Party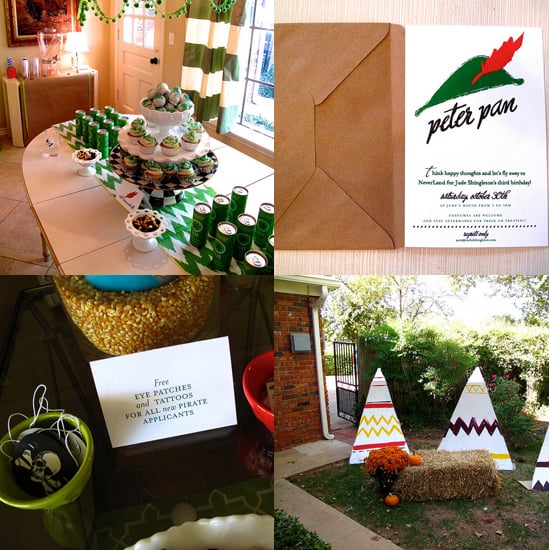 When Rachel Shingleton's son turned 3, she transformed her home into Never Never Land [35] complete with eye patches, tattoos, pixie dust, and tepee photo stations for the lost boys attending in their best Peter Pan costumes.
Source: Pencil Shavings [36]
A Sesame Street-Themed Party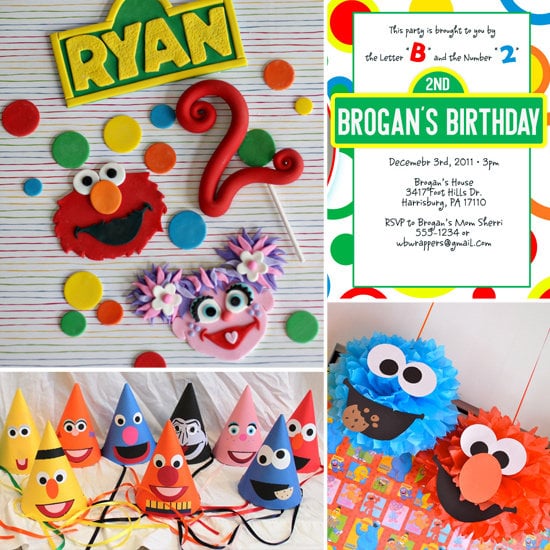 For over four decades, Sesame Street has been providing children with education through entertainment and humor. So if your little one is part of a new generation of fans, a Sesame Street-themed party [37] is a great idea for your tot's next birthday.
Goldilocks and the Three Bears-Themed Birthday Party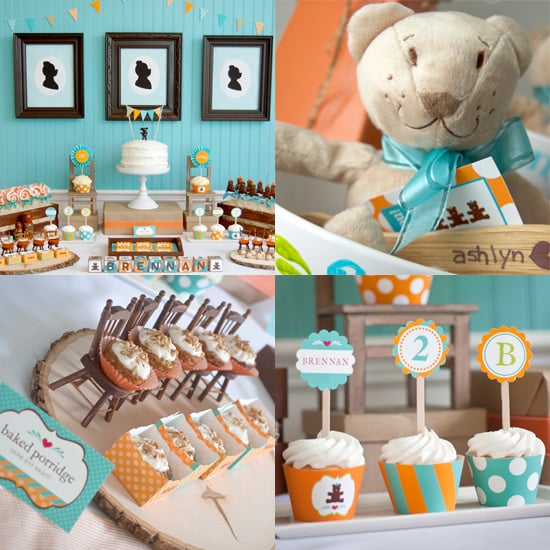 Who's been sleeping in my bed? Storybook-themed birthday parties can be so sweet — but there's nothing sweeter than this Goldilocks and the Three Bears-themed birthday party [38]. Whimsical themed details — like lots of little chairs, a bed, balloons, bunting, and handmade desserts — make little guests feel right at home at the bear family house!
Source: Frog Prince Paperie [39]
Disney Cars Party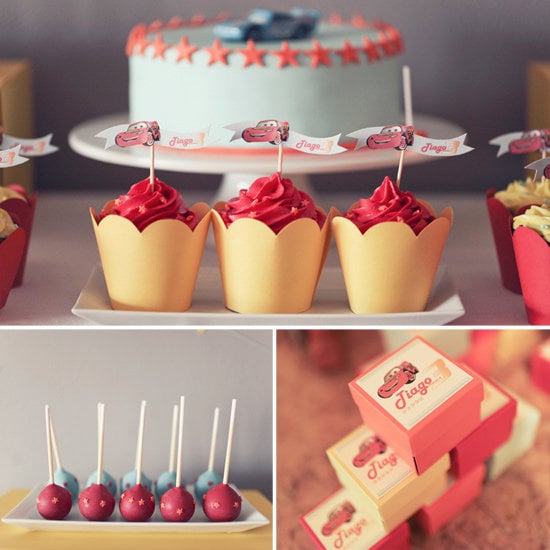 Start your engines! Boys, both big and small, love cars — and it's almost certain that your little man also loves the movie Cars. Throw him a "wheelie" cool party [40] for his next birthday, inspired by the movie.
Source: Branco Prata [41]
A Winter Candyland Birthday Party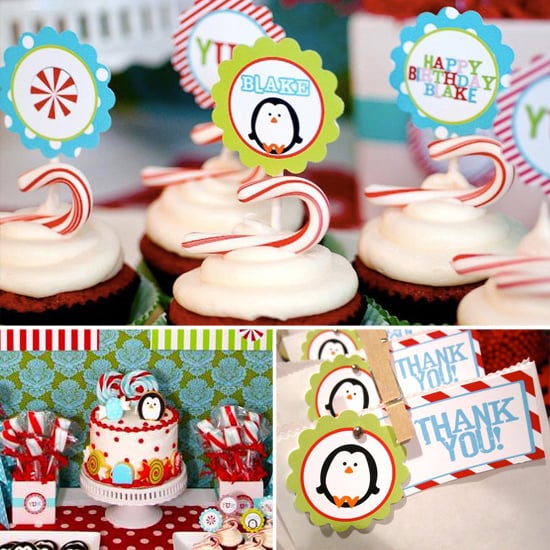 If your lil one celebrates a birthday in December, check out this creative Winter Candyland birthday party [42] — it celebrates baby and the season!
Source: Fresh Chick Designs [43]
A Hello Kitty Party
Fans of Hello Kitty can't get enough of the sweet lil feline, and this Hello Kitty-themed party [44] that Tori Spelling [45] threw her daughter Stella has just the right amount of sweetness.
A Dr. Seuss-Themed Birthday Party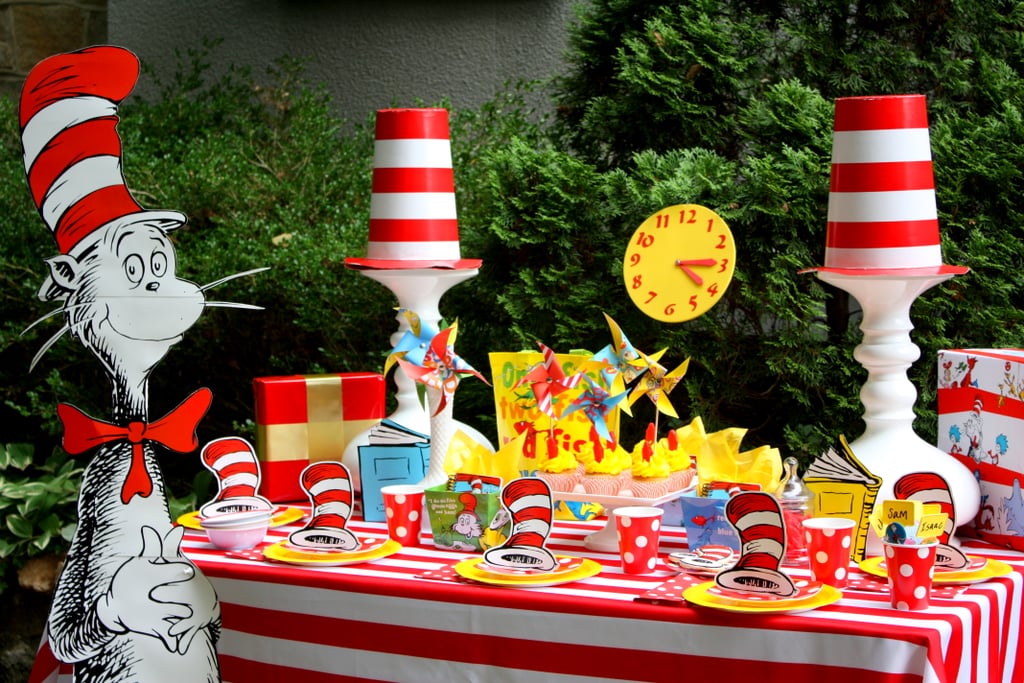 For a bright and whimsical birthday theme, Mama doesn't have to look further than baby's favorite books for inspiration! Dr. Seuss classics — like The Cat in the Hat and One Fish, Two Fish, Red Fish, Blue Fish! — are filled with colorful characters that can be used to decorate a very special Dr. Seuss-themed party [46] for your little one's next birthday.
Source: Phronsie + Courtney Dial for Pizzazzerie [47]
A Space Party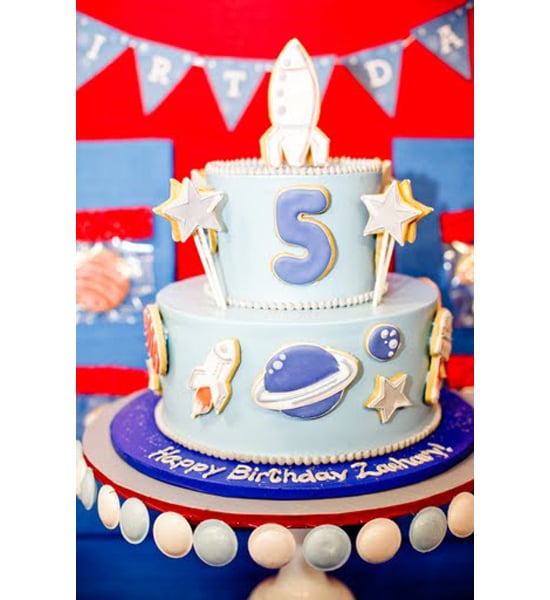 Three, two, one, blast off! You can't take a child to the moon (yet), but you can still create an outer-space birthday party theme [48] that's out of this world!
Source: Amy Atlas [49]
A Fireman Party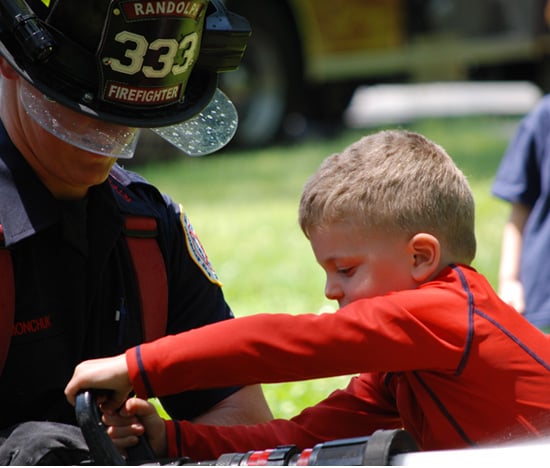 It's the sound of the siren, the pressure of the hose, the shiny polished trucks, and the fearlessness of firefighters that fascinate youngsters. With a fireman birthday bash [50] at your local station, you'll have a fiery success!
Vintage Tricycle Birthday Party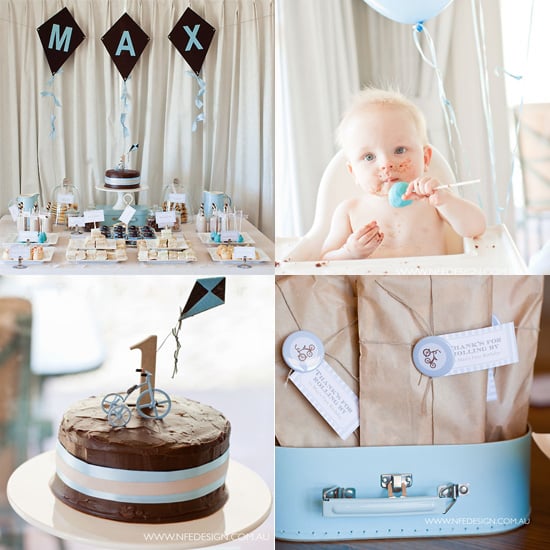 Retro themes have also been very popular this year in terms of kiddie parties. This vintage tricycle birthday party [51] is pure bliss with a muted color palette and vintage details.
Source: Style Me Gorgeous [52]
A County Fair Party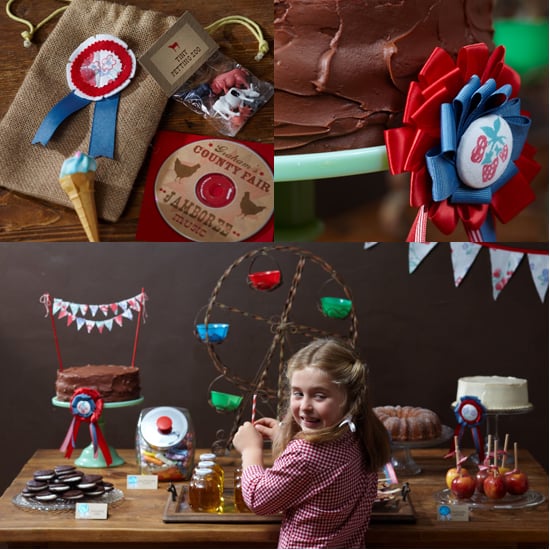 Take tots on a trip to the county fair with this retro-inspired party. Michele Wimborough's fair-inspired party [53] for her 5-year-old son provided the perfect opportunity to play some fun old games and indulge in traditional fair treats.
Source: Sherry Heck [54]
A Jackson Pollack Party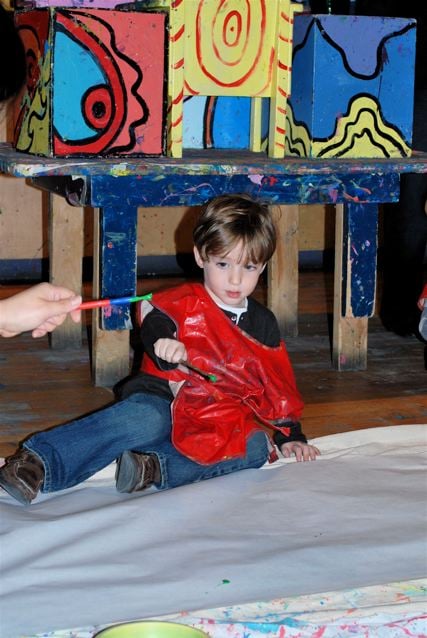 Kids love to get messy with arts and crafts projects, but most mommas temper the fun in order to avoid a mess. At a Jackson Pollack party [55], mom can encourage tots to get down and dirty for the afternoon.
A Puppy-Themed Party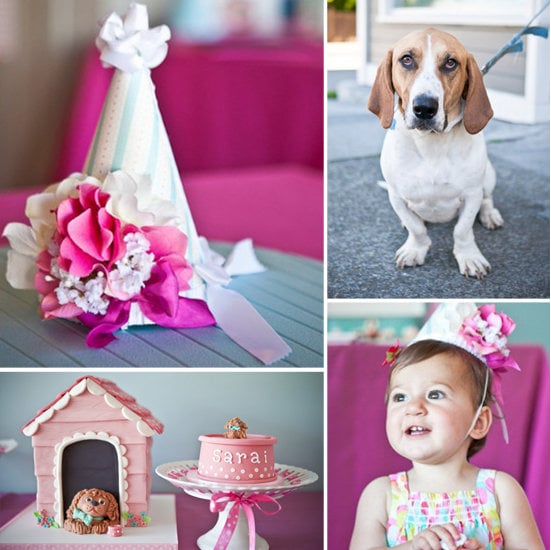 Bow wow indeed! You don't have to have a pet dog at home to love them — but it certainly helps for the pictures! This puppy-themed birthday party [56] proves that puppy power is here to stay!
Source: Allyson Wiley for A Little Savvy Event [57]
A Milk and Cookies Party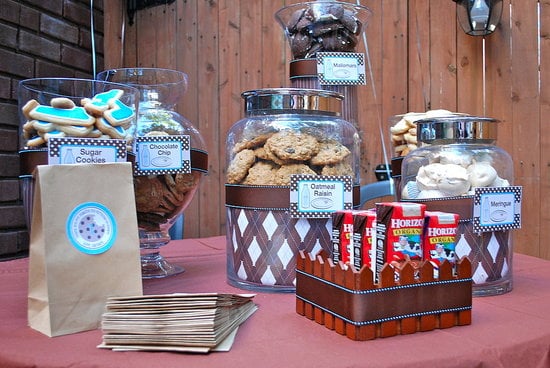 A first birthday not only marks a lil one's transition from infant to toddler, but for many tots, it is also when they are introduced to cow's milk and more table food. To celebrate my son's one-year milestone, we built a milk and cookies party [58] around his first taste of ice-cold milk and his first bite of sugar.
A Minnie Mouse Party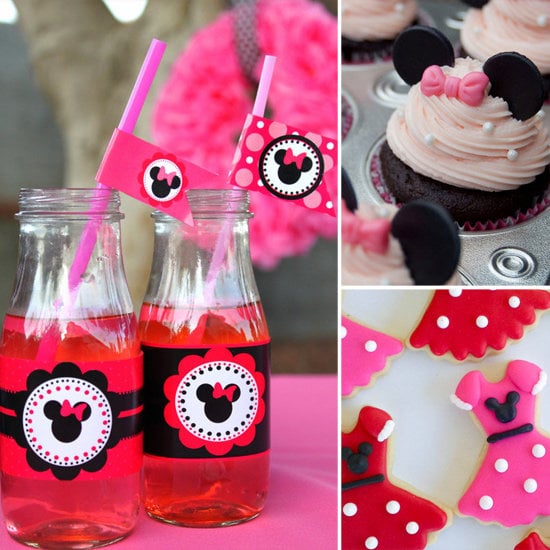 If mama's little girl is turning a year older and all she wants is a Minnie Mouse-themed birthday bash [59], then that's exactly what she'll get — and we've got some great party planning ideas to get you started!
A Pirate Party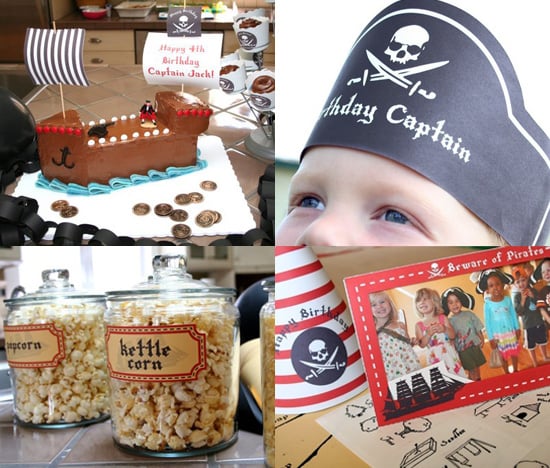 Ahoy mate! Lil pirates will love boarding your backyard pirate ship [60] to set sail for hidden treasures.
A Ladybug Party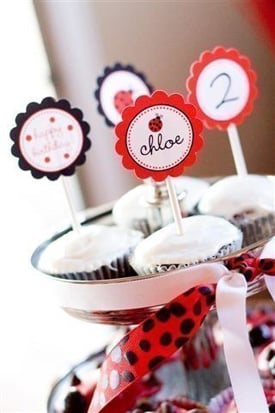 Bug out on baby's birthday! There are lots of black and red bug birthday decorations to choose from, so why not make your ladybug the center of attention and throw a garden-themed fete [61] with flowers, green grass, and legged confetti crawling throughout?
A Scavenger Hunt Party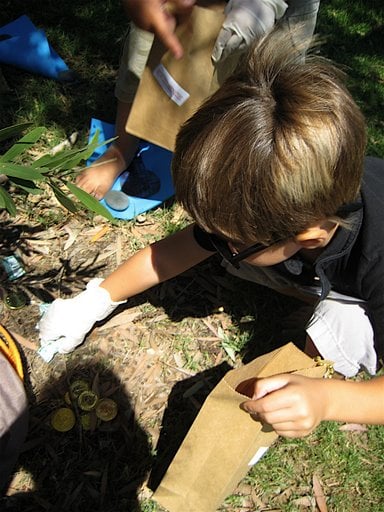 Put little sleuths to work with a detective party [62] that plays on their natural curiosities.
A Vintage Superhero Party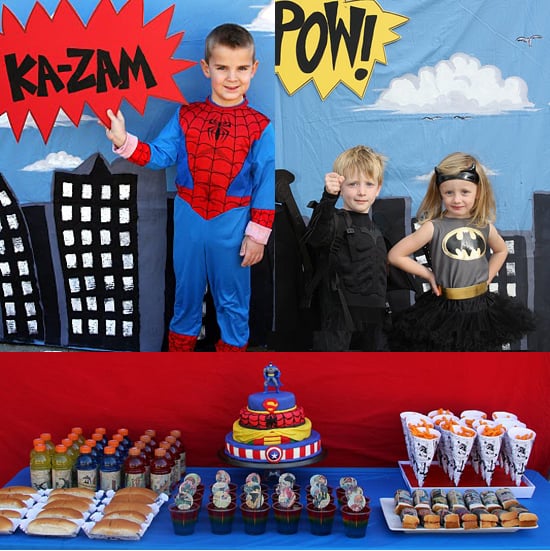 When Chelsea Wood's son turned 6, she knew she'd have to combine his love of superheroes with some vintage comic books she'd found at a flea market. The result was a comic superhero party [63] that brought all of the kids together! Guests arrived dressed as their favorite hero, posed in front of a homemade backdrop, played games, and walked away with their photo in a comic-book frame!
Source: Life Frosting [64]
An Eloise-Inspired Hotel Birthday Bonanza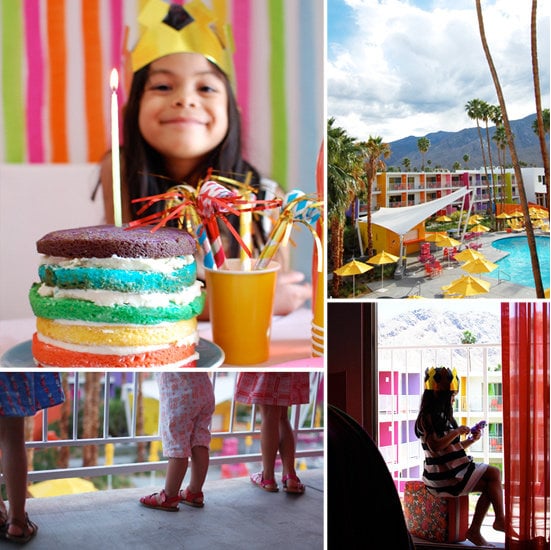 Fans of the rebellious lil Eloise don't have to travel to The Plaza to indulge their lil ones. This Eloise-inspired party [65] took place at a local hotel in the birthday girl's town with just a handful of friends.
Source: Cakies [66]
A Floral Party
This flower-filled birthday party [67] is full of beautiful details like fabric rosettes, hints of burlap, and two beautiful food stations — one for brunch, one for desserts!
Source: Courtney Vickers for Party & Pigtails [68]
A Very Hungry Caterpillar Birthday Party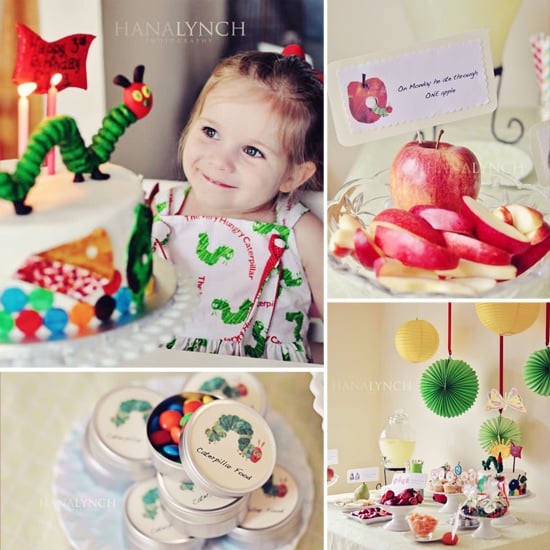 He ate through five oranges — but he was still hungry! Eric Carle's The Very Hungry Caterpillar is a true children's classic, so it's no surprise that mamas and tots alike love the idea of a Very Hungry Caterpillar-themed birthday [69]. Fruit snacks and a themed cake are just the tip of the iceberg for a themed caterpillar bash!
Source: The Mom Tog Diaries [70]
One Year in a Flash First Birthday Party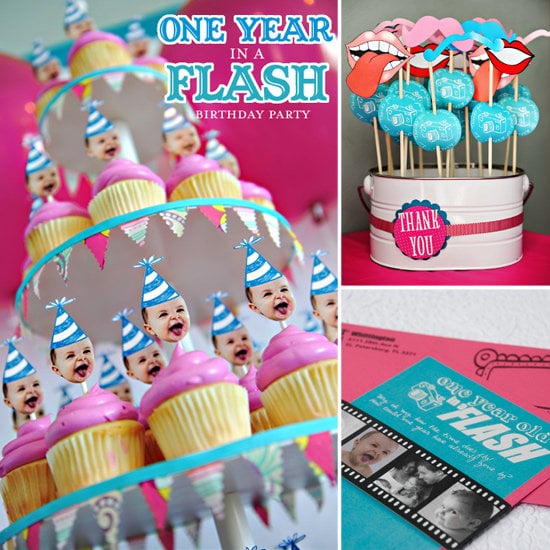 Baby's first year of life flies by in a flash — and what better way to celebrate a first birthday than to take a look back at the past 12 months? One Year in a Flash [71] was one creative mama's theme for her daughter's first birthday party.
Source: Hostess with the Mostess [72]
A Harry Potter Party For Kids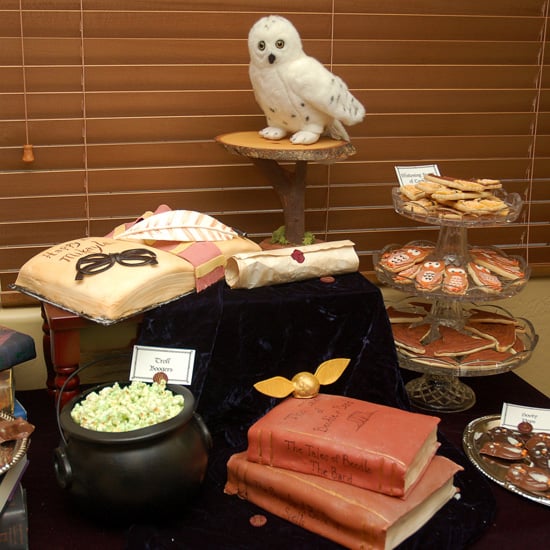 The Harry Potter [73] film series came to an end this year, but Hogwarts fans are still on the rise! One pint-sized Gryffindor fan celebrated the birthday of a lifetime with a Harry Potter-themed party [74]. Spell-casting classes, Hedwig the owl, and golden snitches were just a few of the wizard-themed details incorporated into the birthday.
Source: Tikkido [75]
Modern Elephant Balloon Birthday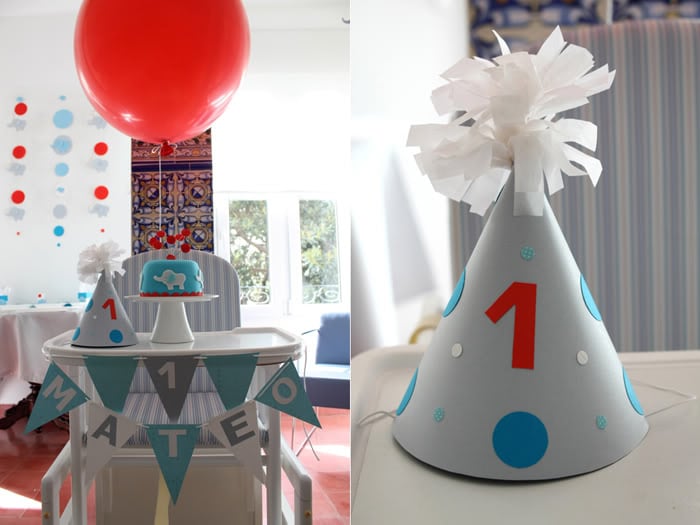 Check out this sophisticated and fun Modern Elephant Balloon Birthday [76]! We love the red and blue garlands hanging by the dessert table and the enormous balloon tied to the birthday boy's chair. It's all about the details!
Source: Dulce Sobre Mesa [77]
A Vintage Airplane Party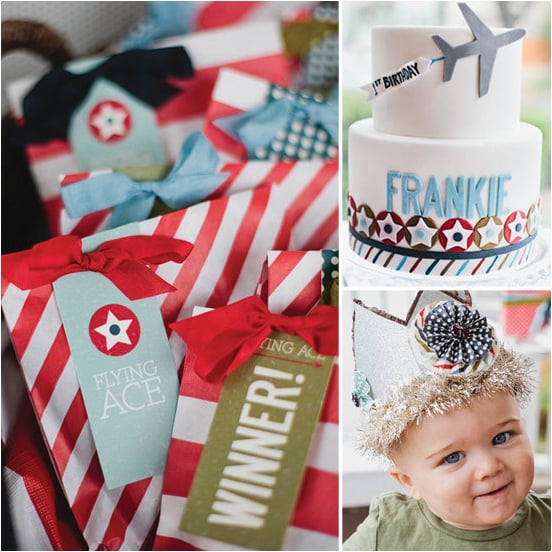 A vintage-airplane-inspired soiree [78] is just too cute for tots of any age. Featuring supercute plane-inspired snacks, some awesome parting gifts for party "passengers," and, of course, some incredible paper details, this birthday is totally inspirational.
Source: Posh Paperie [79]
A Neon Birthday Party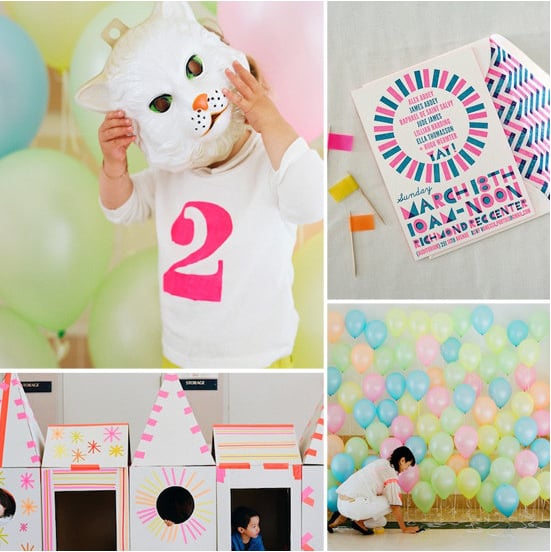 Using on-trend neon as a theme [80], this bash was as beautiful as it was a blast.
Source: Modern Kids [81]
An Angry Birds Birthday Party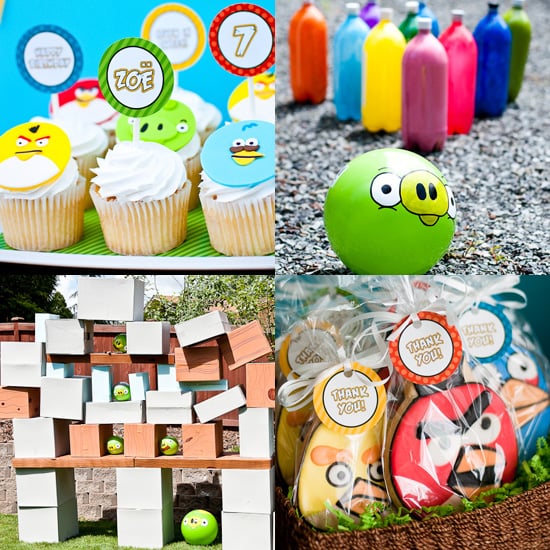 We just can't get enough of Angry Birds, so it's safe to say that an Angry Birds-themed birthday party [82] is a guaranteed hit! This themed party for a 7-year-old even featured a life-sized Angry Birds game in the backyard!
Source: Simply Styled Home [83]
A Muppet Party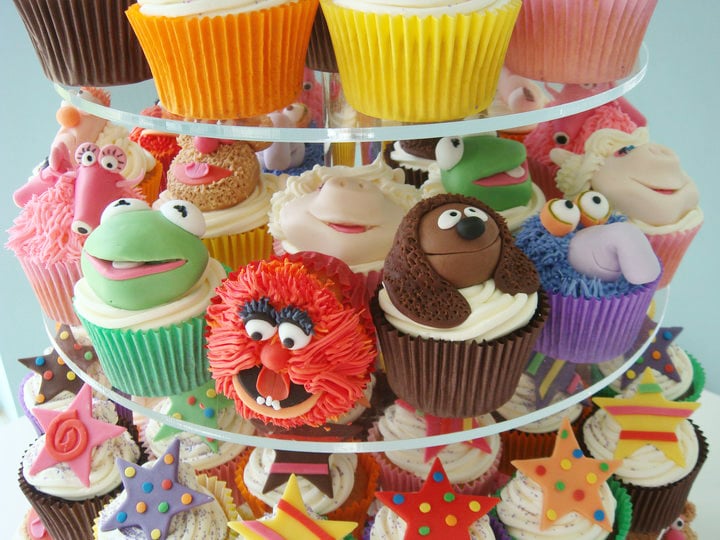 A new generation of lil Muppets fans has arrived, and Mama knows it's only a matter of time before tots start asking for a Muppets-themed party [84] for their next birthday.
Source: Cupcake Occasions [85]
A Bowling Party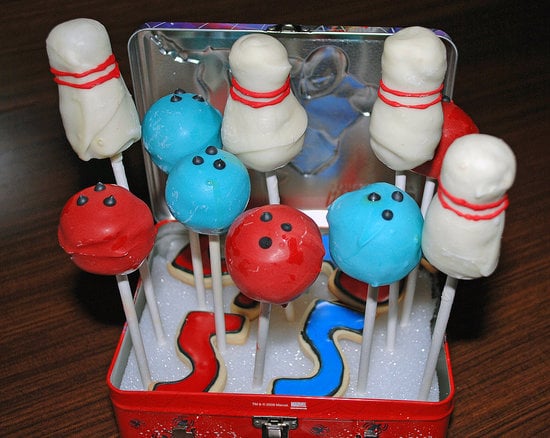 Head on down to your local bowling alley, ask them to put up some gutter bumpers, and watch the lil ones have a blast at a bowling party [86].
An Elegant Princess-Themed Party
Hear ye, hear ye! A princess-themed birthday party [87] can be a simple and beautiful affair without having to be over-the-top fabulous.
Source: Branco Prata [88]
A Cowgirl-Chic Birthday Party
This cowgirl-chic birthday party [89] has it all — a stitched-burlap invitation, a gorgeous ruffle cake, clever treats, and a petting zoo. So get ready to meet your inner cowgirl, 'cuz this party is going to bring her out! Hee haw!
Source: Peas & Thank You's [90]
An Alice in Wonderland Birthday Party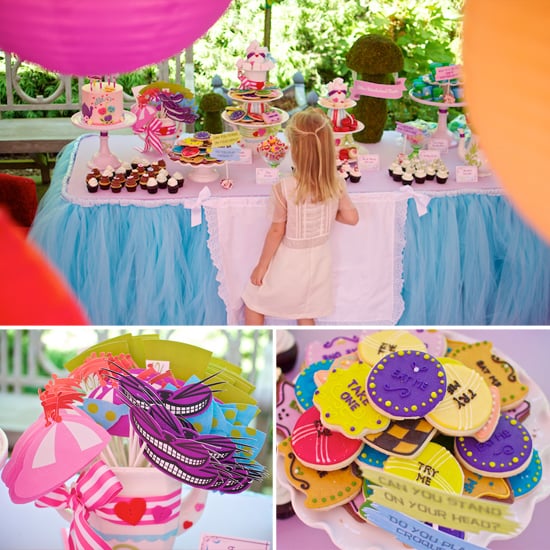 Fall down the rabbit hole and into this
Alice in Wonderland birthday party [91]! With Lewis Carroll's classic tale as your guide, a magical afternoon tea party in Wonderland will delight for your girl's next birthday celebration.
Source: Sweets Indeed [92]
A Carousel and Chalkboard Tribute Party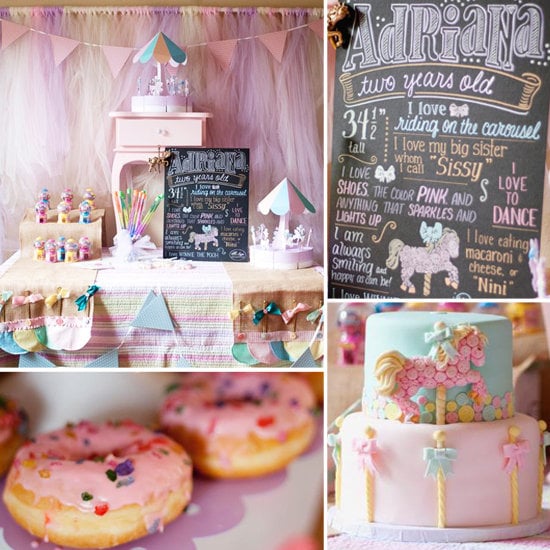 Suzanne Olvey of Fanciful Events sent us this jaw-dropper: a pastel carousel-inspired party [93] she dreamed up for her youngest daughter, Adriana. The amount of detail in this event is almost overwhelming, with gorgeous backdrops and table coverings, the sweetest desserts, and tons of thoughtful carousel-themed extras, but it's the custom-created birthday girl chalkboard [94] from Etsy's Moulage Collection that really put us over the edge.
Source: Fanciful Events [95]
A Transformers Birthday Party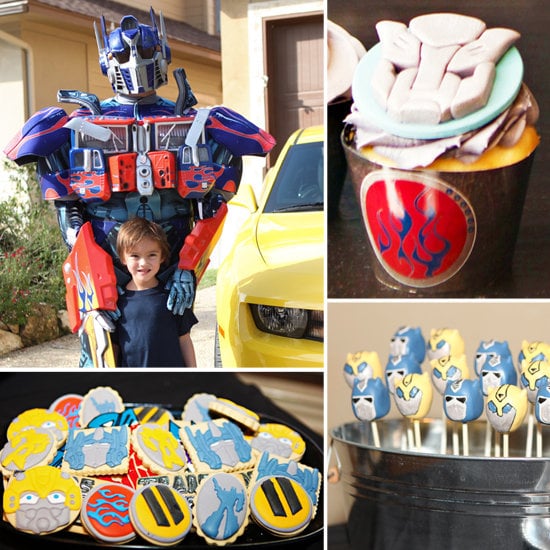 "My twins love Transformers, and they really love the Michael Bay movies," says Miranda Konieczny of Whimsical Printables [96] and Whimsically Detailed. "I saw so many of the cute cartoon versions, but I decided that I wanted to do more of a metal/grunge version." For this Transformers party [97], theme-inspired cakes, cupcakes, cookies, cake pops, and more made sure the guests were appropriately sugared up at this fifth birthday party, while printables from Hello My Sweet [98] added some aesthetic interest for this party-loving mom. Instead of an over-the-top dessert table, the big-impact element of this event was undoubtedly Optimus Prime himself.
Source: Whimsical Printables [99]
A Pink and Blue Sleeping Beauty Party
We've seen our fair share of princess parties inspired by Disney. But while Sleeping Beauty — aka Briar Rose, aka Princess Aurora — is one of our favorite classic Disney princesses, she hasn't popped up on the kid party circuit much . . . until now (though we're guessing she'll get more popular with next year's release of Maleficent [100])! Suzanne Olvey of Fanciful Events [101] used the cursed princess as an inspiration for her daughter's lovely birthday party, full of rose-topped sweets, a cake fit for royalty, and an awesome design-your-own-tutu station. "I wanted to incorporate the famous pink vs. blue fight between the fairies," Suzanne says. "The party turned out really special and so magical." Click here [102] for all the princess-perfect details!
Source: Fanciful Events [103]
A Royal Cinderella Birthday Party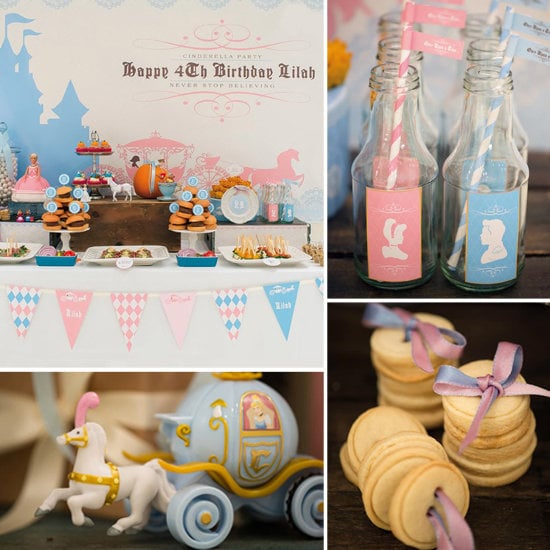 Event planner Keren Precel's [104] Cinderella-themed party [105], thrown for 4-year-old Lilah, goes beyond the typical Disney-purchased fare. "We wanted to create a Cinderella theme with our own designed elements, rather than using the obvious store-bought items," Keren says. "We started off by creating a one-of-a-kind, custom-made logo for the party: a pink princess carriage decorated with blue lace." Graphic elements, combined with a doll-topped cake, lots of little characters from the movie, a fairy godmother wishing tree, and some awesome frilly paper products make this one party Lilah will never forget!
Source: Keren Precel Events [106]
A Blabla-Inspired Party
Blabla's adorable stuffed animals and dolls are among our favorite-ever kid finds [107], so we were instantly enamored when we discovered the Blabla-themed birthday bash thrown for 1-year-old Margot. Margot's mom, Lauren Overton, enlisted the help of her good friend, photographer Lucinda Newby [108], to plan the pastel-popping party, dotted with Blabla dolls wearing birthday hats! We love the idea of taking a simple, already-on-hand inspiration point and running with it, and we bet you'll agree after you check out [109] this party's cute details.
Source: Portraits by Lucinda [110]
A Little Chef Cooking Birthday Party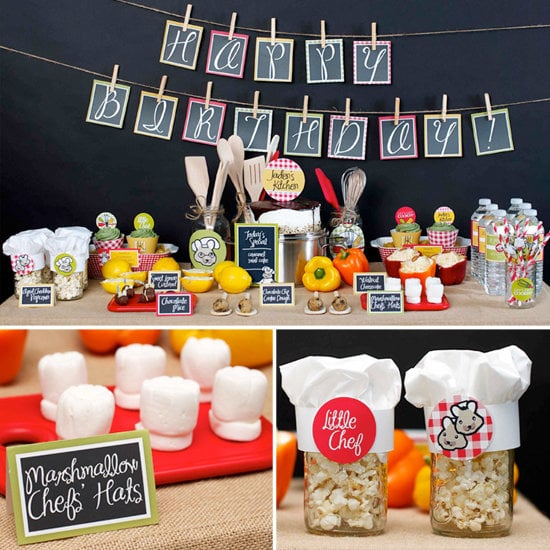 Stephanie Keeping of amazing party site Spaceships & Laserbeams [111] designs creative events just for little guys — seriously, if you're a mom to boys, you have to check them out — but we're betting both sexes would be equally smitten with this "Little Chef"-inspired birthday party, which would definitely appeal to a Ratatouille fan. Full of awesome and adorable food (we're loving the marshmallow chef's hats) and cute printables [112], this party is perfect for any birthday boy or girl who loves spending time in the kitchen. Click here [113] to check out all the details.
Source: Spaceships & Laserbeams [114]
A Vintage Race Car Birthday Party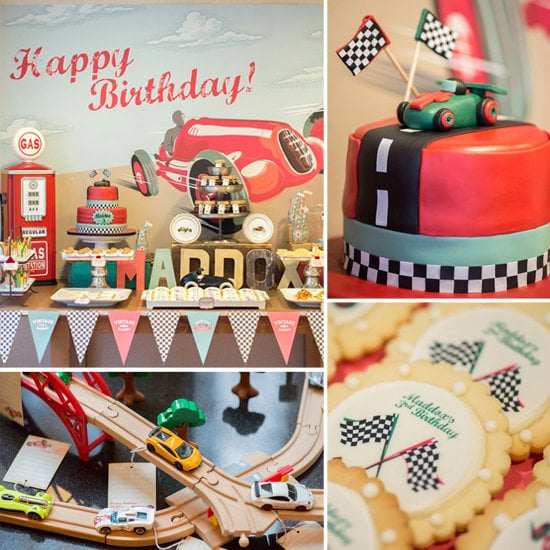 "Once in a while there is a party, with a capital 'P,' where every little piece just falls into place," New York event planner Keren Precel [115] says. "This 3-year-old's race car birthday party was one of those." The totally eco-friendly party was divided into four sections: the "pit stop," where the kids got to decorate their own Melissa & Doug race cars; the "race track," where little guests could attach birthday wishes to tiny toy cars; the "gas station" food table; and the "trophy section" favor table. You have to check out every detail [116] of this party to truly appreciate how special it is.
Source: Keren Precel Events [117]
A Sweet and Sunny Lemonade Party
This adorable, sweet, and sunny lemonade party [118] created by Ali Polson of Parties on a Pedestal [119] for her daughter, Bella, is Summer perfection. "The inspiration for the party came from my daughter's sunny personality," Ali says. "Her smile lights a room." If you're dreaming of lemonade-filled warm days, then don't all the bright and lovely inspiration from this party, from the sweet and girlie pink-and-yellow decor (including every girl's dream picnic table) to the clever crafts!
Source: Parties on a Pedestal [120]
A Striped and Chevron Football Party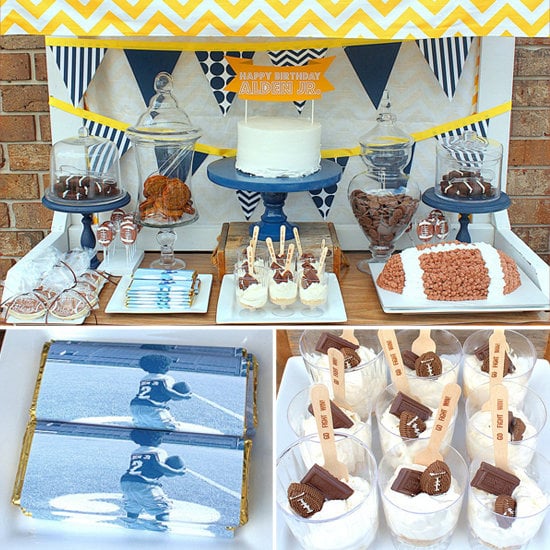 When we spotted this awesome chevron-patterned and striped football party [121], thrown by Valencia Cheatham of Jewel Box Creative Studios [122] for her 2-year-old son, Alden, we were totally hooked. A boys' party full of graphic patterns, sweet details (some of which will soon be available on Valencia's Etsy shop [123]), not a single video-game character, and just a touch of football? Yes, please! "I didn't want the football theme to hit you in your face when you walked in," Valencia says. "I like to take a subtle approach to styling. I chose to focus mostly on the colors, which were navy, yellow, white, and brown. I wanted the party to have a modern, preppy feel." Our verdict: touchdown!
Source: Spaceships and Laserbeams [124]
A Mod Penguin Birthday Party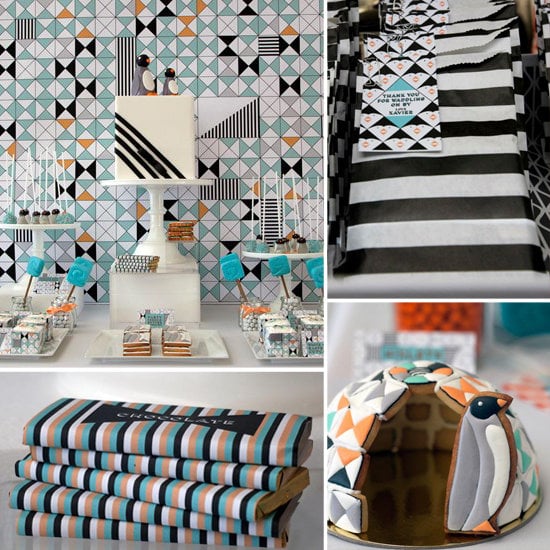 Amanda of Australia-based event-planning company Red Wagon Events [125] creates absolutely beautiful, detail-filled parties, and the modern penguin party [126] she dreamed up for her son's second birthday is no exception. Full of creative wintry details, some absolutely outrageous sweets (the three-dimensional igloo cookies are blowing our minds!), clever signage created by Ham & Pea [127], and the coolest backdrop we've ever seen, this party is penguin perfection.
Source: Red Wagon Events [128]
A (Lovely) Small World First Birthday Party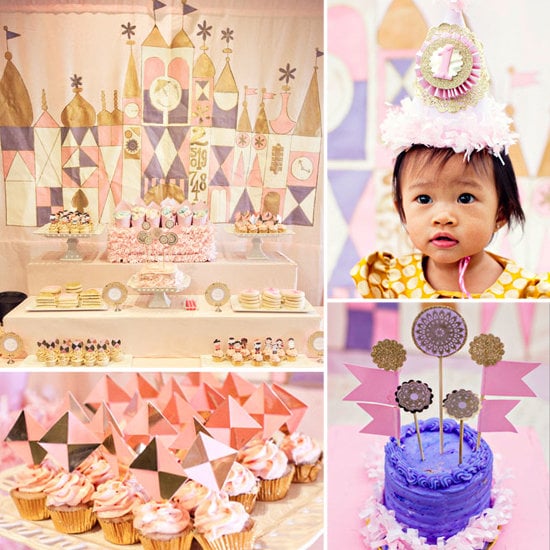 Created by Linsey Latimer's Lux Events & Design [129] for the first birthday party of photographer Kristine Atienza's [130] daughter Eva, this It's a Small World party [131] is full of pink, purple, and gold global details. "Kristine choose It's a Small World as the theme because it was the birthday girl's first-ever ride at Disneyland and because the family loves to travel," Linsey says "I took all of my inspiration for this party from the Small World castle. I just love how all the elements played off of the building!"
Source: Kristine Atienza [132]
A Glitter-Filled, Silver and Peach Birthday Party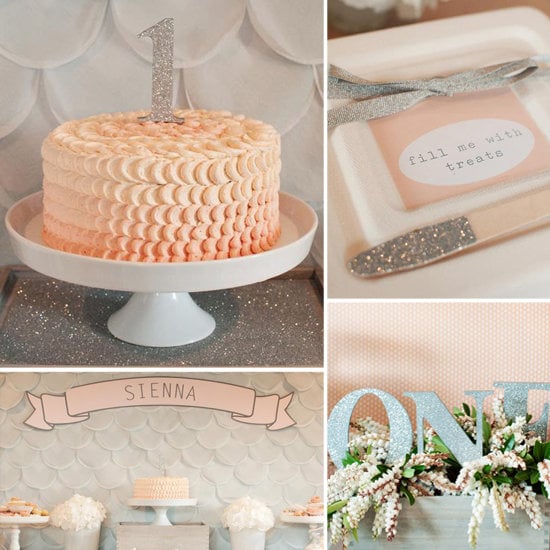 Melanie Holt of New Zealand-based event design company All the Frills [133] designs gorgeous, whimsical events for grown-ups, so it's no surprise her kids' parties are equally lovely and elegant. That sophistication — combined with a heavy dose of sparkle — had us falling head over heels for the adorable peach and silver party Melanie planned for her 1-year-old daughter, Sienna. Click here [134] to see all the beyond-beautiful details, including the amazing DIY [135] scalloped backdrop.
Source: All the Frills [136]
A Lorax-Inspired Birthday Party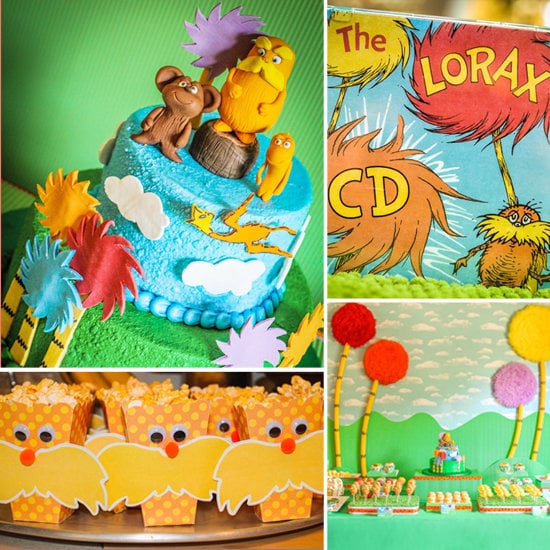 Mom-blogger Smita of The Party Wall [137] dreamed up an imaginative, intricate, and fanciful The Lorax party [138], inspired by the book and film, for her son's fifth birthday party. Full of characters and imagery from the book, upcycled decor, and eco-friendly activities, this party has an almost overwhelming amount of detail. Some of our favorite parts: the 12-page personalized invitation book, written by Smita in Seuss-speak, the insanely amazing cake, and some awesomely creative, thoughtful extras (kids were given five cents, a nail, and the shell of a great-grandfather to gain entry to the bash).
Source: The Party Wall [139]
A Mad-Scientist Birthday Party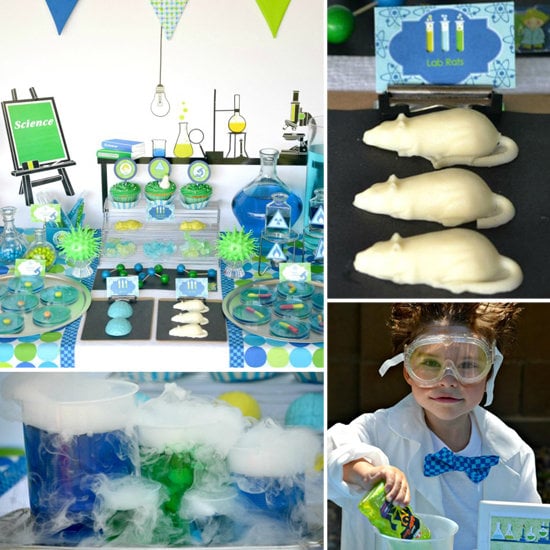 "What's a better way to learn about science than having a mad-scientist party?" says Cris McGrath of Crissy's Crafts [140]. And what little boy wouldn't be mad about a party full of edible treats that look like atom balls, lab rats, brains, frogs, and bacteria culture? This mad-scientist party [141] truly has something for every budding lab rat, including a ton of beakers, test tubes, petri dishes, and lab googles (not to mention some awesome printables [142]). While this bash might look like it could end in a bang (and not the good kind), the only explosion that occurred at this birthday party was an outburst of fun!
Source: Crissy's Crafts [143]
A Chic, Tiffany's-Inspired Birthday Party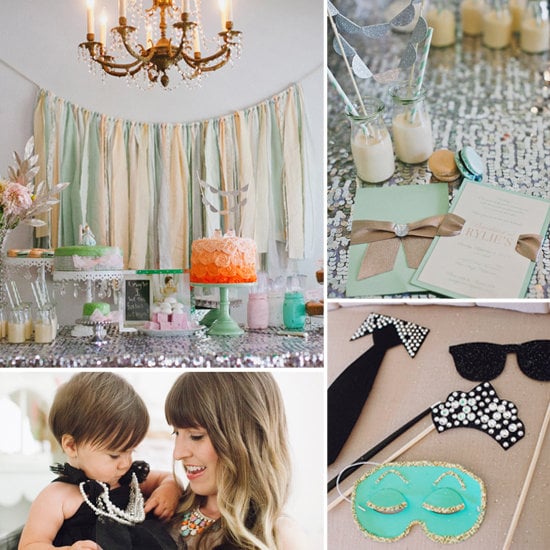 We've seen plenty of adorable little girls' birthday parties in our day, but this Breakfast at Tiffany's-inspired party for 1-year-old Riley manages to be both girlie and chic, much like style icon Audrey Hepburn herself. "I wanted something that was ultimately fun and glamorous, and nothing was better than Breakfast at Tiffany's!" says Riley's mom, Cassidy Freitas. "Also, the theme would combine two of my all-time favorite things: diamonds and breakfast." A stylish DIY [144] photo booth, a yummy breakfast buffet, and one scrumptious birthday girl dressed as Holly Golightly add to the appeal of this simply stunning party. Click here [145] for all the divine details.
Source: En Point Photography [146]
A Shabby-Chic Party Fit For a Princess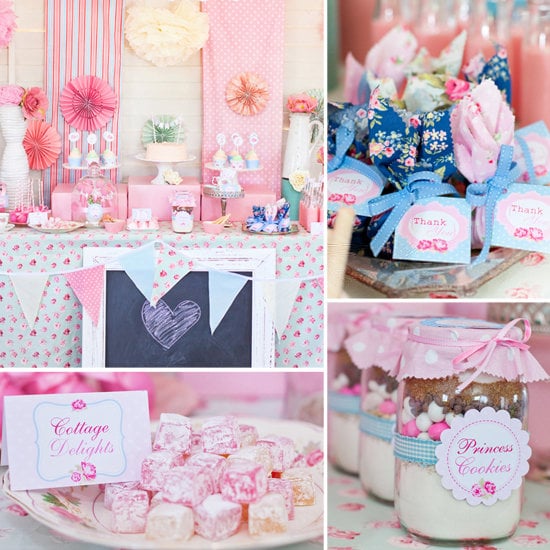 "Every little girl wants a princess party at some stage of their childhood, so we decided to put a twist to the traditional castle and crowns," says Louise Sanders of Sunshine Parties [147]. "We added a fresh take on a princess party by combining it with a vintage look." With florals, polka dots, stripes, frills, and lots of sweets, this shabby-chic birthday party [148] is fit for even the pickiest princess, and, best of all, it's supereasy to re-create. "It was important to us that anyone could replicate this party," Louise says of the printable party collection [149]. "You just need to give yourself a little time to cut out labels and other elements as well as to make the pom-poms and paper fans. Otherwise, it's a piece of cake!"
Source: Sunshine Parties [150]
A Parisian, Red Balloon First Birthday Party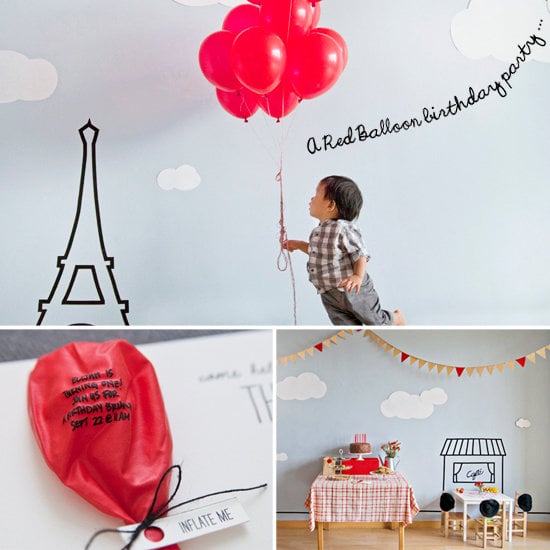 Becca, the design-minded creator of the cool blog Lavender's Blue [151], has an international family. So to help celebrate her nephew's first birthday, she left her island home of Grenada and traveled to Beijing to throw a party with a French theme (and one cool Chinese tradition thrown in for good measure). "My sister is a major Francophile. She lived there for a year, fell in love with her husband there, and just returned there for the first time this past spring with Elijah! How appropriate it is that the inspiration for Elijah's first birthday party came from the classic French film, The Red Balloon?" Becca says. With an awesome invitation; simple, chic party details; and a heavy dose of whimsy, this party can be described in two words: c'est magnifique!
A Create and Celebrate Birthday Party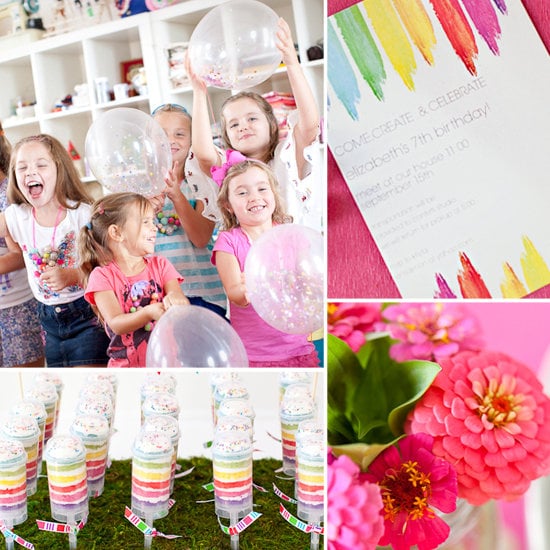 Krista Salmon of Kiki's List [153] took her soiree skills on the road for her oldest daughter Elizabeth's create-and-celebrate birthday party. "We loaded up a van full of seven girls and headed to Confetti Studio [154] in Warrenton, VA," Krista says. Not only do we love the cool crafts (painted bead necklaces! paper garlands!) and happy faces that fill this party, but we also love how a simple — i.e. fairly easy for Mama — party can look just as special as one filled with the most over-the-top dessert table or decor. Click here [155] to check out all the creative details!
Source: Kiki's List [156]
A Dreamy, Vintage-Transportation Party
Birthday boy Enzo loves airplanes, but for a party celebrating his second birthday, event planner Keren Precel knew she needed to take that inspiration to the next level. "Being a professional graphic designer as well as an event planner allowed me to create a custom-made, one-of-a-kind party package," Keren says. The vintage transportation-themed bash she designed is simply dreamy, full of personalized paper products, a beautiful backdrop, and a dessert table that would satisfy even the biggest sweet tooth. Click here [157] to check out all the beautiful details.
Source: Keren Precel Events [158]
Dig It! A Cool Construction Birthday Party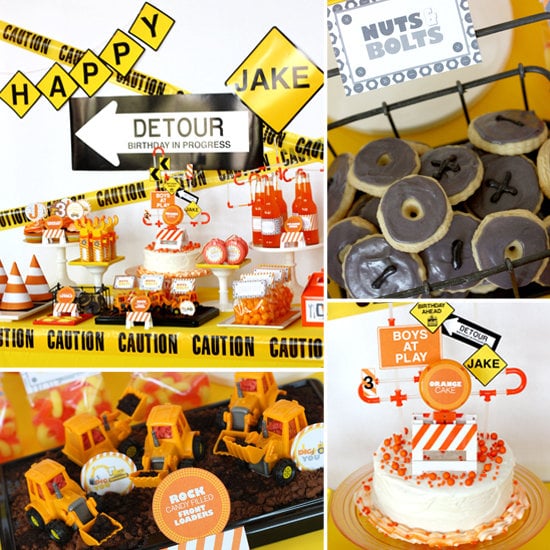 We have a serious party crush on Debbie of Wants and Wishes Design [159], the mastermind behind this construction-themed birthday party [160]. Moms of boys know it can be hard to translate their guys' greatest obsessions into adorable parties, but this soiree managed to make construction cute. Wants and Wishes even offers awesome printables [161] that you can download to recreate the party yourself. Can you dig it?
Source: Wants and Wishes Design [162]
A Supersweet Up-Inspired Party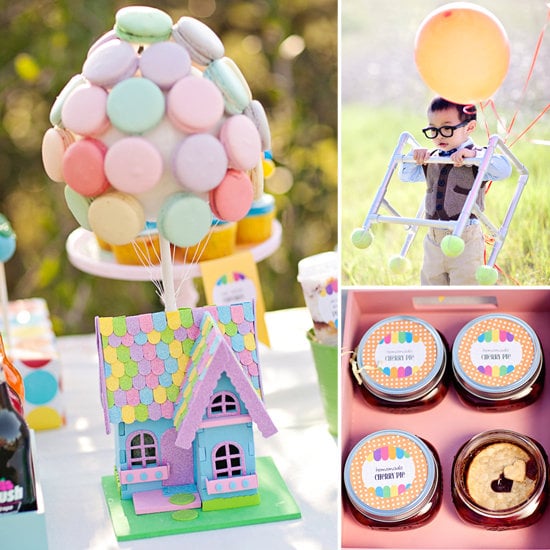 Majell del Castillo [163] designs absolutely beautiful events, but we were blown away (up, up, and away, that is) when we spotted the >Up-inspired birthday bash [164] she recently created. "We were mostly inspired by vintage details from the first 15 minutes of the movie," Majell says. "The props were mostly DIY [165] projects that were on the vintage side, from globes to grape soda and 'Ellie badges.'" But our favorite details have to be the balloon-inspired sweets, including an awesome house with macaron balloons and the cutest cupcakes around.
Source: Majell del Castillo Events [166]
A Groovy Vintage Barbie Camping Party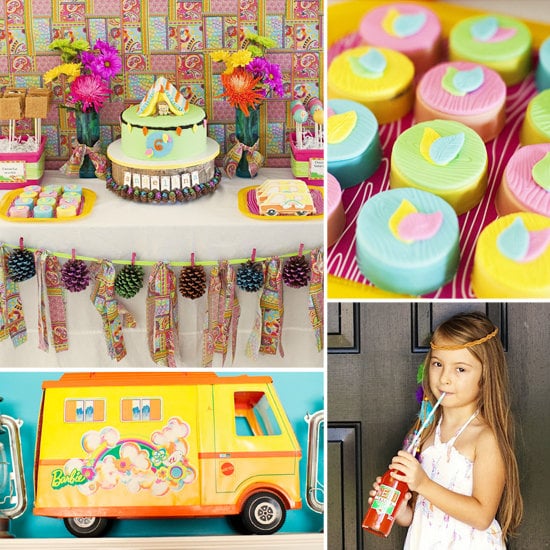 Maria of Love & Sugar Kisses [167] loves throwing a creative party, so when her daughter decided she wanted a Barbie-camping-themed birthday bash [168], she didn't go the typical pink route. "I decided to put a fun spin on the theme and went with a '70s vintage vibe. It all started with this great find, a 1971 Barbie Country Camper!" Maria says. Add in some far-out sweets and happening games, and you've got one groovy Barbie party.
Source: Love & Sugar Kisses [169]
A Sweet, Sprinkles-Inspired Party
Two-year-old Piper Jane has a notorious love of sweets, so her mom — Kirstin Gentry of Kojo Designs [170] — wasn't surprised when she requested "sprinkles" as the theme of her birthday party. "Her sweet tooth is renowned in these parts (second only to her mama's), so a sprinkle party is perfectly suited for her second birthday celebration," Kirstin says. What could have turned into a pretty straightforward party became supercreative in Kirstin's hands. "Sprinkled" accessories, sweet signage (now available through Kojo Designs' Etsy shop [171]), fun and easy activities, and some awesome decor (confetti-filled balloons and yarn pom-pom garlands) are among all the gorgeous details. Click here [172] to see them all.
Source: Kojo Designs [173]
A Jedi, Galactic Star Wars Party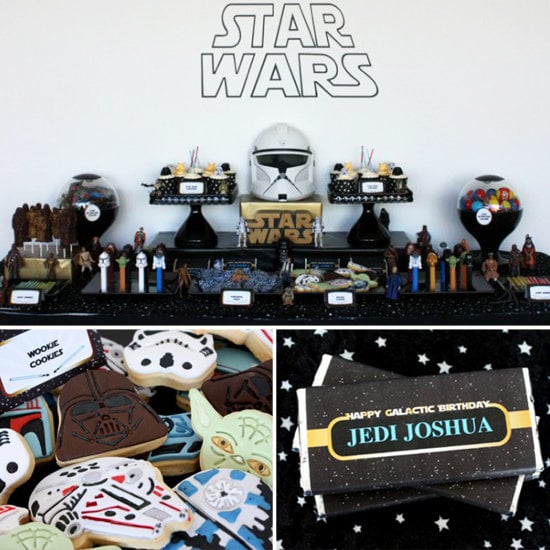 Kate Brown, one half of the Australian-based event and sweets company Kiss Me Kate [174], wasn't afraid to go to the dark side for her son Josh's sixth birthday party— the dark side of the force, that is. Enlisting the help of her friends at Anders Ruff [175] for custom printables [176], Kate created a totally cool Star Wars-inspired party [177]. From an insane Star Cruiser cake to "Wookie cookies," this bash has everything an aspiring Jedi needs.
Source: Anders Ruff [178]
An Over-the-Top Project Runway Party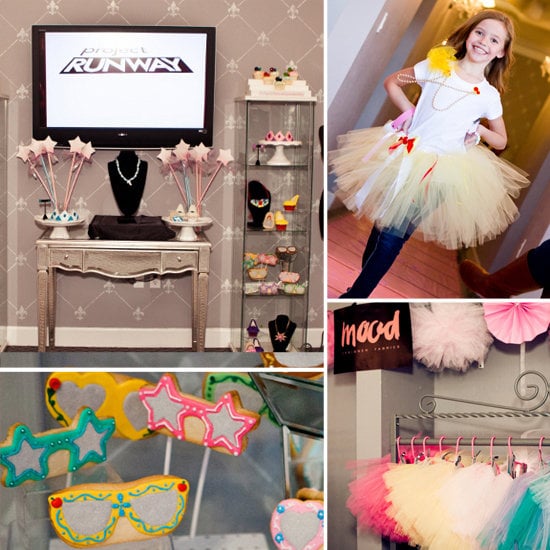 When her almost-4-year-old daughter, Charlotte, requested yet another princess birthday party, Nicole of Million Dollar Smile Celebrations [179] decided the old theme needed a new spin. "We watch Project Runway together, and she has quite the eye for fashion," Nicole says. "So, when I suggested Charlotte's Royal Project Runway fashion show, I had her attention. When I told her the 'challenge' would be to create a look inspired by a princess to walk the runway, I had the judges' approval!" This inspirational Project Runway party [180] is so detailed and over the top that we're guessing little Charlotte will be talking about it for many birthdays to come. Make it work, birthday girl!
Source: Million Dollar Smile Celebrations [181]
A Bold Lego Ninjago Birthday Party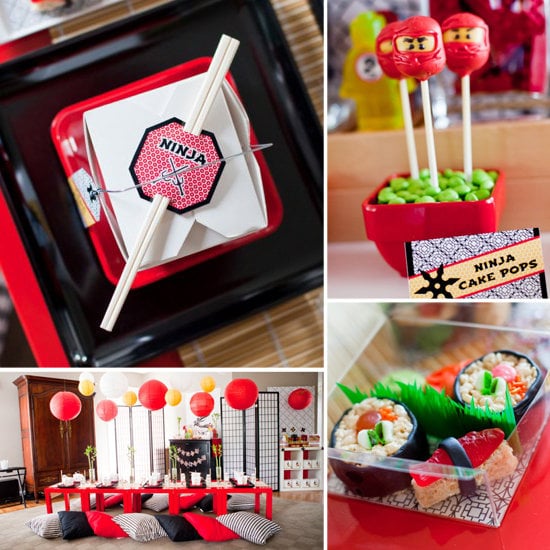 The ladies of Anders Ruff [182] have amazing party-planning skills, and Maureen Anders raised the bar even higher with her son Jeffrey's Lego Ninjago-inspired party [183]. The seventh birthday party incorporated traditional Asian elements like rice-paper screens, bamboo, and carryout containers, awesome sweet treats, and tons of paper products (now available as printables [184] in Anders Ruff's shop). From ninja cake pops to candy bento boxes, there are seemingly endless inspirational elements in this party!
Source: Anders Ruff [185]
A Retro Manhattan Birthday Party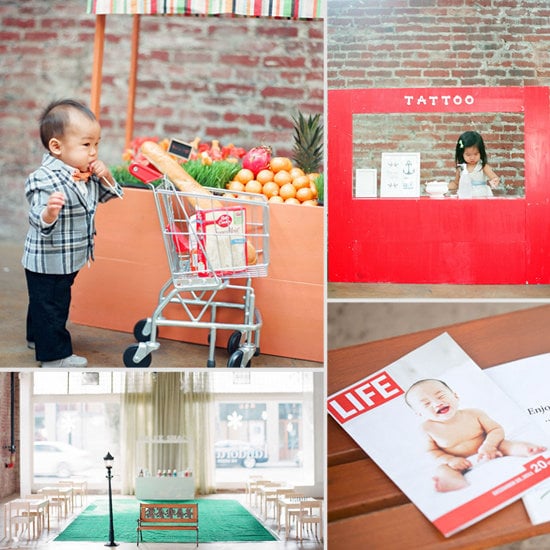 Caroline Tran [186], a Los Angeles-based photographer, has traveled the country with her tot in tow and paid tribute to their favorite destination for her lil one's soiree. With '60s-era Manhattan all the rage — thanks to the likes of Mad Men — she set out to create a mini version of the Big Apple. Using her father's carpentry talents and the expertise of Grand Soirées [187] and Skybox Event Productions [188], Caroline crafted her own lil piece of NYC in the heart of LA. Click here [189] to see all of the precious details!
Source: Caroline Tran [190]
A Gorgeous Glamping Party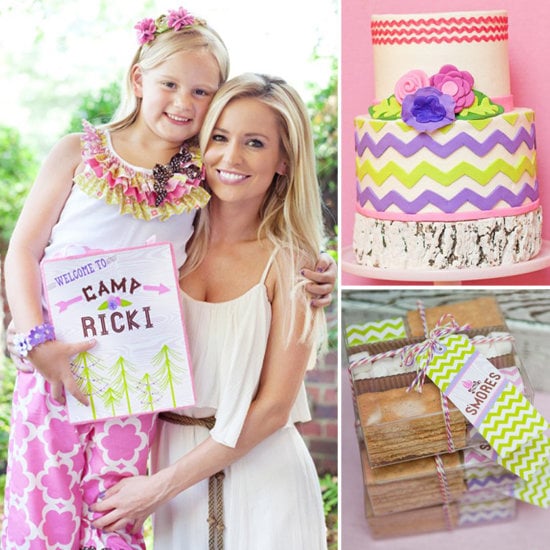 The Bachelorette Emily Maynard is a supermom, and she didn't let her suddenly extremely public persona stop her from throwing an incredible, girlie camping birthday bash [191] for her daughter, Ricki. The talented gals of Anders Ruff [192] got together with Emily to create a creative, sweet glamping (that's glam-camping for those of you who haven't caught on to the trend yet) party. Complete with a gorgeous cake and on-theme sweets (the individual trail-mix containers and take-home s'mores are just two of many standout components), girlie paper goods from Anders Ruff's printable collection [192], and lots of stylish details (including, of course, an awesome tent), Ricki's party is positively lovely — and nope, there wasn't a rose in sight.
Source: Anders Ruff [193]
A Vintage Girlie Superhero Party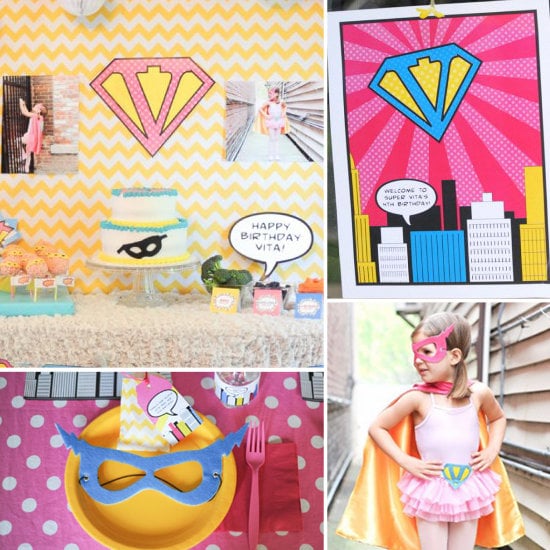 While we've never met Vita, the birthday girl who wanted to be a superhero for her party, we're kind of in love with her. Not only does she rock a cape and mask with serious style, but she inspired this amazing vintage-girlie superhero party [194]! Keep clicking for all of the details, including amazing printables from Anders Ruff [195], a cape from Annie of Kid Kapers [196] (the birthday girl's aunt), and amazing photography from Molly B [197], Vita's mom. Vita, can we come to your next party?!
Source: Anders Ruff [198]
A Strawberry Shortcake Birthday Party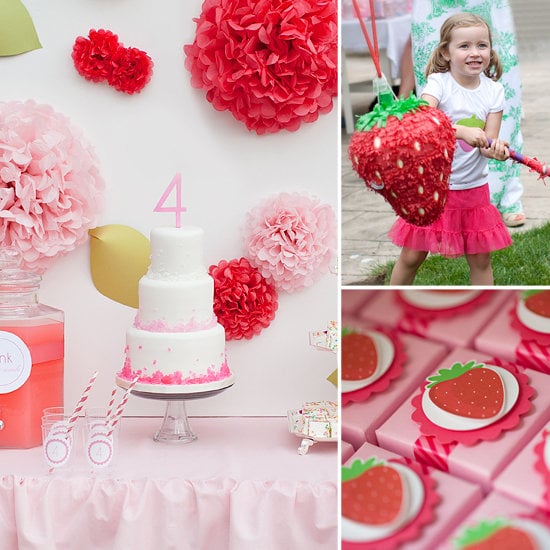 For her daughter Lou's fourth birthday party, Krista Salmon of popular design blog Kiki's List [199] was faced with a challenge: how to make Lou's requested theme — Strawberry Shortcake — appeal to both the birthday girl and her own superchic design sense. "I tried to incorporate as many tasteful strawberries as possible, but the overall theme tying everything together was pink. Perfect for a party full of 4-year-old girls," Krista says. Click here [200] for the adorable details!
Source: Kiki's List [201]
A Mermaid Birthday Party Fit For an Underwater Princess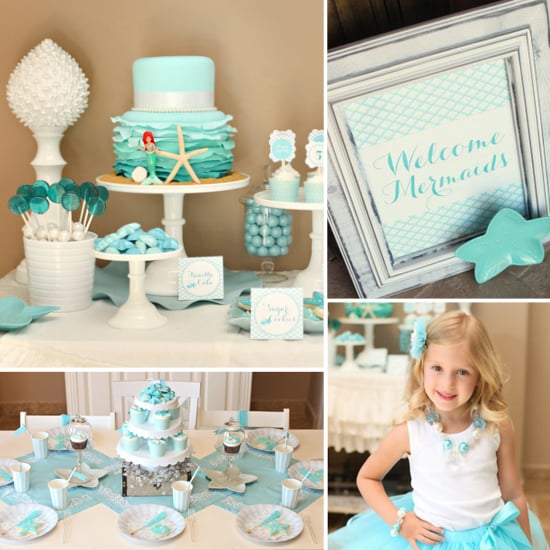 Kim Stoegbauer of The TomKat Studio [202] throws an abundance of inspired parties [203], but the mermaid bash she created for her daughter Kate's fifth birthday is one of our all-time favorites. Eight of Kate's friends attended the sweet party, full of blue-and-aqua, pearl, and iridescent accents (all available through TomKat's shop [204]), one of the prettiest cakes we've ever seen, and, of course, an appearance by Ariel. Click here [205] for all the undersea birthday beauty, captured by photographer Vicki Lynn [206]!
Source: The TomKat Studio [207]
A Bold, Candy-Colored First Birthday Party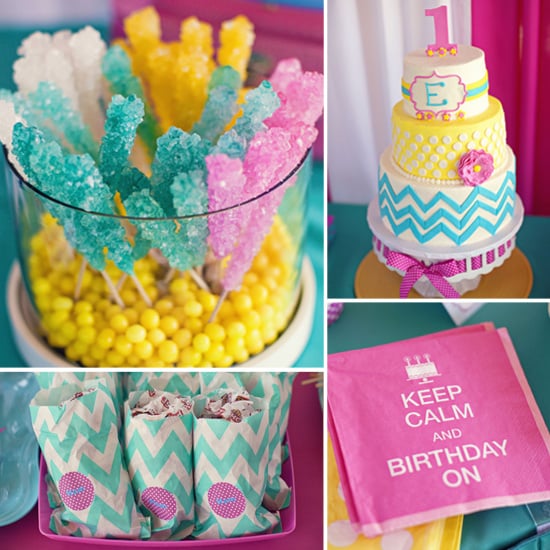 A summertime bash calls for bright colors and outdoor games, and this first birthday party didn't disappoint on either front. Full of candy colors and treats, bold patterns, and plenty of backyard fun, this is one party that's guaranteed to put a smile on your face. "I found my inspiration to the party when I spotted the invite on Etsy [208], and I instantly fell in love the with the modern chevron pattern and color scheme," says the birthday girl's mom, Jill Hill. "This was my first time throwing a birthday party, so I just decided to have fun with it — make it bright with colors and fun with lots of kids' activities." Click here [209] for all the bright birthday details!
Source: Wendy Updegraff Photography [210]
A Cute, Camping-Inspired First Birthday Party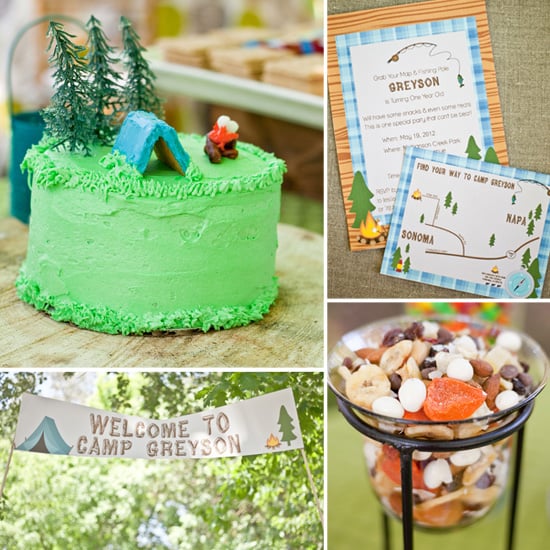 Summer is the season for camping, and A Little Savvy Event [211] used every kid's favorite outdoor overnight experience as a jumping-off point for one cute first birthday party. Thrown for little Greyson, this party is superclever, using a tree round as a cake stand, fun paper products and signage, and lots of yummy camping-inspired eats. Our favorite element? Mini bundt cakes in two flavors: s'mores and pancake with maple-syrup buttercream and bacon topping. Click here [212] for all the camp-tastic details.
Source: Allyson Wiley for A Little Savvy Event [213]
Four-Leg-Friendly Birthday Party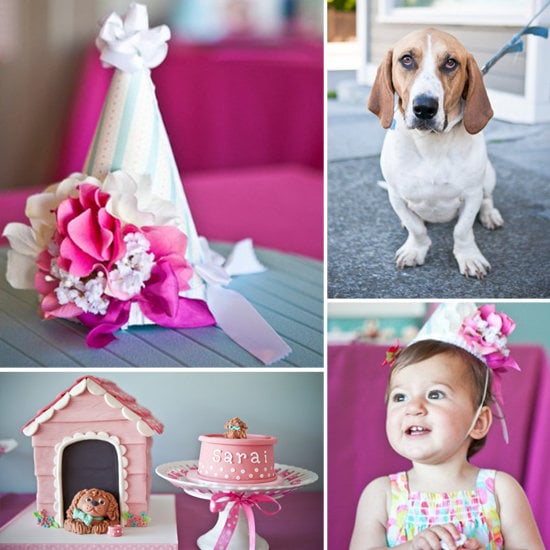 Bow wow indeed! You don't have to have a pet dog at home to love them — but it certainly helps for the pictures! This first birthday party, thrown at Modern Cookie in Marin, CA, by A Little Savvy Event [214] wowed us with its sweet paper goods [215], cute puppy-inspired cakes [216], and awesome gift bags that were stocked with faux fur hats [217]! Click here [218] to check out the puppy power!
Source: Allyson Wiley for A Little Savvy Event [219]
A Colorful Up-Inspired Party With DIY Details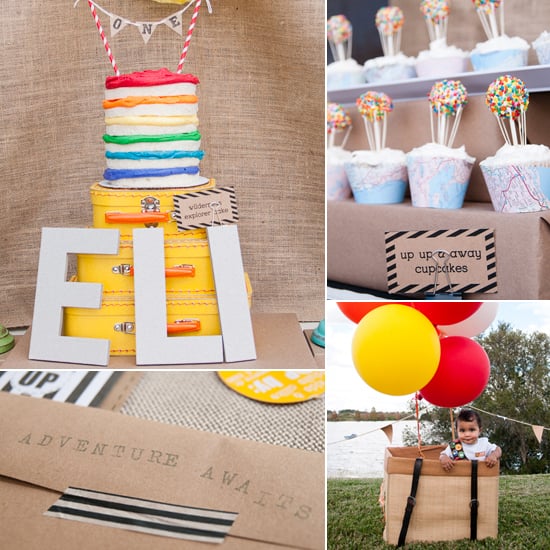 This isn't the first time we've fallen for an Up-inspired birthday party [220], but we're completely smitten with the first birthday party created by Siuleth Rivera of stationery and event styling company Eleven Note [221] for her son, Eli.
Colorful DIY [222] details — including a rainbow-frosted layered cake, bright animal magnet favors, and a fingerprints-as-balloons guest "book" — abound at this creative bash. "Up is about adventure and love," Siuleth says, "and little Eli is both our greatest adventure and our greatest love!" Click here [223] for all the details.
Source: LH Photography [224]
A Too-Too Cute Tutus and Teacups Birthday Party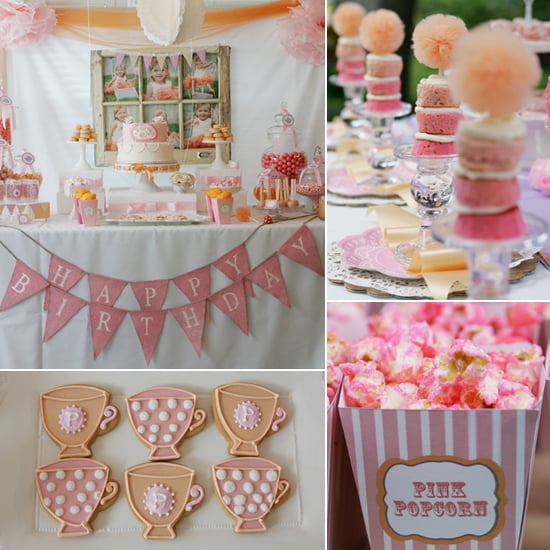 "I am a planner by nature and knew the day after my daughter's first birthday that I wanted to do a teacups and tutu theme using soft pinks and oranges for her second," says Johanna Saucier, mom to 2-year-old Presley.
"I incorporated teacups in the cake balls and printables and in real teacups purchased from flea market and used for floral arrangements," she continues. "I also wanted subtle and sweet touches of tulle, including the pom garland, tutus for each little girl, and tulle wands." But the details don't stop there. From a DIY [225] dress-up closet and shabby-chic doily accents to a framed photo dessert table backdrop, there are so many ideas we want to steal from this party. Our favorite, though, has to be the tulle-topped ombré cakes that lined the party table. Simply "tutu" chic! Click here [226] to check out all the details of this inspired party.
Source: CN Photography [227]
A Safari Birthday Party For an Animal-Lovin' Little Lady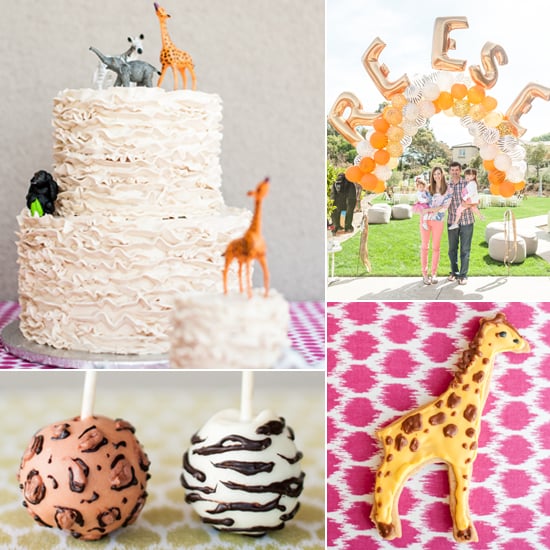 We see a lot of adventurous birthday party themes for little boys, but who says girls can't also get in on the action? For little Reese's first birthday bash, her parents decided a safari theme was the only way to go.
"Reese loves animals," says Kelly McLeskey-Dolata of A Little Savvy Event [228], the party planners hired to execute the kiddie event. "The greatest activity of the day had to be the live safari animals. Reese loved seeing the snakes and baby alligators, and it added an unexpected and lively aspect to the day." Click here [229] to see all the sweet safari details!
Source: A Little Savvy Event [230]
A Dreamy Under-the-Sea Birthday Party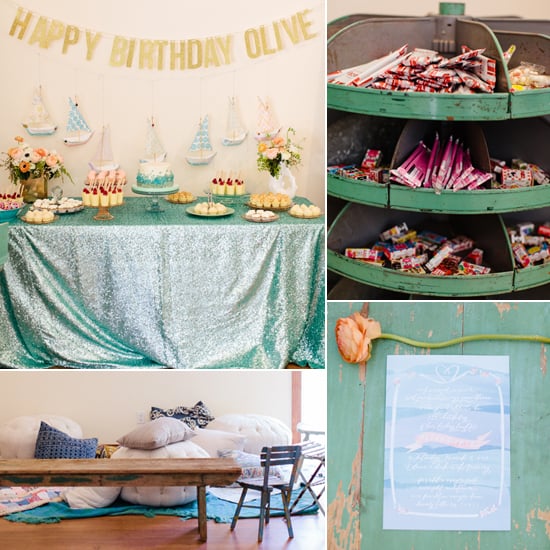 What do you get when you put together an event planner mama (Angel Swanson of Love & Splendor [231]), the Korean tradition of a Dol (an over-the-top first birthday celebration), and a whimsical under-the-sea party theme? Party perfection! This party, thrown for little Olive, has something for everyone: a baby lounge, kid-friendly entertainment, including an amazing bubble show, plenty of sweet treats, and gorgeous decor in shades of mint and pink. Click here [232] to check out all the details of this dreamy party!
Source: Love & Splendor [233]
A Lovely, Whimsical Pink Circus Birthday Party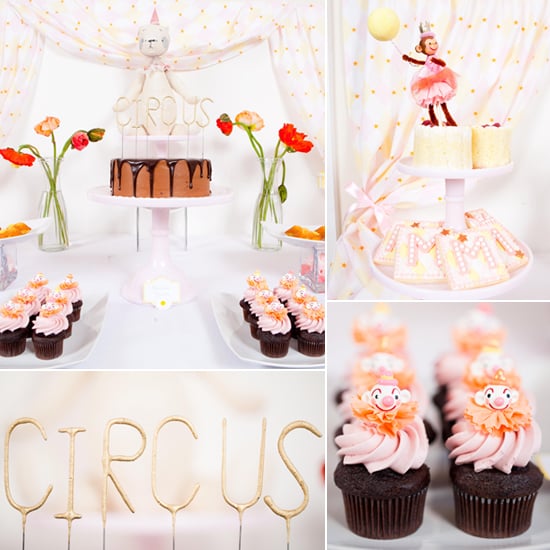 "The pink circus came to town for my daughter Marguerite's second birthday!" says Anne Ligeard Murat of New York-based children's party, paper, and gift site Clafoutis [234]. "My daughter is very mischievous. She is full of energy and always trying bold acrobatics at the playground. In French we use the expression 'Marguerite fait le cirque,' meaning she is creating her own circus. She also loves pink, so voilà — we had our theme!"
While undoubtedly a kiddie affair, Anne put her stylish, sophisticated spin on the party, incorporating designer fabrics, a custom artwork, a beautiful cake topper, and vintage-y tutus. Click here [235] to see all the chic circus details.
Source: Clafoutis [236]
A DIY Numbers-and-Letters-Themed Birthday Party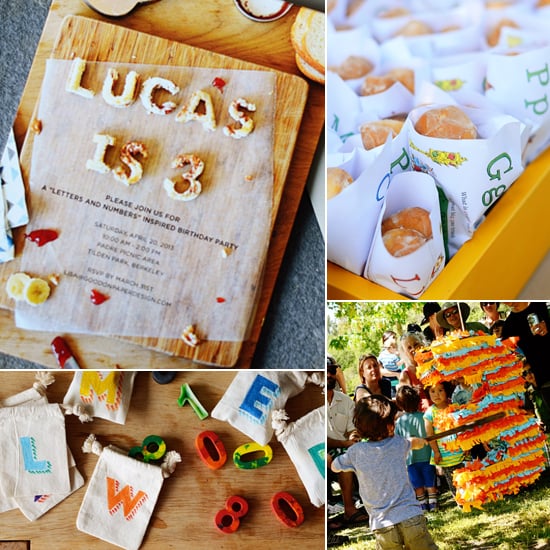 Stationery designer and mom Lisa Wong Jackson of Good on Paper Design [237] didn't have to look far for a party theme for her son's third birthday bash [238]. "Lucas has really been into reading letters and numbers on everything from books to license plates, so I thought the perfect theme for his party would be letters and numbers," Lisa says.
Lisa took what could have been a simple idea and ran with it, creating an imaginative, kid-focused event that was full of fun activities, including parachute play, a DIY [239] piñata, and a live band led by Lucas's preschool teacher. Click here [240] to see all of the party fun, including Lisa's incredible invitations and homemade crayon favors!
Source: Good on Paper Design [241]
A Hip Pirate Party Thrown For a Designer Kid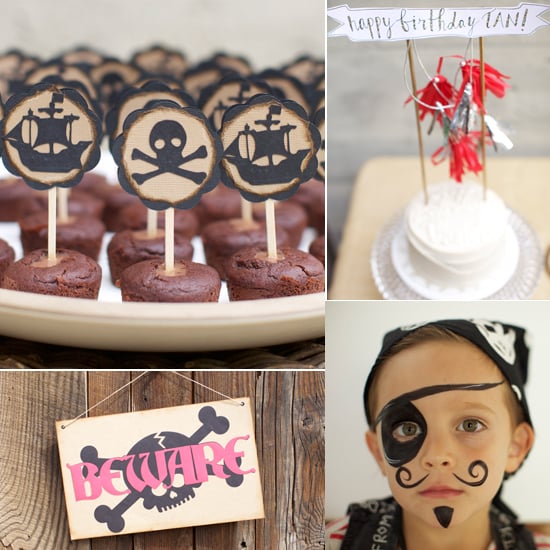 Jenni Kayne is not only a successful fashion designer and one of the founders of chic kid street-style site Ladys & Gents [242]. She's also a mom to two little ones, including birthday boy Tanner.
"For Tanner's fourth birthday, all he wanted was a pirate party," Jenni says. "We all channeled our inner pirate, which made the party that much more festive! I loved seeing all the kids in their adorable costumes." Check out all the highlights (tons of pirate-inspired decor, a face painter, and even the "real" Jack Sparrow) by clicking here [243].
Source: Rip + Tan [244]
A Modern Hello Kitty Birthday Party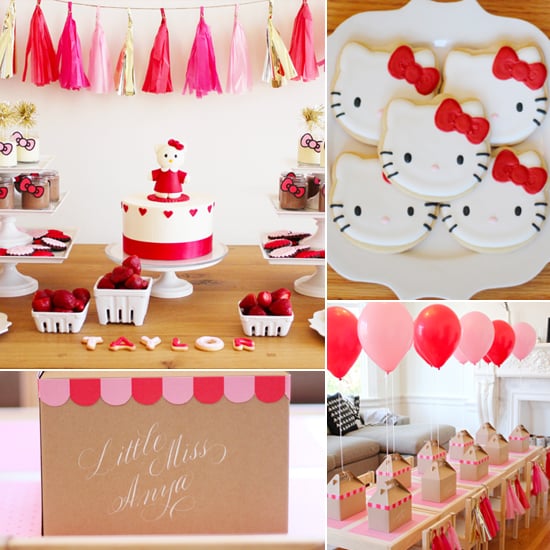 Regardless of whether you're a Hello Kitty fan or not, we're betting you're going to love this birthday party, thrown by wedding [245] and event planner Gloria Wong [246] for her daughter Taylor's second birthday.
Although the famed cat features heavily in this party on top of the cake, on cookies, and through the use of her iconic bows (guests were each given one to wear as a headband or bow tie; can you say "adorable?"), Gloria's stylish take on the theme feels totally modern — think of it as kiddie minimalism. Click here [247] for more sweet details.
Source: Gloria Wong Design [248]
A Fossil Hunter Birthday Bash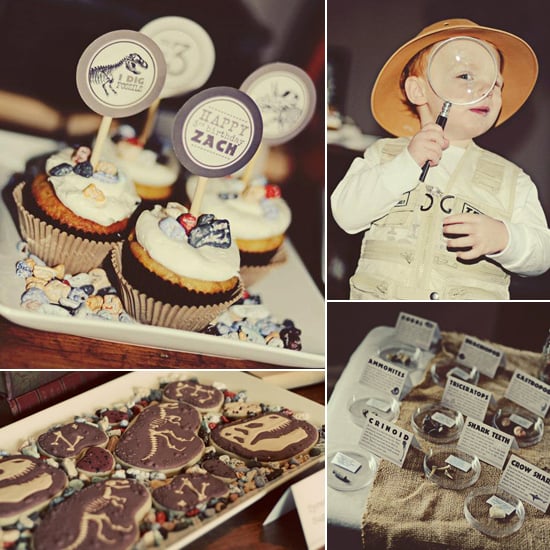 "For my little guy's birthday, there was never any question about the theme: fossils!" says Gretchen Brittain, mom of three and the creator of adorable party printables shop Three Little Monkeys [249]. "Zach is obsessed with dinosaurs. Obsessed. But not the cartoon variety. He digs real fossils."
Gretchen used Zach's love of fossils and her own addiction to all things vintage to create one of the coolest little-boy parties ever, styled to feel like an old fossil excavation site with a vintage map backdrop, replica fossils, and old books, trunks, and camping gear. Click here [250] for all the dino details.
Source: Three Little Monkeys Studio [251]
A Sweet Barnyard Birthday Party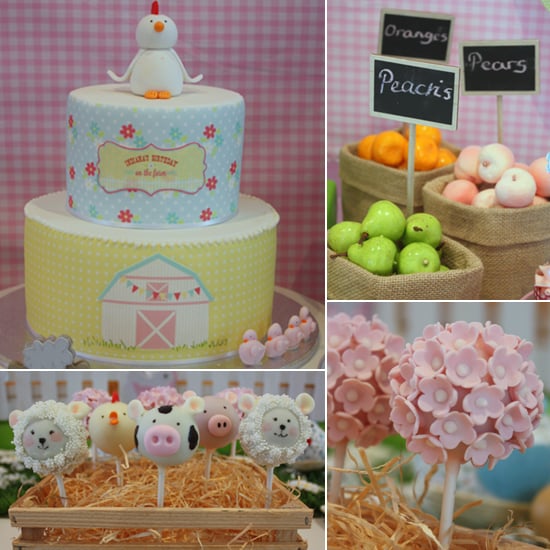 Kate Brown and Yolanda Cerra, the creative minds behind Aussie event company Kiss Me Kate [252], never cease to amaze us with their gorgeous parties, and this barnyard-inspired birthday bash for 2-year-old Indiana is no exception.
"Our client Megan approached us to design a dessert table," Yolanda says. "The brief was simple: a farmyard theme with a girlie bent. We achieved this look by incorporating sweet cottage flower prints and a pastel color palette throughout. The party was scheduled in the first week of Spring, so we drew inspiration from flowers, fabrics, and, of course, assorted farm animals." Click here [253] to head down to the farm!
Source: Kiss Me Kate [254]
A Little Gentleman's Bow-Tie Birthday Party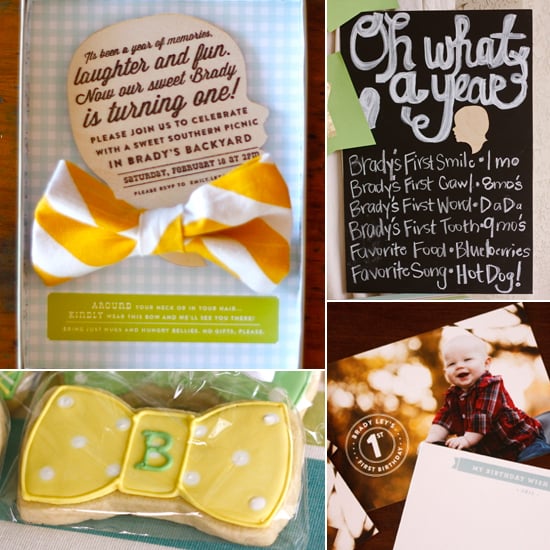 Sometimes a party just captures us at the first glance, and in this case, we were sold the second we spotted this bow-tie-inspired first birthday's amazing invitations. "I knew I wanted them to be tactile, not just a piece of paper. I wanted them to be Southern and sweet and with the personality of a playful little boy," says mom and designer Emily Ley [255].
The awesome invite introduced Brady's first birthday party in grand fashion, and the party itself was full of cute bow-tie details. "We decided we wanted it to be sweet and young and classic . . . so we chose a Southern Picnic theme and used bow ties to tie the entire affair together," Emily says. Click here [256] to check out all the details of the spectacular invites and the sweet party!
Source: Emily Ley [257]
A Chevron, Elephant, and Balloon Birthday Party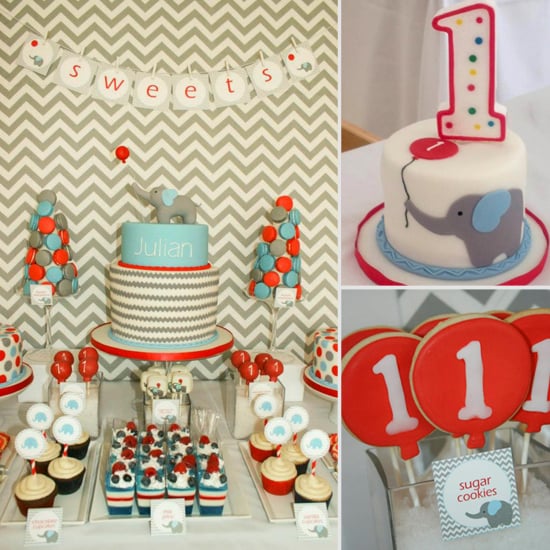 Magdalena Czerny of Oh So Chic Celebrations [258] gladly rose to the challenge when tasked with creating a modern, red, gray, and blue party for 1-year-old Julian. "His mommy is a wonderful lady with a great sense of style," Magdalena says. "She had a vision of what she wanted to do, and when I showed her the chevron fabric I had just purchased, she loved it. We found an invitation with an elephant, a red balloon, and a chevron pattern, and the rest of it just flowed from that." We're loving the modern color combination, along with the adorable cake, macaron towers, and awesome balloon cookies and cake pops. Click here [259] to check out all of this party's awesome details!
Source: Oh So Chic Celebrations [260]
A Bold, Brit-Inspired Birthday Party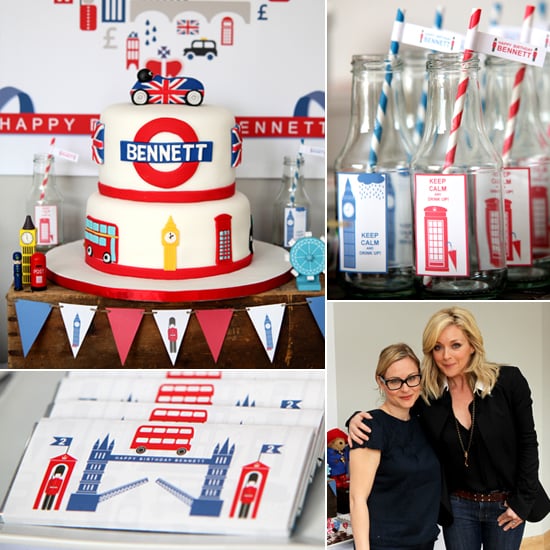 We've been smitten with New York-based party company Keren Precel Events [261] for some time, but this British-inspired birthday party has taken our love to a new level. Keren was inspired to create an ode to England by her 2-year-old client Bennett's room. "Bennett's wallpaper was white and filled with British icons," Keren says. "It was youthful, but not babyish or childish, and I decided the whole look of the party would be something similar that would appeal to both children and adults." Not only does this party feature one of the coolest cakes we've ever seen, but also, it's stocked full of savory treats that appeal to kids of all ages, on both sides of the pond. Click here [262] to see how to do a birthday, Brit style!
Source: Keren Precel Events [263]
A Brave Birthday Party
Inspired by her daughter Ella's love of Disney film Brave, Hana Lynch, a mom, blogger [264], and photographer [265], created a whimsical fifth birthday party that appeals to the inner rebel-princess in all of us. "I wanted the party table to evoke a sense of being within the enchanting forest that Merida encounters during her adventure," Hana says. "I created this feeling using natural elements like moss and tree stumps to display the food. The light-up 'wisps' gave it a magical touch." Add in an incredible cake; gender-neutral activities including a "haggis" toss, archery, and design-your-own coats of arms; and one adorable birthday girl, and you have one adventurous birthday bash! Click here [266] for all the incredible details.
Source: The MomTog Diaries [267]
An Awesome Angry Birds Party
What to do when not one, but two of your kids have birthdays during the most wonderful, chaotic time of year? Find a theme that they both love (in this case, Angry Birds [268]), and run with it!
"December is a busy enough month as is, but add birthdays for two children to the mix, and you've got downright chaos," says Jennifer Carver of Banner Events [269]. "To simplify things this year, we decided to host a combined birthday party for my son Jacob (turning 11) and my son Landon (turning 5). Since they are both huge gamers, we knew this theme would be perfect!" And Jennifer thought of every single detail — from an amazing Angry Birds cake, cupcakes, cake pops, and more sweet bird-themed treats to some supercreative themed games like Capture the Egg, Bird-O Bingo, and Slingshot Lane. Click here [270] to check out all the party details.
Source: Banner Events [271]
A Cool Airplane Birthday Party
Suzie Boluarte of Project: Party Perfect [272] knew just what the theme for her son Caiden's second birthday should be. "We live near a small airport, and he loves going to the observation deck," Suzie says. "It's on the tarmac, and he gets an up-close experience seeing small planes and private jets take off and land." Suzie took that love of planes and created an inventive party full of high-flying clouds, DIY [273] crafts, and cute treats. Click here [274] for all the details.
Source: Project: Party Perfect [275]
A Nautical Mickey Mouse Party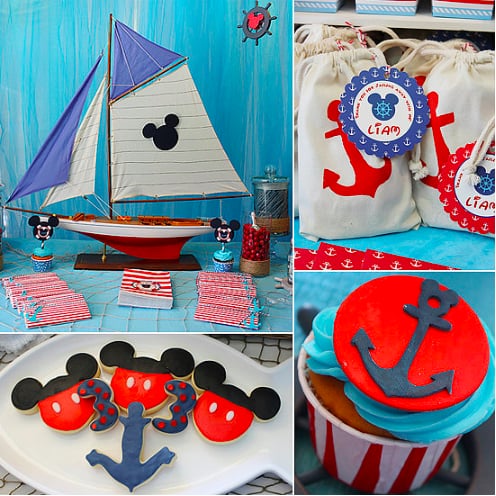 Party planner and mom Michelle Stewart of Michelle's Party Plan-It [276] knows how to create a standout event, and when it came time to plan her son Liam's third birthday party, she decided to take to the high seas . . . and bring Mickey Mouse on board! "My son's love of Mickey Mouse and anything water-related, but especially boats, inspired the theme," Michelle says of the event, which she crafted in shades of red, blue, and aqua. "With the nautical theme being trendy right now, it was easy to find decorative items to coordinate." Nautical decor including seagulls, lobsters, and boats, Mickey-themed desserts, and DIY [277] sailor hats are just some of this party's awesome elements, but keep clicking to see them all [278]!
Source: Michelle's Party Plan-It [279]
A Doc McStuffins Party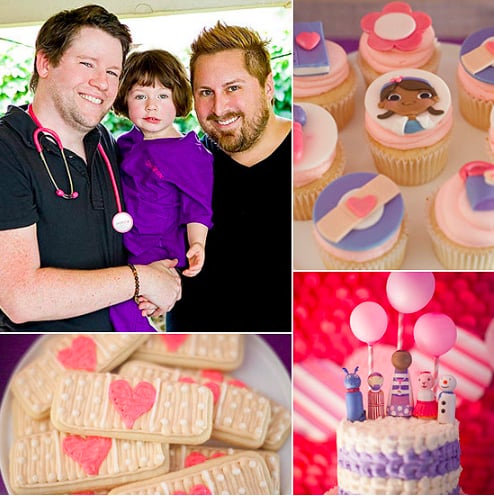 When when Bill Horn and Scout Masterson, aka the Guncles, started working with Jenny Cookies [280] to plan their daughter Simone's birthday party around her favorite animated character, Jenny knew they could do it in a sophisticated way. "For [Simone's] third birthday, Bill and Scout chose a Doc Simone party theme based around Disney's hit show Doc McStuffins," Jenny said. "I'm normally not a huge fan of licensed character parties, but I knew we could pull this one off without too much of the cheesy character look. Doc and her gang are actually pretty adorable characters."
With a make-your-own-ID-tag crafting station and a fill-your-own candy prescription counter, not to mention a menu packed with items inspired by the show's characters, you have to see all of the sweet details Jenny, Bill and Scout worked into this beautiful party [281]!
Source: Jenny Cookies [282]
A Circus Party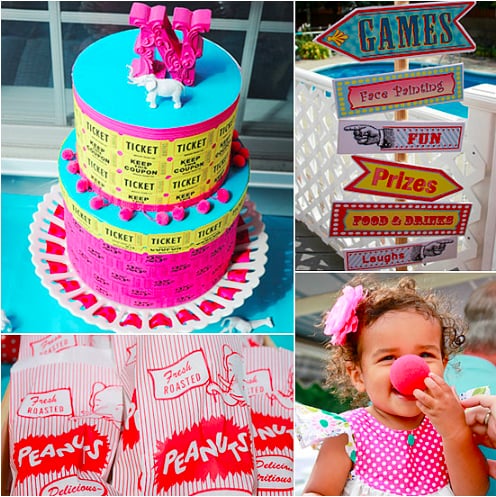 Mom, blogger, and DIY [283] queen Tiffany DeLangie of The TasteFull Life [284] went with a circus theme for her youngest daughter Nadia's first birthday.
Hot pink, yellow, and aqua showed up on a cool ticket-wrapped faux cake, on Nadia's special seat of honor, and on the DIY elephant backdrop. "My oldest daughter loves elephants, so I always kept an eye out for cute elephant decor," Tiffany says. "It hit me that a circus party would be a cute way to use elephants" All that cool decor, plus circus-themed party games, face-painting, and one adorable, cake-loving birthday girl make this party an elephant-sized hit! Keep clicking for all the details [285].
Source: The TasteFull Life [286]
A Country Fair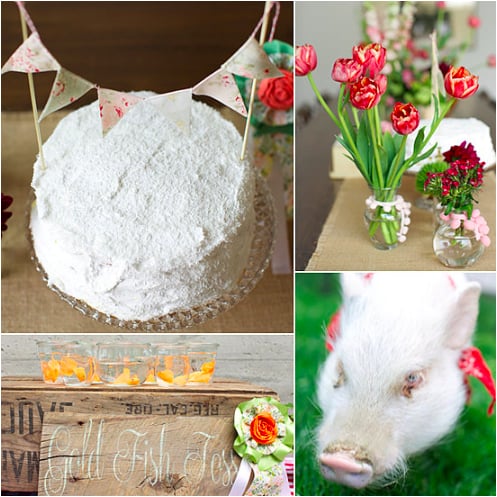 It doesn't get more chic than Jenni Kayne, fashion designer, founder of kid street-style site Ladys & Gents [287], and mom to two little ones, Tanner and Ripley.
"Ripley absolutely loves pigs and bunnies, so a country fair for the ladies felt like the perfect theme," Jenni says of her daughter's second birthday party. "Not knowing exactly what my version of a country fair looked like, I was inspired by the different parties that I found on Pinterest and ran with it." Wildflower arrangements, homemade pies and cakes, fair games like a ringtoss and sack races, and, of course, Ripley's much-adored farm animals all made an appearance at this old-fashioned party. Keep reading to check out the most stylish county fair around [288]!
Source: Rip + Tan [289]
A Girlie Lorax Party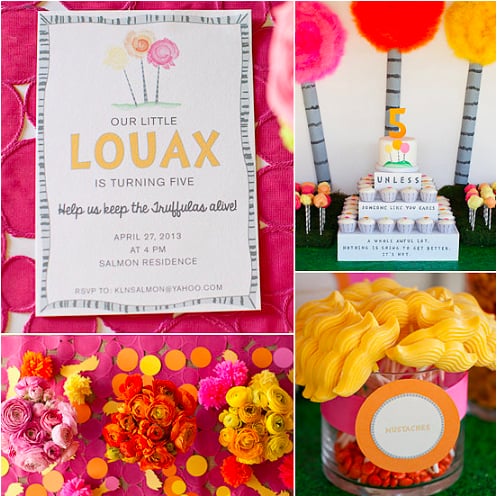 This isn't the first Lorax-inspired party [290] we've seen, but we love Krista's girlie, modern take on the theme. Truffula Tree cotton candy, the coolest cake, beautiful blooms, and mustache pops are just a few of the lovely details at this party, beautifully photographed by Ryann Colleen [291]. Keep clicking to check out all the details at little Lou's Lorax party [292]!
Source: Kiki's List [293]
A Magic Party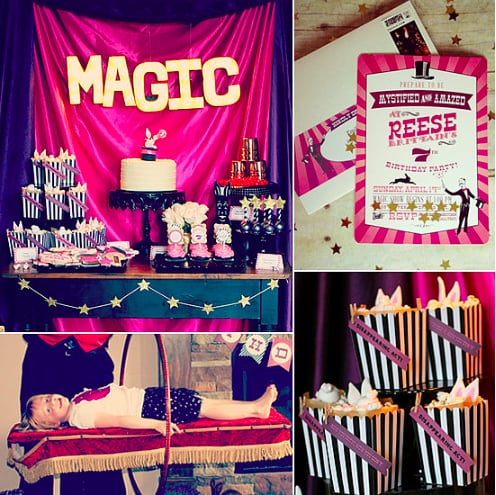 With a daughter who knew she wanted to be a magician, Gretchen Brittain knew a magic-themed birthday party was in order! Of course, a magician made a stop at Reese's seventh birthday party, but Gretchen also incorporated the theme into sweet treats (disappearing-bunny popcorn, magic-wand cake pops), a cool marquee-light backdrop, and more party fun. Keep clicking for all the magical details [294]!
Source: Three Little Monkeys Studio [295]
A Rainbow-Heart Party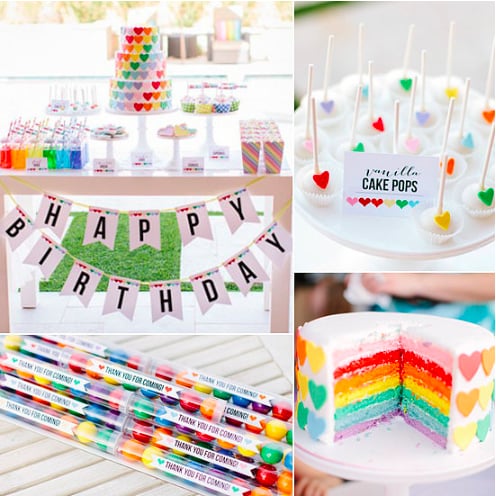 Kim Stoegbauer of The TomKat Studio [296] has thrown some of our favorite kid parties ever. For her daughter Kate's sixth birthday, she celebrated the milestone with a party that was all about the tot's two favorite things: rainbows and hearts!
Kim incorporated the theme throughout the outdoor party with sweet treats, including an amazing cake featuring rainbows inside and out, balloons, clever rainbow-colored drinks, and pool-perfect decor. Keep reading for all of the fun details [297].
Source: The TomKat Studio [298]
A Pizza-Themed Party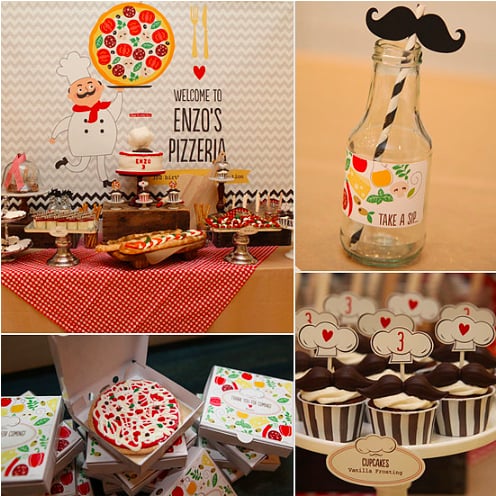 Event planner Keren Precel [299] took her inspiration from one of the oldest kid party themes around: the pizza party!
Keren put her stylish spin on the theme, creating tons of cute pizzeria-inspired paper products and fun extras, like adorable, tiny pizza-box shaped favors, which housed cookies designed to look like mini pies! Keep clicking to check out all the other ways [300] Keren turned a kid's favorite dinner into something extraspecial at this party!
Source: Keren Precel Events [301]
A Yo Gabba Gabba Party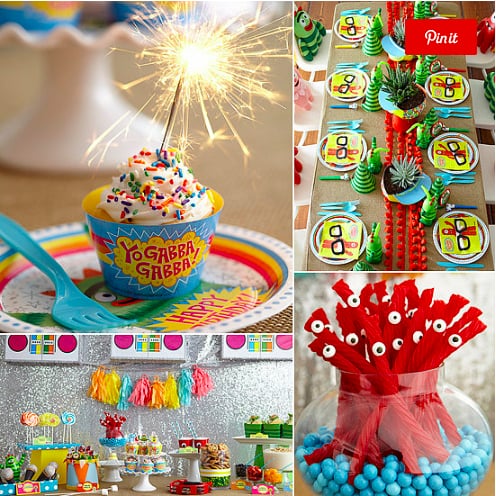 When your little one is obsessed with a cartoon character, but you just can't bring yourself to populate your party with them, there are other options. Jesi Hack incorporated bright colors, modern decor like burlap table linens, pom-pom runners, succulent centerpieces, and clever sweets to fashion a party that almost has us wishing our child would ask for a Yo Gabba Gabba! bash. (Luckily, this one is supereasy to recreate!) Keep clicking for all of the details [302].
Source: Birthday Express [303]
A Shark Attack Party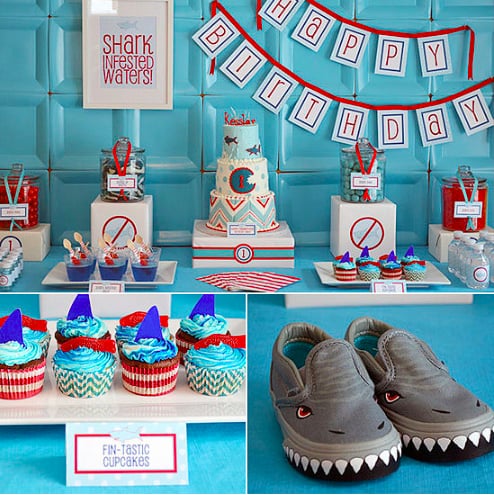 Ready to witness the least scary shark attack known to man? Then plunge into the fin-infested waters of this adorable baby boy's first birthday party. Styled by his mom, Rachel, of PARTePRINTS [304], the event featured tons of thoughtful details, like bottled "ocean water" and shark tooth necklaces. Click through to see how whole party came to life [305]!
Source: PARTePRINTS [306]
A Fruit Stand Birthday Party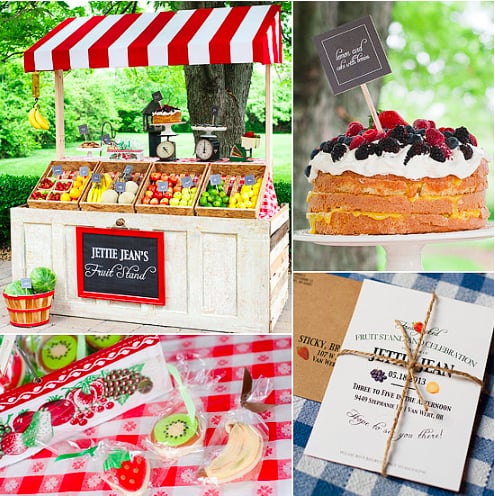 While most birthday parties are all about cakes, cookies, and candy, this fruit-themed event proves that healthy sweet stuff can be just as exciting! "We wanted to chose a theme that suited our daughter at this stage in her life, as well as be something fun for other kids," Brandy says. "Jettie is currently obsessed with fruit; it's the one thing she never turns down. So a fruit stand was decided on! We could not have been more pleased with the way it turned out. The guests, especially the little ones, had such a blast 'shopping' and eating from the stand." Add in some vintage decor, fruity cakes, sweets, and drinks, and one adorable birthday girl sporting a watermelon dress, and you have the perfect Summer party! Keep clicking for all of the details [307].
Source: Brandy J Photography [308]
A Construction Party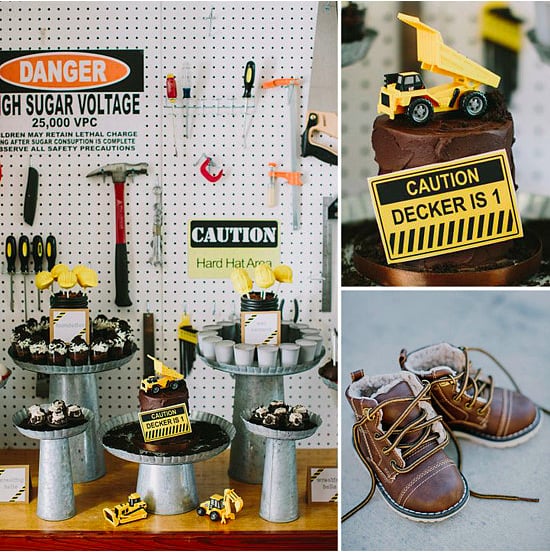 This construction-themed birthday party is officially one of our new favorite boy themes! Thrown for baby Decker by his mom, floral and event designer Carissa Jones of JL Designs [309], this party is full of creative details, including some amazing sweets (yellow construction hat cake pops! faux dirt made with crushed Oreos!). Keep clicking to check out all the creative construction details.
A Cowboy and Indians Party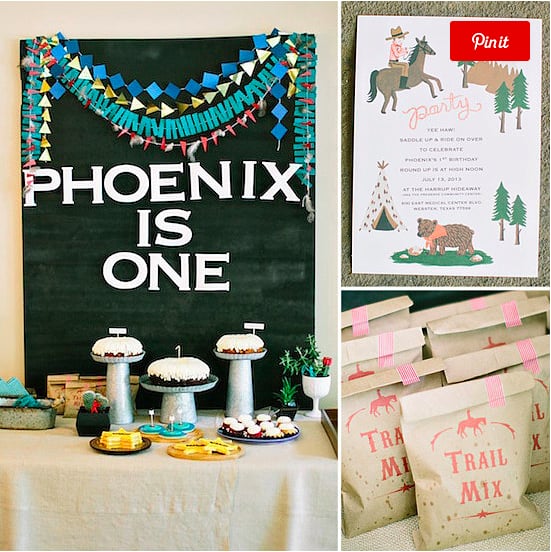 Social implications and controversies aside, cowboys, Indians, and little boys have gone together like bows and arrows or boots and spurs since our grandparents were kids. But this party, thrown by event designer Jennifer Laura [311] for her 1-year-old son, Phoenix, proves that the pairing can look incredibly modern — and violence-free. But it isn't just the invites that make this party extremely stylish. Add in an awesome backdrop, details galore ("I just can't get enough," Jennifer says), and one adorable birthday boy (or should we say, cowboy?), and you have the coolest kids' party in the Wild West. Keep clicking for all the details [312].
Source: Jennifer Laura Design [313]
An Instagram Party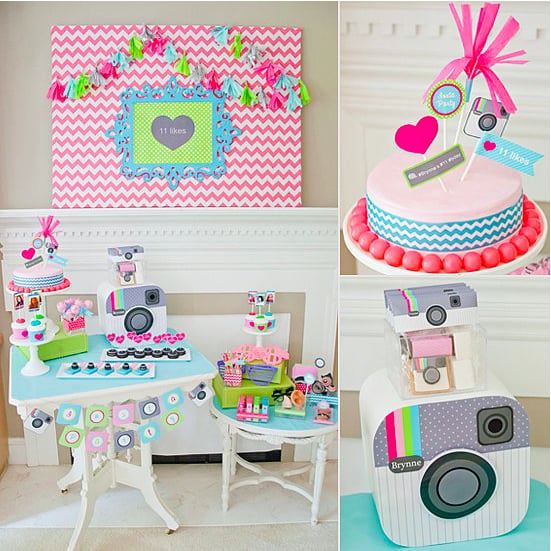 Like you, we're pretty obsessed with Instagram [314], so when we spotted this Insta-party from Anders Ruff [315], we knew we had to share. Designed for 11-year-old Brynne, the daughter of Anders Ruff designer Adria Ruff, this tween bash took the famous Instagram icon and made it girlie in shades of pink, lime green, and baby blue. Keep clicking for all the details [316].
Source: Anders Ruff [317]
An Italian Birthday Celebration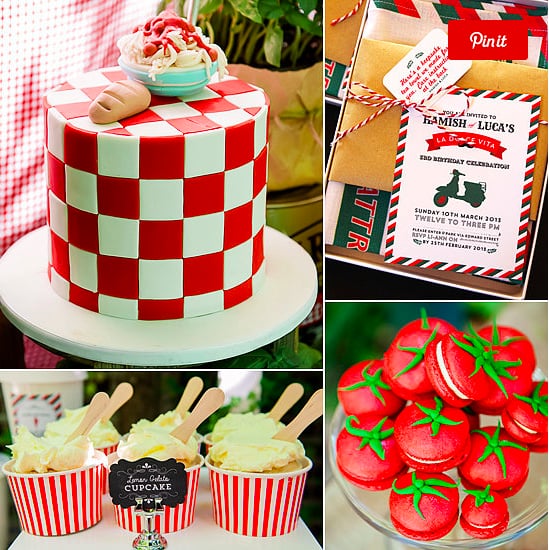 If your kids are avid — or aspiring — world travelers, then take note of this gorgeous Italian birthday party. With gorgeous sweets, inventive party decor (tomato cans, hanging cookware), and one amazing invitation this sophisticated soiree would be a hit for a birthday boy of any age, but 3-year-olds Hamish and Luca were especially enamored with the Ferrari piñata and their amazing matching cakes, topped with fondant spaghetti and pizza! Keep clicking for all the bellissima details [318].
Source: Ham & Pea Design & Paperie [319]
A Colorful Superhero Party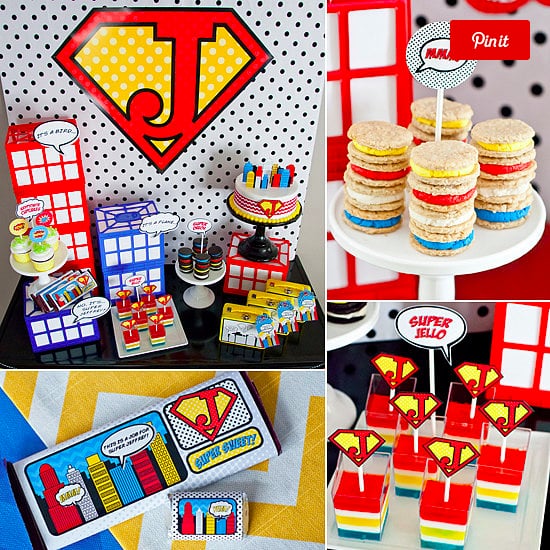 Superhero parties are one of our favorite kid-birthday themes, but what if you want all the super stuff on a less-than-super budget? Leave it to the party divas of Anders Ruff to find the (super) solution.
"The vintage pop-art superhero party [320] that I planned for my son, Pierson, about three years ago is one of our favorite parties that we styled, and we often get the question of 'I love it, but how much would that cost?!'" says Maureen Anders. "I know it was not a cheap party, so I wanted to design a party that had a similar feel and vibe, but that was full of cost-effective and DIY [321] elements so you can be Super Mom while keeping things within a reasonable budget." The result: Jeffrey's spectacular party full of dressed-up store-bought treats, dollar-store finds, and lots of awesome printables. Keep clicking to check out all the super details [322]!
Source: Anders Ruff [323]
A Peter Rabbit Garden Party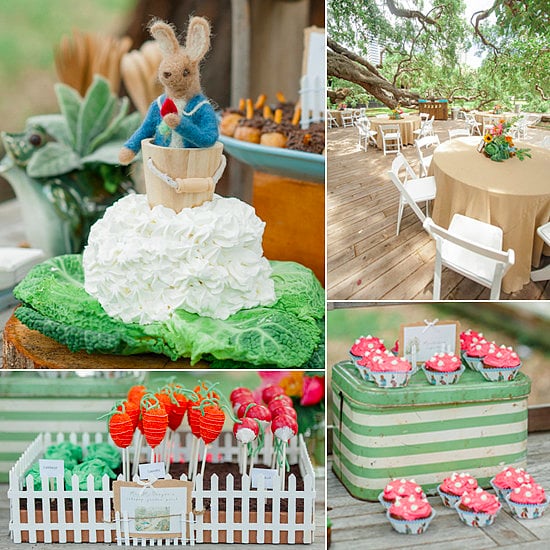 We're totally smitten with this sweet Peter Rabbit party's garden setting, clever desserts, and cute birthday boy, 1-year-old Henry. "When I started brainstorming ideas for Henry's birthday, the idea to use Peter Rabbit was almost a given," says his mom, Alex Dovel of Alex Michele Photography [324]. "Henry is such a little Peter Rabbit himself: spunky, mischievous, far too clever for his own good, and totally naughty in every single, perfect way." Keep clicking for all the special, sweet, and "hoppy" birthday details [325]!
Source: Alex Michele Photography [326]
A Pretty Pony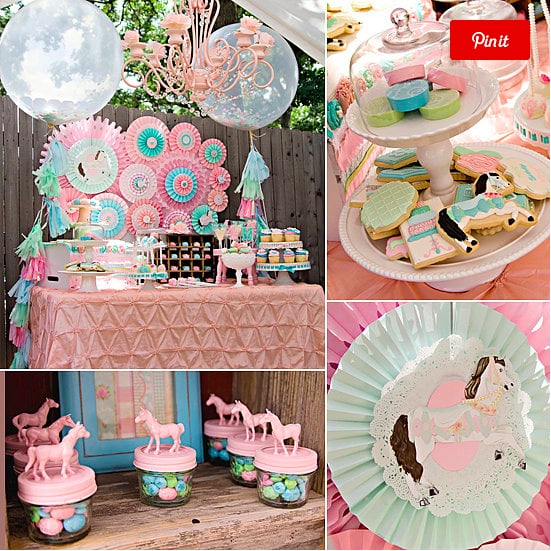 How do you turn a pony party into a girlie affair? Add lots of pink, lace, and satin, and voilà! "With so many pony parties [327] out there, I wanted to create something different," says Miranda Konieczny of Whimsically Detailed [328], who created the party to celebrate her daughter Mykayla's fourth birthday. "I wanted 'shabby chic' with lace, burlap, and satin in pink and turquoise. I knew that I wanted straw all over the floor with crates, mixed with all the pretty shabby decor." Add in pinwheels, a pink chandelier, lots of lovely pastel desserts, and some real ponies who stopped by to take the kid guests for a ride, and you have one pretty pony party! Keep clicking for all the details [329]!
Source: Whimsically Detailed [330]
An American Girl Party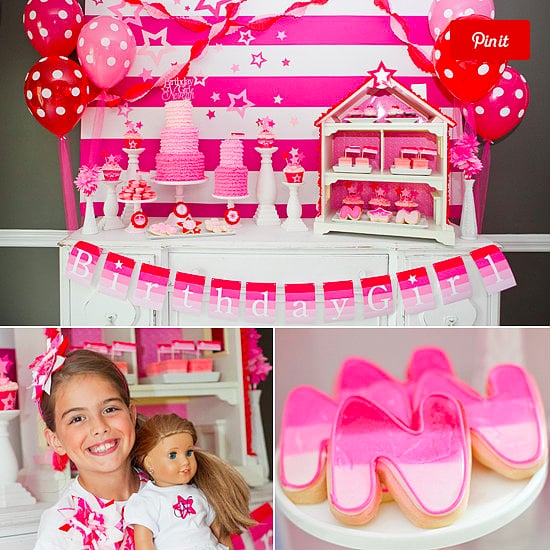 We're guessing many a little girl would love this adorable American Girl party, thrown by the ladies of Anders Ruff [331]. Using their printable collection [332], some cool DIY [333] projects, and lots of dolls, the ladies created a party that's any little American Girl fan's dream. Keep clicking to check out all the details [334].
Source: Anders Ruff [335]
A Surf Shack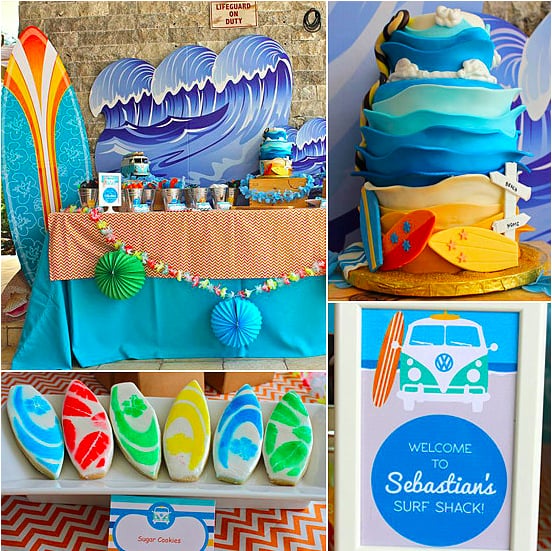 This awesome surf shack party — inspired by Disney's Teen Beach Movie — is just too cute to pass up. Thrown by Carol Rivera of Once Upon a Party [336], the birthday bash has some simply incredible elements, including a cool surf-inspired cake, surfboard cookies, shark fin cupcakes, and even a vintage VW surf van! While your next trip to the beach might seem far away, this party will remind you one more time why we all love Summer (minus the sharks) so much! Keep clicking for all of the details [337].
Source: Once Upon a Party [338]
A Chic Chanel Party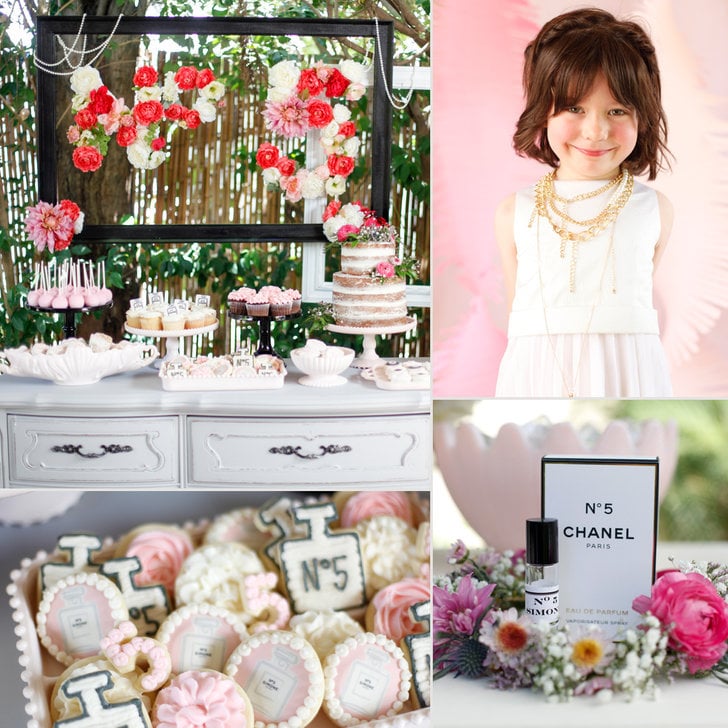 This darling Chanel birthday party is dripping in luxurious details! The "Simone No. 5" themed bash, based off of the famous Chanel No. 5, was covered in pink, white and black and included creating custom perfume, wearing beautiful fresh floral crowns, designing Parisian-themed necklaces, and eating the prettiest cookies and cupcakes from celebrity baker Jenny Keller [339], who is also a co-planner with Simone's dad Scout Masterson. Keep clicking for all of the details [340].
Source: Troy Harvey [341]
How To Train Your Dragon Party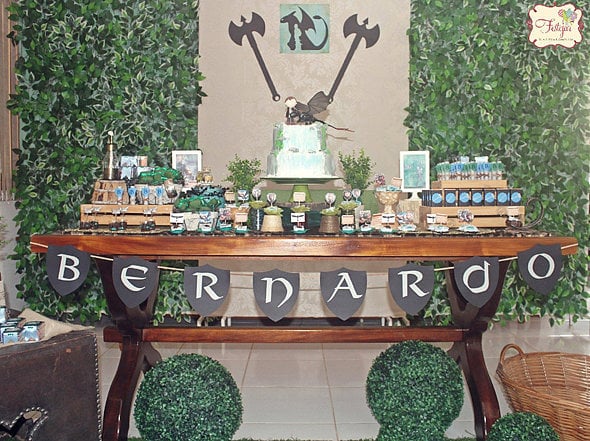 Is your little one a How To Train Your Dragon lover? This awesome party by Festejar [342] brought the movie to life complete with a cake topped with characters like Hiccup and Toothless as well as table filled with treats and all the necessary viking friends. Keep clicking for all of the details.
Source: Pretty My Party [343]
A Little Mermaid Party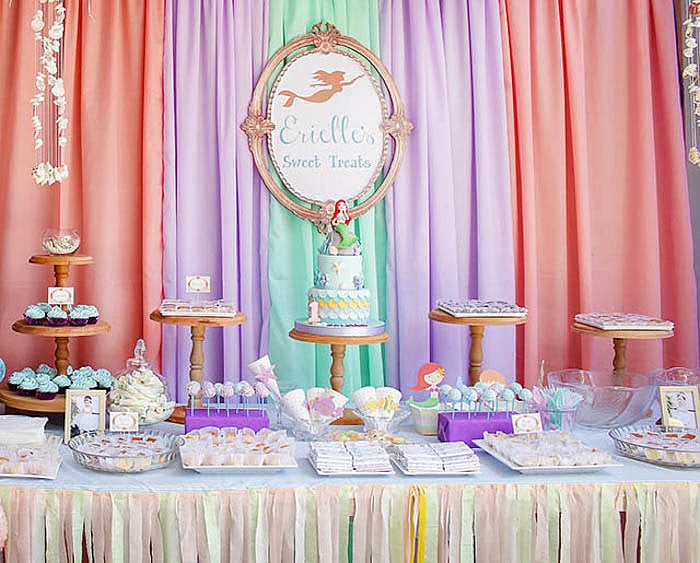 This whimsical mermaid birthday party was thrown by Pamela Clavejo of Pamie's Party Prints [344]. This girly under the sea party included a mermaid cake, darling table centerpieces, colorful ribbon tassels and gadgets and gizmos a plenty — like a fun photo station and lots of goodies fit for little mermaids. Keep clicking for all of the details [345].
Source: Reden Villahermosa of Redville Photography [346]
A Disney Cars Party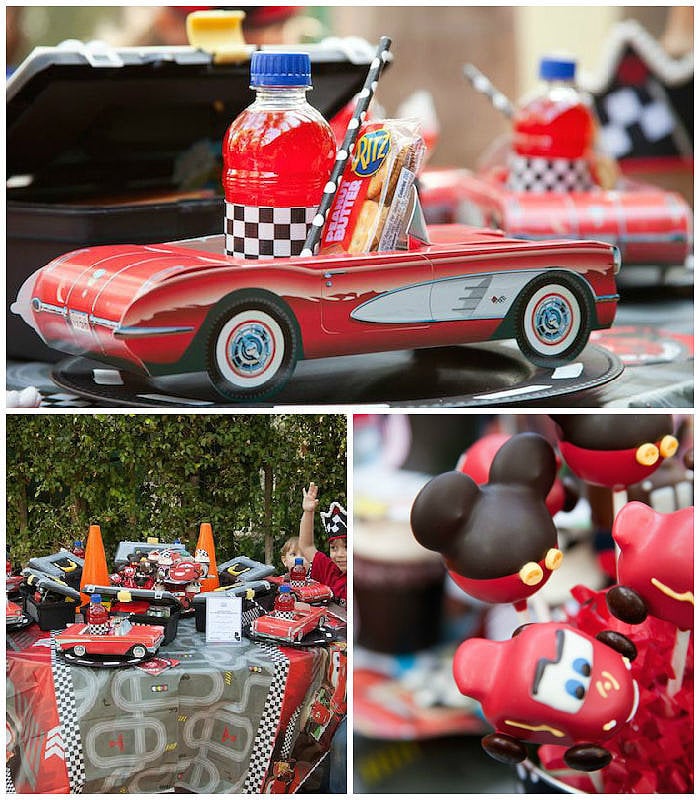 We are in love with this adorable Disney Cars themed party perfectly fit for your little racer. From the cutest Cars-themed cake pops to racing treats in a car tray, this party is definitely crossing the finish line first. Keep clicking for all of the details [347].
Source: Maria Healey Photography [348]
A Bumble Bee Party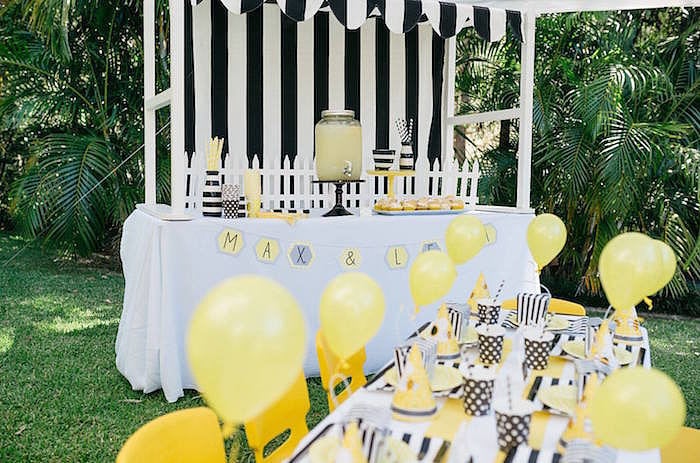 This bumble bee bash is filled with yellow and black and will have all your little guests buzzing. The beehive cake, little bee cookies, and a fun and modern color palate is sweeter than honey. Keep clicking for all of the details [349].
Source: Redmoose Photography [350]
A Safari-Girl Party
Lions, Tigers and Bears . . . and this adorable Safari themed birthday bash! Covered in pink, gold, lots of amazingly girly accents and a live animal show for entertainment, this party's attention to detail will definitely bring a smile to your little explorer's faces. Keep clicking for all of the details [351].
Source: Emily Klaparda [352]