Best Natural Cleaning Products For Nurseries
Clean Up Your Act: Keep Kids' Sleep Space Naturally Clean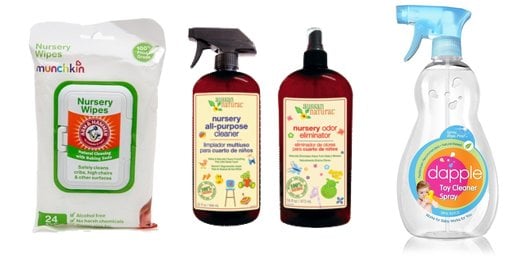 Parents need to know that the room where their lil one rests her head is peaceful, safe, and clean. Anywhere that diapers are being changed and accumulated needs serious freshening up on a regular basis. As tempting as it may be to reach for that jug of bleach, there are better options for keeping a nursery sparkling clean.
From left:
Munchkin Arm & Hammer Nursery
Wipes ($3): These handy little wipes safely clean changing tables, cribs, high chairs, shopping carts, and any other surface your tot might come in contact with. Alcohol free, the wipes kill germs on contact without leaving harmful residue behind.
Aussan Natural Nursery All-Purpose Cleaner and Nursery Odor Eliminator ($8 each): Aussan Natural takes the concept of natural cleaning products very seriously. It's partnered with the Environmental Services of Melbourne, Australia, to develop a truly safe, eco-friendly line of products that actually work as well as their non-natural alternatives. The odor eliminator isn't an overwhelming scent at all — it really just neutralizes the diaper scent that just seems to waft around the house no matter how many times you clean the diaper pail.
Dapple Toy Cleaner Spray ($6): This nontoxic spray is ideal for cleaning anything that tots get their little hands (and mouths) on. It uses only natural ingredients like baking soda and leaves no nasty residue.