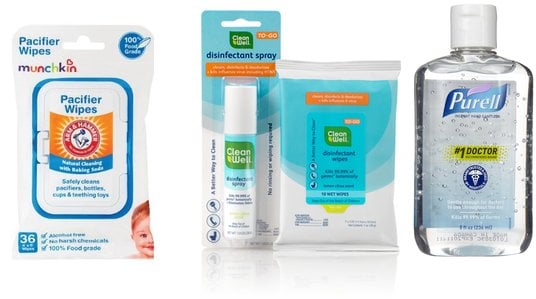 It's hard enough to keep a home clean and toxin free, but what about trips to the park, playground, and any other place kids and germs congregate?
Parents can't scrub down every public surface kids come in contact with (though some will try), but there are simple ways to mitigate the overwhelming ick factor when a child picks up a partially decomposed sandwich or drops a pacifier in a puddle. So get out there and play with these eco-friendly products that keep your kid and the environment clean.
From left:
Munchkin Arm & Hammer Pacifier Wipes ($4): Kids have numerous names for their prized possession — paci, sucker, binky — but whatever they call it, they won't leave home without it. These wipes are alcohol free and made with 100 percent food-grade ingredients to safely clean pacifiers, bottles, cups, teething toys, and anything else that's sure to get dropped.
CleanWell Disinfectant Spray + Wipes To-Go Pack ($8): CleanWell products are a favorite of eco-conscious parents; its to-go products are formulated with Thymol, a component of thyme oil, which cleans, disinfects, and deodorizes. The products are antibacterial, antiviral, and kill 99.99 percent of germs botanically on hard, nonporous surfaces. They're perfect for wiping down changing tables in less than ideal conditions!
Purell Instant Hand Sanitizer ($4): There's a lot of conflicting information about the merits of hand sanitizers. Parents understandably don't want to use products with alcohol on their tots' sensitive skin, but the Centers for Disease Control and Prevention has issued warnings that hand sanitizer with less than 60 percent alcohol cannot be deemed effective. CDC recommends washing hands with soap and water to get rid of germs, but when your child has just played ring-around-the-rosie with a fire hydrant, a sink's not always nearby. If parents choose to use a sanitizer with alcohol, like Purell, it's important that kids under 5 years old rub their hands together for 15 seconds, at which point the ethanol is mostly evaporated.