Biggest Headlines of 2009: Jon and Kate Plus 8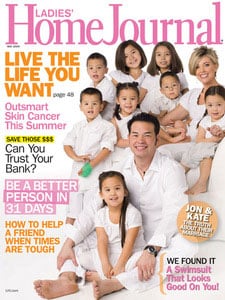 6
The Family Poses Together on Cover of Ladies' Home Journal
After announcing that Jon and Kate Plus 8 was filming its fifth season, the family posed for May 2009's Ladies' Home Journal. Decked out in all-white attire John and Kate spoke to the state of their marriage, saying:




Jon on marriage: "This struggle has definitely put some tension in our marriage. But I never cheated on Kate. Kate and I are together."




Kate on privacy: "The fact that we are recognized, screamed at, mobbed and so often approached when we're together does make life difficult."




Kate about fame: "I don't get it. I'm just a mom who's doing her best, not unlike moms everywhere. I just happen to have a few more kids than the average."




Jon joking about the life he imagined versus reality: "I always thought I'd be, like, 54 years old and marry a 19-year-old or something."




Jon on being a reality star: "I can't be Jon, I have to be Jon and Kate Plus 8, which is a really hard thing for me."