Bike Safety 101
Bike Safety 101: Get Your Wee One Riding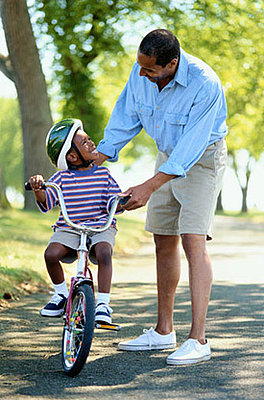 Pump up those tires and strap a helmet on your tot, today marks the the first day of National Bike Month! One of the most popular physical activities for kids, the health benefits of biking are second to none. In addition to keeping children outside and in shape, biking helps develop lil ones' hand-eye-coordination and sense of balance. Even the littlest ones in the family can share in the benefits, but it is imperative to start them off safely. Bike safety skills should be taught the first time a wee one sits on a trike and insisting a helmet be worn is an easy way to set the standard.
According to Safe Kids USA, "Each year, more than 130 children die from bicycle-related injuries, and more than 280,000 are treated in emergency rooms. Properly fitted bike helmets could reduce the risk of bike-related brain injuries by 88 percent; however, only 15 to 25 percent of cyclists ages 14 and under usually wear a helmet."
To ensure that your kids are as safe as can be on their bikes, Safe Kids recommends:
Make sure the helmet fits and your kids know how to put it on correctly. In a crash, the risk of head injury is doubled if the helmet is worn incorrectly. A helmet should sit on top of the head in a level position, and should not rock forward and backward or side to side. The helmet straps must always be buckled but not too tightly.
Remember bike helmets are for biking. Kids should not wear bike helmets on the playground (where the straps can get caught on equipment and cause injury) or for activities that require specialized helmets (such as skiing or football).
Know the law. In 19 states, the District of Columbia and more than 140 local jurisdictions, children under 16 are required by law to wear a helmet while riding a bike. In some jurisdictions, the helmet law also applies to scooters, inline skates and skateboards.
For additional bike safety tips,
.
Make sure the bike itself is the right size for the child. There should be 2-4 inches of clearance between the bike frame and the child's groin when the child's feet are flat on the ground. Also, make sure the bike is in good repair — reflectors are secure, brakes work properly, gears shift smoothly, and tires are tightly secured and properly inflated.
Ride on the right side of the road, with traffic, not against. Stay as far to the right as possible.
Use appropriate hand signals.
Respect traffic signals, stopping at all stop signs and stop lights.
Stop and look left, right and left again before entering a street or crossing an intersection. Look back and yield to traffic coming from behind before turning left.
Adult supervision of child cyclists is essential until you are sure a child has good traffic skills and judgment.
Cycling should be restricted to sidewalks and paths until a child is age 10.
Children should be able to demonstrate riding competence and knowledge of the rules of the road before they cycle with traffic.
Children should not ride a bicycle when it is dark, in the fog or in other low-visibility conditions.
If riding at dusk, dawn or in the evening is unavoidable, use a light on the bike and make sure it has reflectors as well.
Wear clothes and accessories that incorporate retroreflective materials to improve your visibility to motorists.