Birthmarks and Stork Bites
Baby Wellness: Stork Bites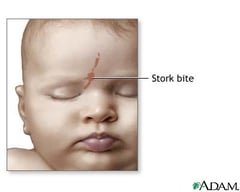 Newborns have gone through quite a journey to make it into our arms. Whether pushed by contractions or pulled by a doctor, infants often look like they've been through a war zone by the time we get to make their acquaintance. After the first few hours, a wee one's coloring tends to come out and most of their marks begin to disappear. Some lil ones will continue to bear the signs of their birth for several months with red patches called Stork Bites or salmon patches.
According to A.D.A.M.:
A stork bite is a vascular lesion quite common in newborns consisting of one or more pale red patches of skin. Most often stork bites appear on the forehead, eyelids, tip of the nose, upper lip or back of the neck. They are usually gone within 18 months of birth.
Occurring in 30-40 percent of all newborns, the patches are harmless and do not pose any health risks. While they do disappear in most tots, about 25 percent never go away, but are usually covered by hair. While the patches may cause alarm at first, consider them your lil one's badges of honor for making it into the world.