Black Friday Toy Deals 2011
Where to Find the Best Black Friday Toy Deals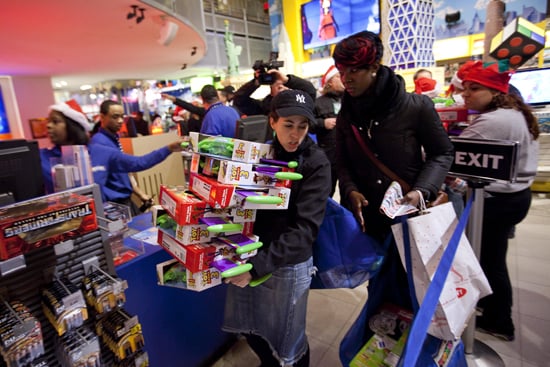 Get your running shoes on and stash some energy-boosting snacks in your diaper bag because Black Friday is here and it's starting earlier than ever. Never mind the 5 a.m. wake-up call on Friday morning — this year the deals are starting on Thanksgiving Day, or even earlier! We've used our supersleuthing skills to uncover the best deals out there. So gather your gift lists, enlist a family member to watch the kids, and map out your shopping strategy! To see the amazing deals, just keep reading.
Amazon's Black Friday Deals Week has already started. The deals already include a Radio Flyer Cargo Wagon for $112 (regularly $199); half off Crayola products such as the Crayon Maker Story Studio; PlayStation 3 game Everyday Dance for $30 (regularly $40); and 25 percent off the new Rock Star Mickey.
Baby Gap launched its Black Friday deals on Wednesday. Included this year are holiday dresses for $16 (regularly $40), basic bodysuits for $2.60 (regularly $6.50), and hat-and-mitten sets for $10.78 (regularly $26.95).
Best Buy will open at midnight Thursday night/Friday morning for deal-seeking families. Among the deals will be the PlayStation 3 160GB Console Bundle with Little Big Planet 2 and Rachet & Clank 4 for $200 (regularly $370), a Blu-ray combo movie pack of X-Men, Green Lantern, and Fast Five for $9.99, and the Nikon Coolpix S8100 for $150 (regularly $300).
Macy's will open at midnight as well. Discounts are expected to include buy-one-get-one-free deals on Melissa and Doug toys, puffer winter jackets for $16 (regularly $75), and denim for $15.
Old Navy launched its GobblePalooza on Wednesday. Doors open at midnight, but the prices remain in effect through Saturday. Kids jeans will be $10, performance fleece for $9, and then there are day-specific sales as well. And to keep kids involved in the process, the store will be distributing 3D goggles to allow shoppers to find "secret" discounts marked on certain items.
Target is also joining the midnight openings this year. Deals should include a Nikon L105 Digital Camera for $100, three-piece pajama sets for $7, fleece jackets for $15, electronic games — like Scrabble Flash — for $15, and a seven-doll Disney Princess collection for $40.
Toys R Us may be the first stop on your Black Friday journey, opening at 9 p.m. on Thanksgiving. Deals will include 50 percent off board games, buy-one-get-one-40-percent-off DS and 3DS games, and 25 percent off all Radio Flyer scooters.
Walmart will begin its Black Friday toy deals at 10 p.m. on Thanksgiving (you'll have to wait until midnight for electronics deals). They'll include Power Wheels ride-on cars for $99, classic board games like Candy Land for $3.88, a Step 2 play kitchen for $50, an LG Blu-ray player for $49, and assorted Blu-ray movies for $5 each.