The Book of Dads Photo Series
A New Book Captures the Joy (and Fear) of Being a First-Time Father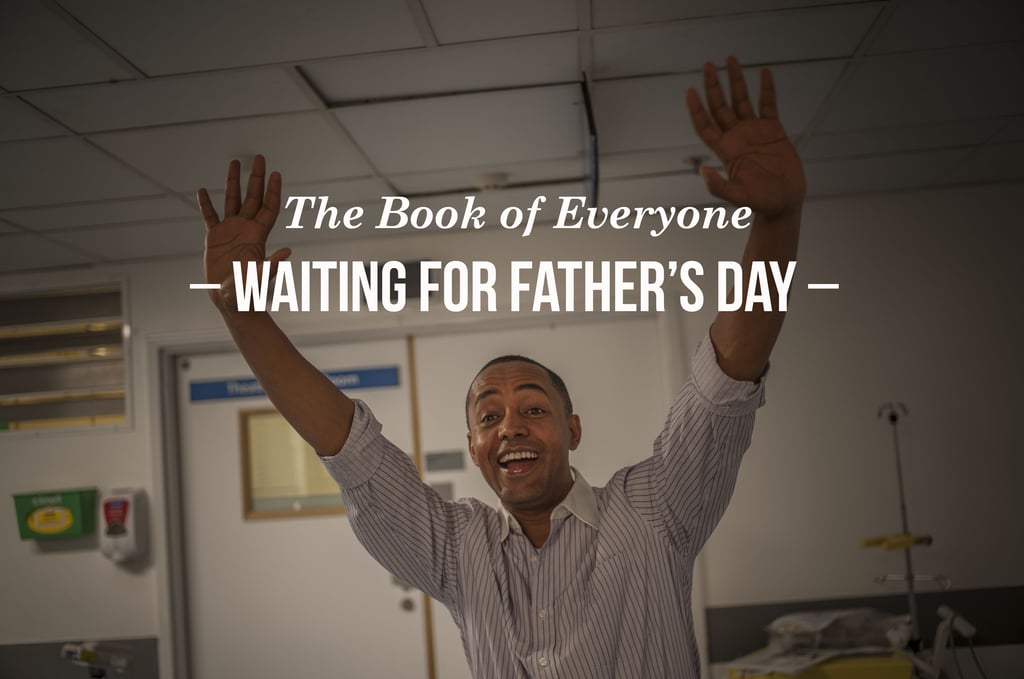 0
A New Book Captures the Joy (and Fear) of Being a First-Time Father
There's a long list of photos to take on your tot's first day, but one moment we tend to miss is the look on a father's face when he sees his child for the first time. The Book of Everyone, a personalized book-making website, set out to document this must-capture moment in its latest creation, Waiting For Father's Day ($42). The photo book showcases men minutes before and after (or in some cases during) their child's birth, along with a few words of wisdom for their little one. The idea for the project came from the personal experience of the three men behind the company.
"One of the guys in the office just had a new baby, and he had a bit of shock and wonder on his face for the first few weeks," says Steve Hanson, head of marketing at The Book of Everyone. While the company planned on releasing a customizable Father's Day book, they also wanted to do something that showcased what it really means to be a new dad. "We said, 'Wouldn't it be great to celebrate this by trying to capture that moment,'" Hanson recalls.
To do so, they enlisted the help of photographer Dave Young. In addition to 20 years of experience and an impressive portfolio, Young contributed a special personality to the project. "He was able to get in [the hospital] and make people feel relaxed enough so that he could be — at a very personal moment — standing there with a camera in his hand," Hanson says. It was also Young who came up with the idea of photographing fathers within the first few moments of birth.
"This hadn't been done before, and as a photographer it's great to find something you're interested in and hasn't been done," Young says. He adds that the project was "an opportunity to get real emotions from people," which he found too rare to pass up. "Most things in life these days, we know what's going to happen because we're very much in control, but this was a moment for the dads where they didn't know what reaction they were going to make."
So the photographer got to work contacting various hospitals throughout London when he finally got the OK from Chelsea & Westminster Hospital. Once he arrived at the hospital, Young approached many dads-to-be in the maternity ward and asked if he could capture that special moment. Some photos took place during the long labor wait, while others occurred right as the baby was being delivered. The latter moments stuck with Young the most.
"There was this guy, Eris, and we shot him at the moment of his baby coming out," Young recalls. "That was a real moment, and a weird one for me as a photographer. I've spent 20 years photographing the action and getting the moments, but I was making the point of not getting anything else in the shot apart from his face."
In addition to bringing a smile to readers' faces (and perhaps a tear to their eyes), Waiting For Father's Day gives help to those who need it. As a way of thanking Chelsea & Westminster for their hospitality, 50 percent of the proceeds from the book will go to Borne, the hospitals' charity that works to make childbirth safer for the mom-to-be and babies.
"One of the things we say here is that we like to make people feel better one book at a time," Hanson says. "Giving to Borne was an opportunity for us to do that."
Scroll through to see some of the life-changing moments that were caught on camera for Waiting For Father's Day.
Source: Dave Young