BornFree BPA-Free Bottles
The Dad Behind the Bottle: Ron Vigdor of BornFree Interview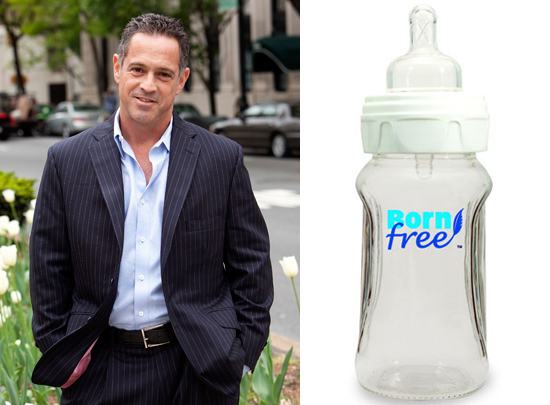 Ron Vigdor's two sons were already out of diapers when he created BornFree bottles, but he wanted to give fellow parents a safe way to feed their babies. The real estate and high-tech entrepreneur "saw a way to do good and have a viable business" after watching an early 2006 news report about toxins. His company put the first Bisphenol-A-free bottle on the market. When the BPA scare made headlines, the product flew off the shelves while those of long-trusted and bigger baby brands collected dust. Vigdor won't disclose the exact number of units he sells annually but says it is in the millions. And, despite relatively new BPA-free competition, Vigdor says BornFree remains the leading manufacturer of toxin-free bottles. We recently had the chance to chat about his current and future environmental endeavors.
LilSugar: How do you feel about being attributed with raising awareness about BPA?
Ron Vigdor: First of all, I want to acknowledge the scientific community because I am not in any way related to them. I think that BornFree has been blessed with phenomenal media and phenomenal awareness to be able to elevate it to be known as the safe or toxic-free feeding system.
LS: You had perfect timing because your bottles were online and at Whole Foods before the BPA chaos?
RV: We were online first, but I think that Whole Foods recognized (the need for) BPA-free and gave moms and dads an alternative, which made them just as much of a pioneer as I was. They were the first retailers to carry it (the bottles).
To see what Vigdor had to say about expanding his brand,
.
LS: As far as BPA, scientists are finding it in everything. Are you going to expand your line to include plates, utensils, etc? Do you have any plans to broaden the scope of your business?
RV: BornFree is in transition to become a lifestyle company where it would be just as much for babies, toddlers, and teens as adults. There's a huge void out there with BPA-free products. Whether it would be the lining of cans we buy in the grocery store to reusable bottles. All kinds of products today contain not only BPA or phthalates — there are so many other chemicals and toxins out there — that are not even being spoken about right now and BornFree is transitioning itself to become more of a lifestyle company.
LS: As far as toxin awareness, America is late compared with what's going on in Europe. Are you trying to speed up that process here?
RV: 100 percent. Actually, I believe (we will) catch up to Europe before Europe is ready for us to catch up to it.