Bottle Drying Racks
Pimp Your Crib: Drying and Organizational Racks for Bottles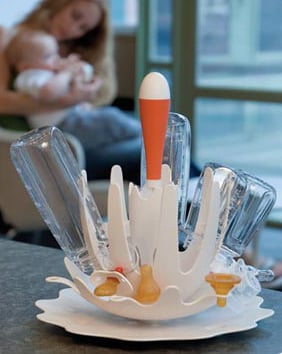 I've spent enough time washing and sterilizing baby bottles to recognize how important it is to keep all your bottle paraphernalia in one place. Sometimes it feels like as soon as I finish washing and filling a bottle it's time to, well, wash and fill it again.
If you are trying to keep your feeding gear in one place, consider a pretty and functional organizational unit like the Splash Drying Rack ($28), which adds modern design to the age old activity of washing bottles. It has a little shelf for nipples, straws and valves, but comes in a space saving design that will house all your bottles in one spot.
A friend of mine has even made a simple spin tray (you know the kind people keep spices on) into the official bottle central in her kitchen. While it doesn't help for drying the containers, it allows her to store everything in one place.