Slugs and snails and puppy-dogs' tails, that's what little boys are made of! Thank goodness baby showers don't reflect that age-old nursery rhyme! Rather, today's showers for mamas expecting little boys are filled with the same sweet treats and adorable details once reserved for little girls. Check out 14 of our favorite baby shower themes for little boys, from cowboy- and mustache-themed fetes to parties centered on rubber duckies and afternoons at the ballpark.
A Western-Themed Baby Shower
This Western-themed, turquoise-and-black-toned shower [1] is stuffed full of thoughtful details — from a cowboy diaper cake [2] and braided rope sign (we're loving this trend [3]!) to tons of sweets and amazing signage.
Source: Whimsical Printables [4]
A Little Man Mustache Baby Shower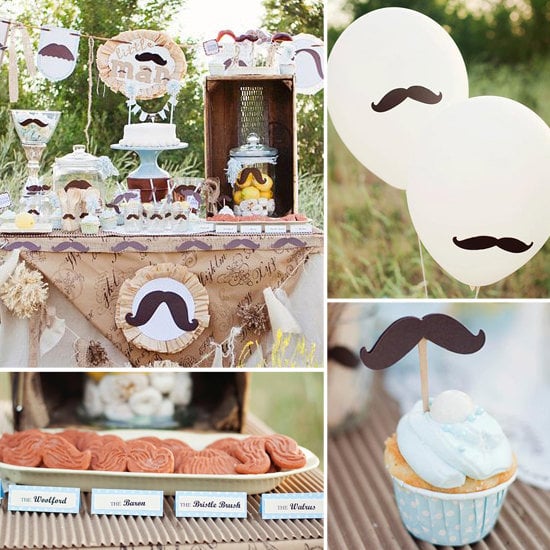 Jessica of Quilted Polka Dot [5], a mom of two and awesome Etsy shop owner, created this adorable mustache-themed baby shower for a client who wanted a mix of the fun mustache trend with a dash of vintage. By mixing in some hard edges (corrugated cardboard as a table runner, wooden crates) with the softness of ruffles, lace, fabric, and poms, Jessica created a truly unique event. Check out all the adorable party details by clicking here [6].
Source: Quilted Polka Dot [7]
A Vintage Nautical Shower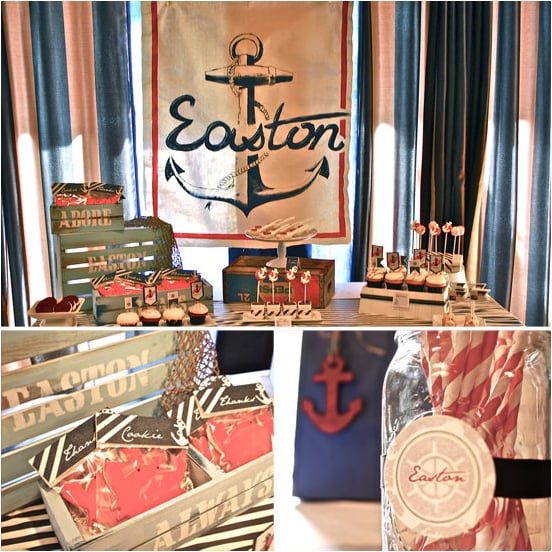 If you've ever been on a boat, near the ocean, or just have a thing for seafood, this nautical baby shower is seaworthy perfection [8]. Using the iconic rope-wrapped anchor as a jumping-off point, the vintage-inspired party came together in shades of blue, off-white, and a bit of red. Gorgeous desserts, messages in a bottle, and the cutest crab cookie favors ever are just some of the enviable shower elements.
Source: Honeycomb Events & Design [9]
A Goodnight Moon Baby Shower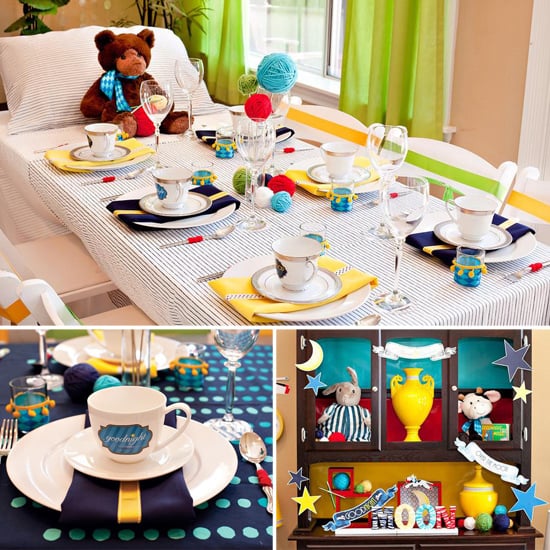 Goodnight stars. Goodnight air. Goodnight noises everywhere! Goodnight Moon, a bedtime classic and a staple in many nurseries, provides plenty of inspiration for a dreamy party theme — as it did for this Goodnight Moon Baby Shower [10].
Source: Hostess with the Mostess [11]
A Philadelphia Phillies-Themed Shower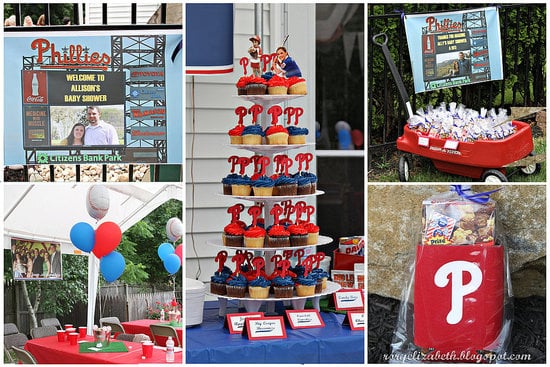 When an avid baseball fan found herself expecting a baby boy, her friends knew exactly what kind of shower they needed to throw her — a Philadelphia Phillies-themed party [12]!
Source: Circle of Moms [13] Member LoveRoars
A Rubber Duckie Theme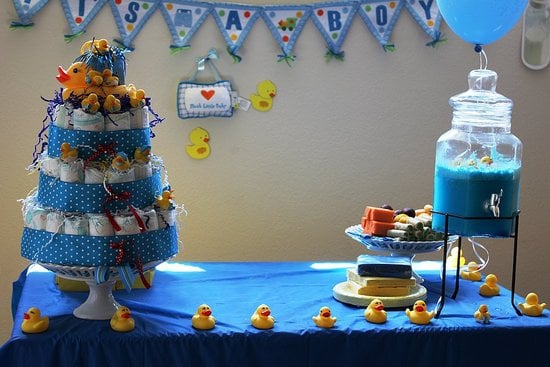 This rubber duckie-themed shower [14] is packed with blue and yellow details for a baby boy-to-be.
Source: Circle of Moms [15] Member Sridevi Tummalapalli
Sock Monkey Baby Shower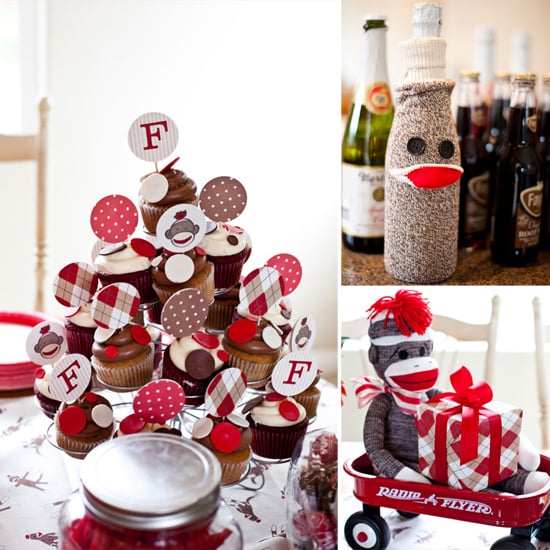 Go bananas! Vintage sock monkeys in red, brown, and white made this Sock Monkey Baby Shower [16] unforgettable.
Source: Jackie Wonders [17]
An Aiplane-Themed Baby Shower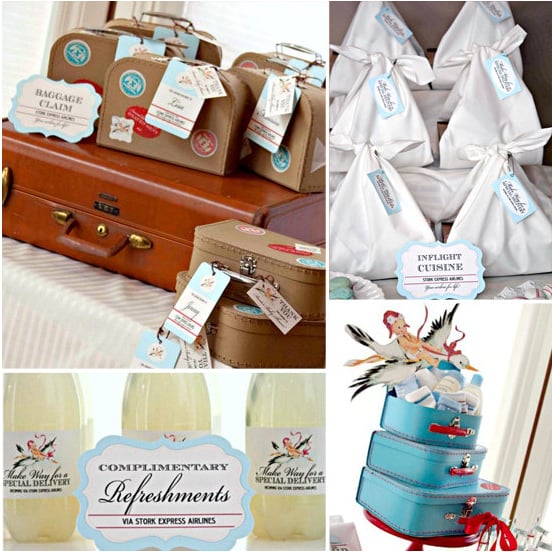 This adorable shower is a special delivery: airmail! Taking vintage elements to a high-flying level, the airplane-themed shower [18] incorporated airline-themed food, luggage, and more — think pretzel and peanut bags, baggage-claim gift bags, and "in-flight" cuisine boxed and tied for easy stork access!
Source: Jen Lee Photography for Loralee Lewis [19]
A Baseball-Themed Baby Shower For a Lil Slugger-to-Be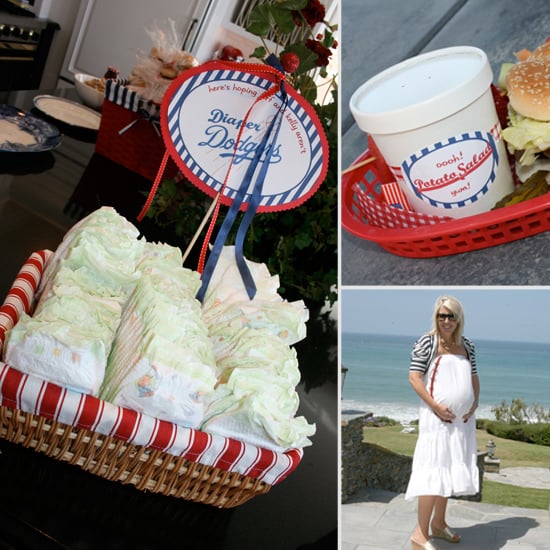 Who says a baby shower must be filled with pastels and frills? When Cakes Likes a Party [20] blogger Annika Lawrence threw her baseball-loving brother and sister-in-law a ballpark shower [21], it was a guaranteed home run.
Source: Cakes Likes a Party [22]
A Sweet Lullaby-Themed Baby Shower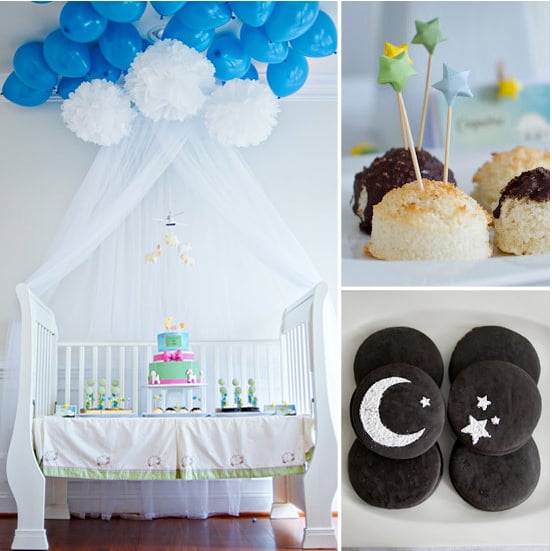 Lullabies may be designed to send your baby off to dreamland, but this lullaby-themed shower [23] was anything but sleepy. The party was inspired by a vintage lamb planter the dad-to-be's father gave to his mom the day he was born, along with a Cuban lullaby his mom sang to him when he was a baby. A sleigh-crib dessert table, Cuban desserts, and Vietnamese food (celebrating the parents-to-be's backgrounds), as well as an abundance of clouds, stars, and sweet lambs added to the shower's lullaby appeal.
Source: Rebecca Watkins Photography for Pure Joy Events [24]
A British Baby Shower
Prince George wasn't the inspiration for this British baby shower [25], but it was certainly a royal affair. Amanda Ready from Atlanta Event Studio [26] created a shower fit for a prince by mixing rustic farmhouse tables, wingback velvet chairs, and lots of English extras!
Source: Anchor & Eden [27]
A Simply Chic Orange-and-Blue Baby Shower
Sometimes all you need is one showstopping detail to take your baby shower from blah to wow. In the case of this orange-and-blue shower [28], the mom-to-be made use of some adorable stationary from Dear Lola [29]. Add in some famed cupcakes, a DIY [30] tassel and name garland, and a cute advice station, and you have one simply sweet shower.
Source: Dear Lola [31]
A Nautical Baby Shower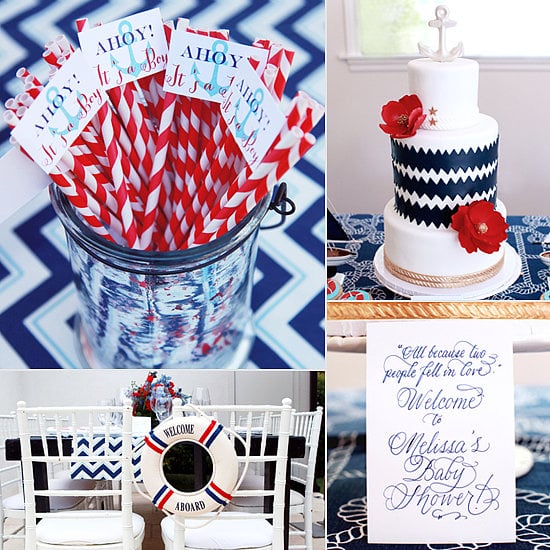 Ahoy baby! Cool table linens and flowers, clever signage, and a gorgeous cake were just a few of our favorite elements from this seaside shower [32], perfect for a Summer birth.
Source: Fancy That! Events [33]
A Cute and Clever Robot-Inspired Shower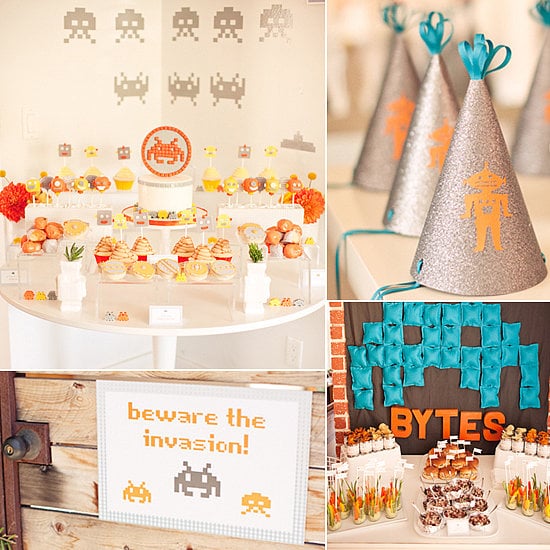 Does your mom-to-be have a passion for the paranormal? Leila Lewis of Inspired by This [34] used awesome backdrops and beautiful blooms to create a cute out-of-this-world shower [35].
Source: Inspired by This [36]