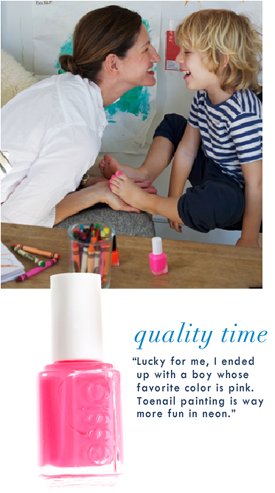 At some point, most lil boys are going to roll their eyes at the thought of helping their mother get gussied up for a night out. While lil girls are often happy to mimic their mama's hair and makeup routines, moms of boys (and I'm one, so I can attest to it) sometimes miss out on the rituals moms of girls can organize.
Jenna Lyons, J.Crew's creative director and mom to 4-year-old Beckett, posted some photos of a recent Saturday afternoon with her son on the company's site. Under a photo of her son with a neon pink pedicure, she said, "Lucky for me, I ended up with a boy whose favorite color is pink. Toenail painting is way more fun in neon."
Beckett isn't the only son to get in on the nail-painting action. Gwen Stefani has indulged both Kingston and Zuma in the nail art. What little rituals do you do with your boys?