No longer does creating the perfect boys' nursery involve painting the walls blue and choosing a bedding set featuring monsters, dinosaurs, or astronauts. As proof, check out the amazingly stylish real kids' rooms [1] we've discovered (check out our favorite girls' rooms [2], too!). From woodland themes to vintage-inspired chalkboard art, from chic chartreuse accents to globally sourced goods, these little boys' rooms offer some serious design inspiration.
A Modern Toddler Room Makeover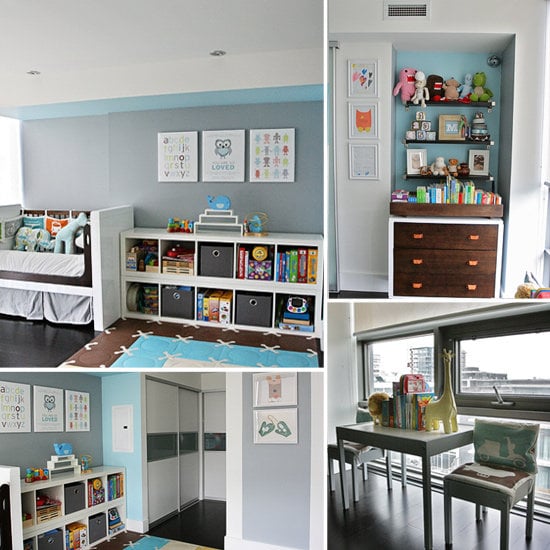 When LilSugar Community member MrsPiecemaker [3] (otherwise known as Janey) decided her 2-and-a-half-year-old son's nursery was ready for a "big boy" makeover, she went for a sleek, modern approach. "Finding new uses for old items can make the transition easier," she said. "I did it because I didn't want to have to put another item into our already-full storage room." Check out how she tackled the transitional tot's room here [4]!
An Industrial Shared Space For Boys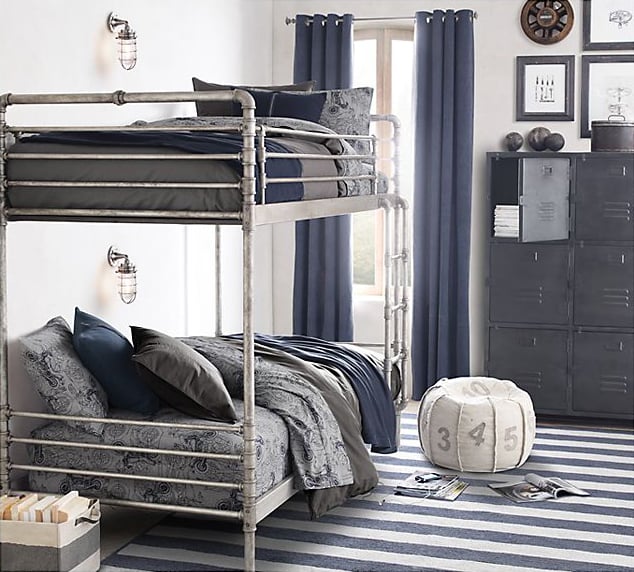 With Restoration Hardware Baby & Child's Industrial Steel Pipe Bunk Bed [5] as the focal point, this modern room has a hip, urban vibe. Cool blue and gray hues play off of the steel furniture.
Source: Restoration Hardware Baby & Child [6]
Spencer's Color-Poppin' Nursery
When your mom is a stylist and interior designer and your dad is a comedian and producer of Chelsea Lately, you're probably going to have a pretty cool, quirky room. And little Spencer's nursery doesn't disappoint. Shannon Wollack wasn't afraid of color when she designed Spencer's space, filling it with pops of orange, electric blue, and, most awesome of all, chartreuse. But those bold colors are grounded with lots of black-and-white elements, including a zebra rug and accessories and an amazing Alexander Calder lithograph hanging over the custom-made dresser. Check out all the details here [7].
Source: Shannon Wollack [8]
Wren's Globe-Trotting, Industrial Nursery
Baby Wren's parents spent a majority of their preparenting days exploring the world, so when it came time to settle down and create a permanent space for their new arrival, they wanted the room to reflect their wanderlust. "My husband and I love traveling, maps, and National Geographic," says Wren's mom, photographer Heather Cook Elliott [9]. "We thought it would be great to design a room for our new little traveler using the magazine as the inspiration."
Heather also had to consider the unusual layout of her home: "an old warehouse with cream city brick and half-height walls." "Our baby's room is also part of the living space in a way that most nurseries aren't, so we wanted the room to be adult and modern," she says. The result is a space that highlights the couple's traveling spirit with photos Heather took while on a safari in Tanzania, an awesome and affordable globe mobile, and lots of National Geographic yellow, along with modern elements (check out the white leather rocker!) that come together to create one gorgeous, global nursery.
Click through [10] to see some of the room's highlights!
Source: Heather Cook Elliott [11]
Charlie's Red, White, and Striped Nursery
It takes one brave, design-obsessed mama to paint three-toned stripes on her nursery wall at 35 weeks pregnant, but that's exactly what Belinda of Nest Design Studio [12] did while expecting her second son, Charlie. That striped wall isn't the only beyond-amazing element in the room. We're also loving the replica egg chair and pint-sized Eames table, the scattering of Ikea spice racks as book holders, and the gallery wall that's both modern and totally kid-appropriate. Click here [13] to see it all!
Source: Nest Design Studio [14]
Vintage-Inspired Big Boy Room
When it came time to transform her son's nursery into a big-boy room, Michelle, owner of Vintage Junky [15] who also sells her wares on Etsy [16], did what she does best: repurposing old furniture pieces and adding some character-rich artworks and DIY [17] projects. See all the vintage-junky style here [18], including an awesome DIY paper airplane mobile, a teepee [19] with its own DIY campfire and faux-fur rug, and some seriously covetable chalkboard art made by Michelle's husband.
A Serene But Playful Little Boy's Room
Most moms would agree that the goal of designing a nursery or child's room is to create a space that reflects the aesthetic of the rest of the house while also serving as a special enclave for the little one who lives there. The room that Nancy Twomey of Alexandria, VA-based Finnian's Moon Interiors [20] designed for the 2012 DC Design House is pure magic. The space is supremely serene, but it's also filled with playful touches that would make a little boy feel right at home. From the red wagon-turned-bookshelf to the delicate giraffe hooks, we're captivated by every detail. Click through [21], and be inspired!
Adella and Nolan's Creative, Book-Filled Playroom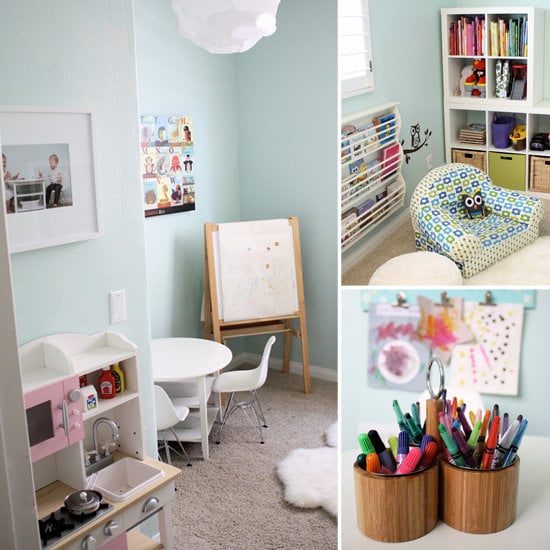 When Lexi Adams — a former fashion designer, blogger [22], and mom to Adella, 4, and toddler Noah — was looking for a new house with her husband, Tim, finding a home with a potential play space was at the top of her wish list. While the home they found wasn't quite playroom-ready, after two years of renovation and lots of trips to Ikea, they turned what was a home office into a light, gender-neutral, creativity-boosting playroom and tot-friendly library. Click here [23] to find out how Lexi created such an awesome playroom on a budget.
Source: Adella & Co. [24]
A City Circus Bedroom For Jenna Lyons's Son
When J.Crew Creative Director Jenna Lyons put her Brooklyn townhouse [25] on the market this past November, we benefited from the incredible virtual home tour. But as moms, we were most drawn to the bedroom belonging to Jenna's son, Beckett. The yellow-and-white-striped ceiling has a circus-like quality to it, and a single charcoal-colored chalkboard wall adds sophistication and whimsy at once, offering Beckett a fun space to get creative. Check out more photos here [26].
Source: Sotheby's International Realty [27] and J. Crew [28]
The Sweetest Norwegian Nursery For a Baby Boy
Blogger and mother-of-three, Ingvild documents her adventures in home renovation and interior design at Mali-Mo [29]. As the owner of a beautiful 1926 farmhouse in Norway, her aesthetic is quintessentially Scandinavian — white-washed wooden floors and walls, clean, modern furniture, and plenty of thoughtful details. Ingvild's son is the lucky inhabitant of a wonderfully light and airy room that's brimming with character. Click through [30] to see the Norwegian tot's space!
Source: Mali-Mo [31]
Baby Rhett's Sophisticated Custom Nursery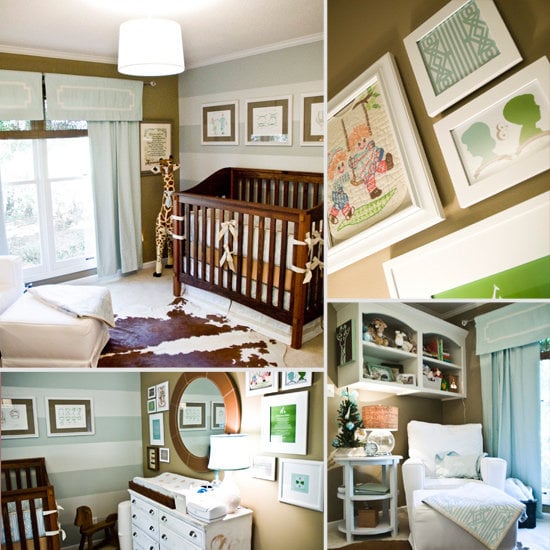 Savannah, GA-based Emily McCarthy of Emma J Design [32] makes paper and other products beautiful for a living. When she was preparing a nursery for her baby boy, Rhett, McCarthy took plenty of time and effort to ensure that the room was totally one of a kind. Check out all the details here [33].
Sophisticated, Glam, Navy-and-White Nursery
Nursery design and sophisticated style don't often go hand in hand, but Kate, one of five women who make up the blog Collect 5 [34], proves that it can be beautifully achieved. The space she created for her son Claude, who was born earlier this year, was initially inspired by amazing kids' creations from high-end designers Jennifer Delonge [35] and Kelly Wearstler [36], but Kate managed to re-create the luxe look using a combination of high-end and extremely budget-friendly pieces. While she splurged on a few items (including that amazing Thomas Paul for Duralee curtain fabric), she also scored deals on a big-box crib, a steal of a chandelier, and her husband's childhood bed, all of which make this room look deceptively expensive. Click here [37] to check out all the high and low details.
Source: Collect 5 [38]
A Space Built For Your Very Own Wild Thing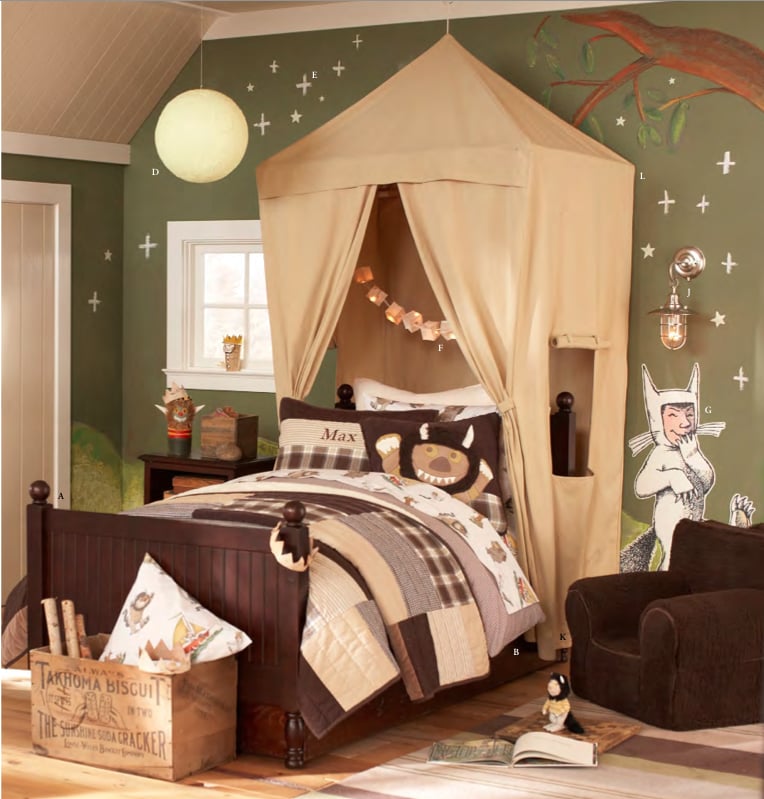 Favorite children's books can be a great source of inspiration when searching for kids room decor ideas. This mystical Where the Wild Things Are big boy's bedroom features Pottery Barn Kids furniture and bedding, including a canopy that makes every night feel like a camping trip!
Source: Pottery Barn Kids [39]
Baby Giacomo's Yellow-and-Gray Chevron Nursery
We love a baby room that's modern, soothing, and, unexpectedly, yellow and gray. Baby Giacomo's nursery, with its chevron-painted wall, stands out from the crowd. The space is filled with thoughtful details and plenty of one-of-a-kind DIY [40] projects, courtesy of creative mom Nadia of Mamemimany [41]. The former architect even created the chevron wall pattern using AutoCAD software, and her husband and mom helped out with the painting. Click here [42] to see more photos.
Cool Shades of Aqua, Gray, and Orange
We love the trend in childrens' rooms of cool over cutesy. And when a decor scheme is able to encompass kid-friendly patterns and colors that can grow with the little one, well, that's the best of both worlds. Utah-based interior designer Kirsten Krason [43] accomplished just that when she made over a bare-bones little boy's room in soothing but fun shades of aqua, gray, and orange. See more photos here [44].
A Global Big Boy Room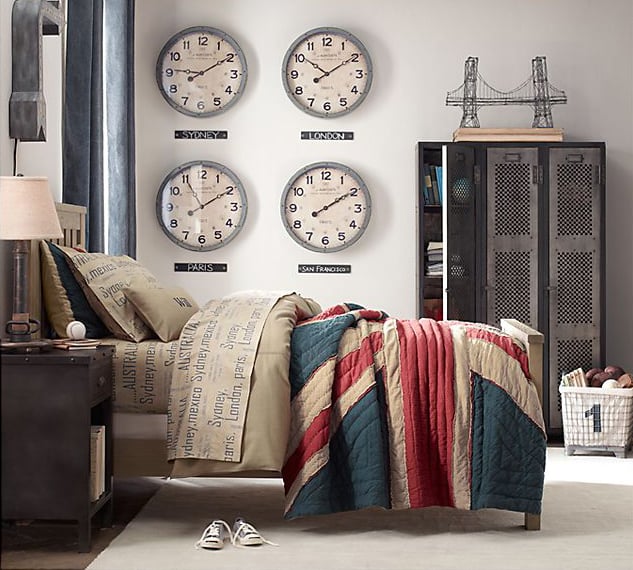 Your little globetrotter will feel right at home in this mature space that can last him well into his teen years. Restoration Hardware Baby & Child's Kenwood bed [45] is finished off with the brand's Union Jack quilt, and a grouping of oversized clocks makes it easy to keep track of friends no matter their time zone!
Source: Restoration Hardware Baby & Child [46]
Family-Friendly High Design in New York
Five active kids, five bedrooms, almost 5,000 square feet, and unlimited creativity (and we're guessing an equally large budget). That was the starting point for this amazing New York City loft and Incorporated Architecture and Design [47], the company charged with turning the cavernous space into a kid-friendly, colorful, fun space. Mom in residence Kelly grew up in Santa Cruz, CA, and while she loves raising her kids in Battery Park, she wanted to re-create the front and backyard of her childhood — indoors. An urban treehouse, which cleverly incorporates Cole & Son's Woods wallpaper, a life-sized cartoon tree in a girls' room, and areas dedicated to climbing, playing, dancing, homework, piano, and more accomplish her dream in outrageous style. Click here [48]; you have to see this house to believe it!
Source: Annie Schlechter for Incorporated [49]
A Modern Nursery Infused With Animal Prints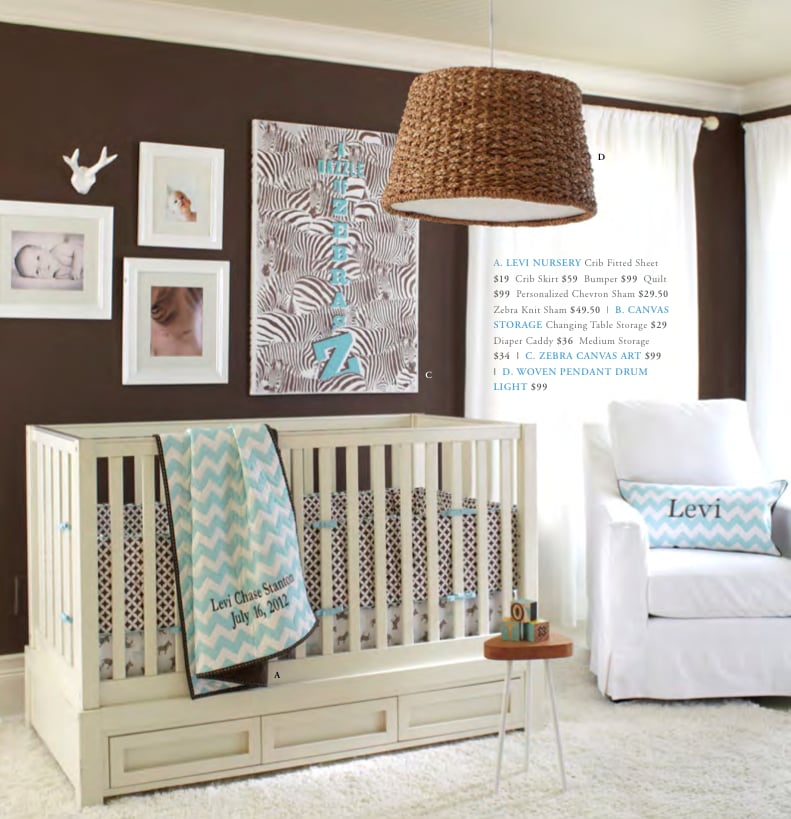 Skip the teddy bears and puppy dogs, and instead infuse some animal inspiration to your nursery in the form of subtle tiger and zebra print accents. This Pottery Barn Kids-outfitted room also shows that it's OK to go with a dark wall color in the nursery — just keep furniture and carpeting light and bright.
Source: Pottery Barn Kids [50]
Baby Dylan's Hip Nursery
Baby Dylan's parents were in for the surprise of a lifetime when, at the last minute, their doctor informed them that the little girl they were expecting was actually a boy! Jennifer Jones of Niche Interiors [51] came to the rescue and was able to salvage some of the nursery pieces that had already been purchased and transform them into the perfect room for a hip baby boy. Check out the details here [52].
A Little Fossil Hunter's Fantasy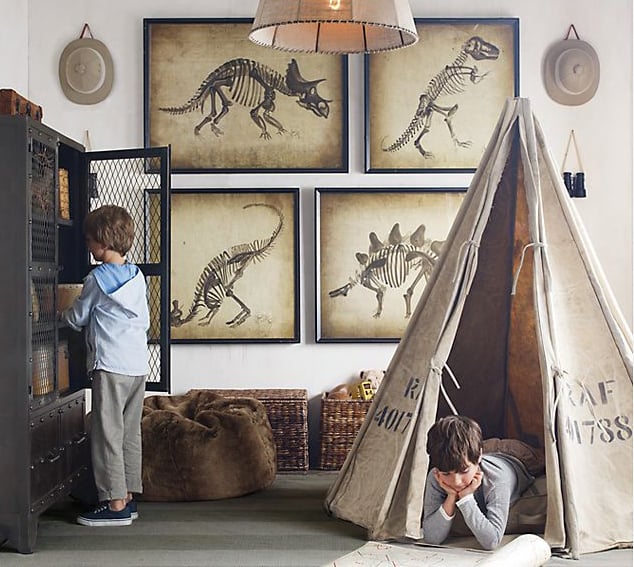 Is it a playroom or a history museum? Restoration Hardware Baby & Child's recycled canvas play tent [53] makes a special space for resting, playing, or just hanging out. Check out the little explorer's hats hanging on the walls — little touches can make a big impact!
Source: Restoration Hardware Baby & Child [54]
A Traditional Space For Your Little Space Explorer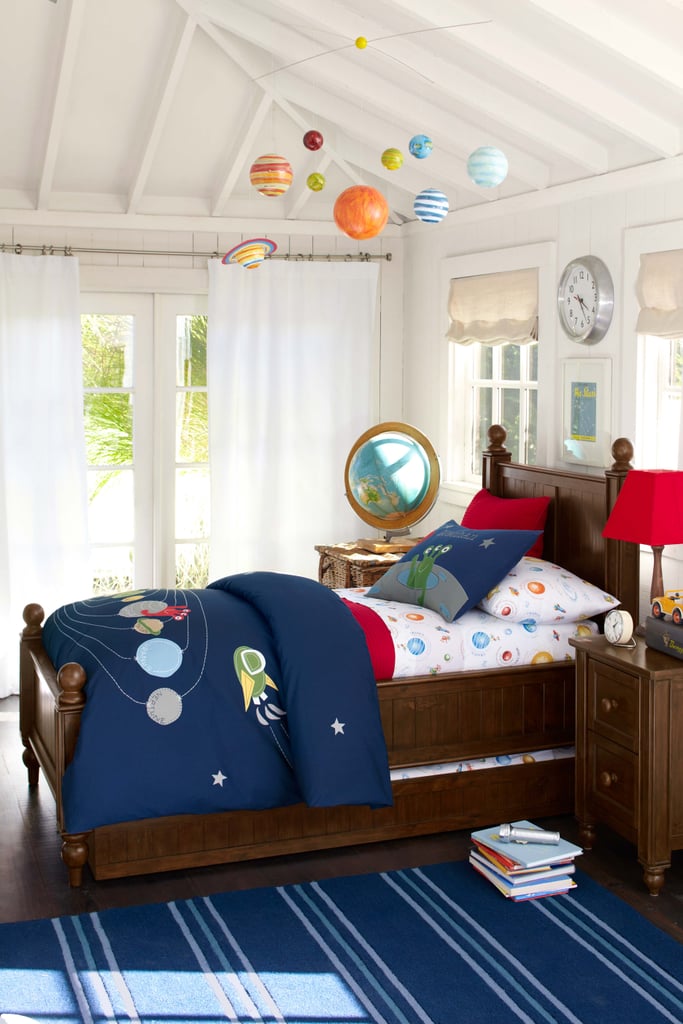 Your big boy's room may already be the final frontier when it comes to keeping a clean house, and now it can look like that even when it's clean. We love Pottery Barn Kids' Nathan bedding collection [55] complete with planets, stars, and even the requisite alien. The solar system mobile hanging from the ceiling helps complete the room and carry the space theme up vertically.
Source: Pottery Barn Kids [56]
Mason's Woodland Bedroom
When your mom is the president of Nurseryworks [57], you're probably going to score some pretty awesome furniture (like Blue Ivy-caliber awesome [58]). And the woodland retreat where Mason (the son of Nurseryworks' Traci Fleming) rests his head definitely doesn't disappoint. See more photos here [59].
Source: Bethany Nauert via Apartment Therapy
Molly Sims's Eclectic Blue Room For Baby Brooks
Molly Sims is known for her impeccable style, so it's no surprise that the model and actress put her expertise to work when designing baby Brooks's nursery. Her son's comfortably modern room [60] has a French blue color scheme and fun animal accents that are subtle but inviting among the patterned window coverings and pillows.
Source: MollySims.com [61]
A "Very Boy" Nursery
For Beau Dykstra, baseball season lasts all year long! That's because his nursery is filled with enchanting little baseball trinkets [62] and adorable details in every corner. Actress Jamie-Lynn Sigler and professional baseball player Cutter Dykstra explained that their goal was to create a "very boy" room for their now-6-month-old son. "I wanted everything to be very simple," she said, "and the embellishment in the accessories."
Source: Chris Patey [63] for Domaine Home [64]