Breakfast Pizza
From Sarah Lipoff for POPSUGAR Moms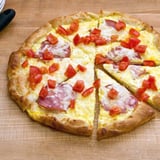 Ingredients
11-ounce tube of refrigerated pizza dough
4 eggs
1/4 cup milk
Dash of salt and pepper
1 cup shredded mozzarella cheese
Canadian bacon
Fresh chopped tomato (optional)
Directions
Preheat your oven to 400F and lightly grease a 13-inch pizza pan. Remove the refrigerated pizza dough from the tube, and invite your child to carefully press the dough around the pan, leaving a bit of extra dough around the edges to help hold in the egg mixture.
Whip the eggs with the milk, and add a dash of salt and pepper. Carefully pour the mixture over the crust.
Top with the shredded cheese and a few rounds of Canadian bacon.
Pop the breakfast pizza in the oven and bake for 10 to 12 minutes, or until the egg has set.
Add a touch of freshness with a sprinkling of chopped tomatoes, and serve.
Information
Category

Eggs, Breakfast/Brunch