The Breast Milk Baby Doll Teaches Children How to Breastfeed
Ga Ga or Gag? The Breast Milk Baby Teaches Girls How to Breastfeed
Sometimes an addition to the family makes the big sibling want to play mama too! And toy makers are happy to oblige, with baby dolls that do everything from laughing, crying, and eating, not to mention less cute bodily functions. But if your older one is asking about breastfeeding, do you teach her how it's done with her dolls?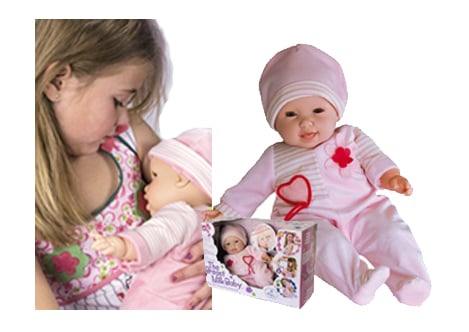 The Breast Milk Baby ($90) is meant for just that. The realistic-looking doll comes with an accompanying bib for a tot to put on — with two appropriately placed flowers for "feeding." When the doll's mouth is placed next to a flower it starts making suckling noises, and there's even a burping step once it's done.
Berjuan Toys, the maker of the doll, says that teaching young children how to breastfeed is important because they need to learn about the many benefits of nursing. "Little girls need to breastfeed," the manufacturer says, in order to help promote it as a "the most loving, healthy practice for a mother and her infant." Would you buy your child the Breast Milk Baby?