Breastfeeding Drinks: Ga Ga or Gag?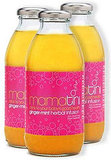 Breastfeeding is hard work for a mama. It requires encouragement and dedication and even a few remedies to get through the initial discomfort. It's stressful enough that you may want a martini (that is, if you pump and dump) but would you down an alcohol free drink in the name of milk production?
Mamatini is a natural bottled drink that's "designed specifically to meet the needs of breastfeeding women." While it isn't a magic potion to make baby latch on, it does contain vital nutrients such as vitamin A and C and fenugreek — said to help your milk production — and calming chamomile and ginger. You can get 12 bottles for about $40. Would you stock up?