Breastfeeding in Public
Why Didn't Anybody Tell Me: Breastfeeding Is Messy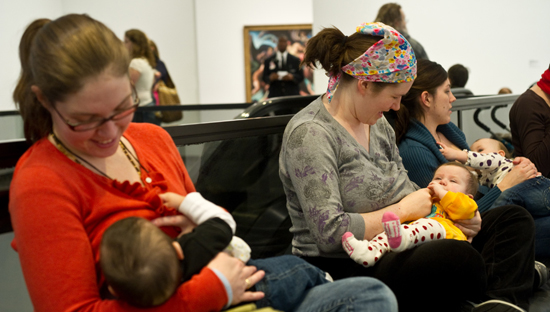 When I was pregnant, I'd look longingly at the women who sat in the park or at a restaurant and discreetly nursed their lil ones without ever fumbling the child or their cover in the process. It all looked so easy and natural. I was sure that I would be one of them after giving birth.
After my son arrived, it took me a while to get the hang of nursing him. For each session I was surrounded by a stack of burp clothes, bottles of water, and the occasional nipple shield to help both of us through the process. Switching him from side to side always resulted full-frontal exposure, dribbles of milk down the front of us, and an awkward shift as we both got comfortable. With such a cumbersome routine, it's no surprise that I never took my nursing public.
I never spoke with anyone about my leaky, messy process (I assumed I was doing something wrong) until last week when I attended an event for a new breastfeeding support system (more on that to come). The kit includes a nursing cover with a built in burp cloth to absorb leaks. When I inquired about it, they said most women complain that that they drip milk when taking their child off their breast, and this was a built in solution. Genius! I only wish I had known there were other messy breastfeeders when I was leaking away!