Bribing Kids to Eat Vegetables
Doctors Say We Should Bribe Our Kids to Eat Well
We're excited to share this post from our partners at BabyCenter! Every week, we will be bringing you the best parenting and lifestyle stories from the experts at BabyCenter, including this post from Dr. Lisa Dana about convincing kids to eat healthy foods.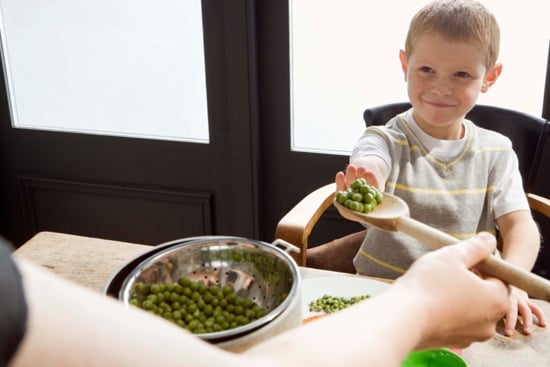 A study out of the University College London in the United Kingdom says yes. Reuters reported on the study.
Children rewarded with a small sticker after eating 3 to 4 bites of a previously disliked vegetable would ultimately change their attitude toward the vegetable. After the 12 day experiment, kids who were rewarded with stickers, would change their opinion from "yucky" to "okay" or "yummy."
Related: Teaching Bad Sleep Habits
The experiment compared three different groups of children. One group was rewarded with a small sticker after eating vegetables, one group received verbal praise, while the control group was simply offered the vegetable without praise or rewards for eating. The vegetables in the study included carrots, celery, cucumber, red pepper, cabbage and sugar snap peas.
The children in the reward group gave higher ratings to the previously disliked vegetable, and they were more likely to eat it 3 months later.
Jane Wardle, a researcher on the project emailed Amy Norton of Reuters, "We would recommend that parents consider using small non-food rewards, given daily for tasting tiny pieces of the food — smaller than half a little finger nail."
I have never been an advocate for the reward system. Why do we need to bribe kids to do something that is ultimately good for them. Also, when do the rewards stop? I believe that if we start healthy eating habits early, then babies and toddlers will love these healthy foods from the beginning.
When parents tell me that their toddlers and children are picky with vegetables, I suggest they keep trying. At meals, offer vegetables first, and if you are out and about, bring it along as the snack option. You should also expect to offer it at least 15 different times before giving up on a particular food.
As the kids get older, I speak directly to the kids about healthy eating options. I remind them how important vegetables are for their growing bodies. I also tell them that no one, including their parents wants to argue about food at meal time. Meal time should be more relaxing. For these older picky eaters, I ask that when they return for their annual check up in a year, that they try to expand their repertoire by at least 3 -4 new foods.
*Note: The advice provided in this blog is for informational purposes only and is not a substitute for medical diagnosis, advice or treatment for specific medical conditions
More great stories from BabyCenter.com:
7 guilt trips moms can do without
7 gifts you pray your kids don't get this year
Do you spoil your kids? Should I?
Do the kids sit at a different table?
You know you're a mother when . . .