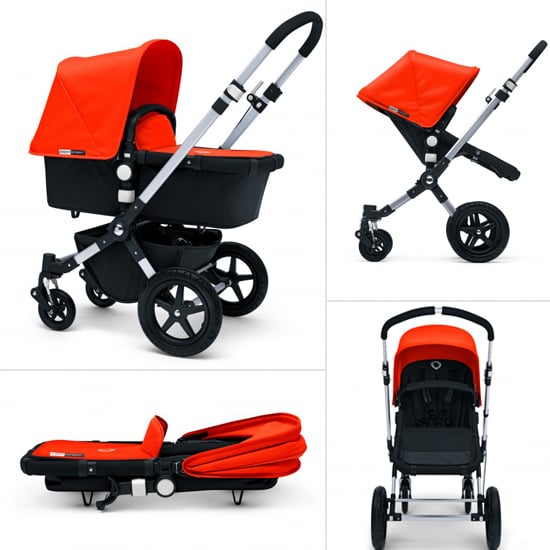 As a devout user of the Bugaboo Cameleon, I was thrilled to have the opportunity to spend a month "test-driving" the new Cameleon3 over the past four weeks. Since my son was born nine months ago, I've spent significantly more time behind the handle of our Cameleon than I have behind the wheel of my car. Having the 2012 edition parked literally side by side with the Cameleon3 for the past 30 days gave me the unique perspective of being able to compare and contrast every detail and feature. Here are the ins and outs of what I learned during my time with the new set of wheels:
What's Improved and Great
Increased underseat storage: While I don't have the exact dimensions available, the underseat bag on the Cameleon3 offers additional storage space and can be pulled shut with a drawstring so that whatever you're toting around stays protected. This is a great feature for city moms, who are likely to take their strollers out on errands and stash purchases in the stroller bag.
Flat-fold bassinet: City moms will especially appreciate this thoughtful space-saving measure.
Padded adjustable harness: This was a major upgrade! The new harness was a lot more secure (a bonus for this mom especially, who has to bump her stroller down eight steps to get out of the house), and the padding seemed a lot comfier for baby.
What's Improved and Unnoticeable
A stronger chassis: This may be true, but the previous Cameleon certainly wasn't lacking for strength and stability.
Keep reading for more details on the new stroller.
What's New and Great
One-hand-release bassinet: While I didn't test the bassinet (my little guy is too big for it), in my book, one-hand release is a major advantage to anything stroller-related.
An easier-to-fold base: While the functionality is very similar on the Cameleon3 as it is on its predecessors, the process of folding up this stroller's base is even smoother.
Easy-releasing wheels: Both front and rear wheels on the Cameleon3 pop off with the quick press of a button, allowing for easy, sleek stroller storage.
What's New and Unnoticeable
Updated design: While the Cameleon3 has been redesigned for a sleeker and more streamlined look, to the untrained eye (or new mom), the differences are too subtle to notice.
Editor's Note: The carry handle on both the Cameleon and the Cameleon3 was recently recalled. To learn more about the recall, and to ensure that your child's stroller is safe (the brand will replace all affected handles), visit Bugaboo's website.
The Bugaboo Cameleon3 is available now, starting at $979.