Bugaboo iPhone Holder Review
Mommy's Lil Helper: Bugaboo iPhone Holder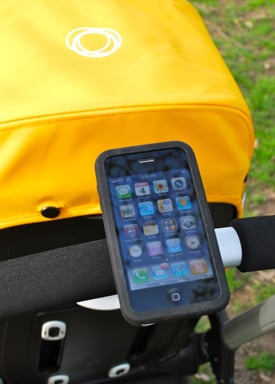 Motherhood can be a juggling act for mamas who like to text and walk. Try pushing your tot along in her stroller while scheduling a playdate with a friend and sipping a latte. We just don't have enough hands to do it all. Following the introduction of the Texthook smartphone holder last year, Bugaboo is putting its own spin on the art of walking and talking with the (BUGABOO) RED iPhone holder ($25).
Available on May 1, the stroller giant sent me one of the first devices off the line to take for a spin. With Spring in the air, I spent the better part of last weekend navigating my city's parks with the phone attached to a new Bugaboo Bee. While I loved the convenience of having my iPhone within my line of sight at all times, I found myself becoming engrossed in responding to emails and checking my friends' Facebook statuses when I could have been paying more attention to my tot. To see my review,
.
Who is this product designed for? Moms and dads whose iPhones need to be surgically detached from their hands.
Is it practical? Yes. For parents who are constantly pulling their mobile devices out of their pockets to see who has called or to look something up, the holder keeps the phone within eyeshot at all times. Bugaboo is also rumored to be introducing an iPhone application later this year that will track traveling distances, speed, etc., making the device even more practical.
What sets it apart? Specifically designed for the Bugaboo Cameleon and Bee strollers, the iPhone holder simply slips right onto the handlebar without any need for adjustment. Its silicone shell easily fits over the phones for easy attachment and can be left on the phone (even when it is removed from the holder) to protect the device from scratches. It rotates a full 360 degrees to allow for horizontal and vertical typing and browsing. The company will also be donating one percent of all revenue from sale of the device to the Global Fund to help eliminate AIDS in Africa.
What could be better? As the owner of an original Bugaboo Frog, it would be nice if the device fit that model as well (though it can be stretched to fit the Frog, it isn't designed for it).
Would I buy it? Yes, if I owned a Cameleon or a Bee. But I would place some rules on myself to ensure that I was paying enough attention to my tot while I strolled.
Would I give it as a gift? Yes. Especially if I had a friend who could not be separated from her iPhone.
Did it make baby happy? My six-month-old son did enjoy the tunes I played as we walked through the park.
Does it keep your hands free? When paired with the iPhone's ear buds, the accessory makes for truly hands-free walking and talking.