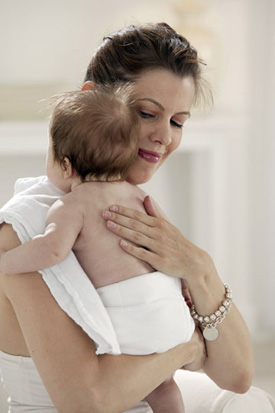 Um, excuse me! When it comes to burping baby, everybody has an opinion. One mother will tell you to stop mid-feeding to get a burp out, while others let their lil ones wait until the end. Some say placing the lil one on their shoulder gets the burp out every time, while another mama swears by placing baby across her lap on his belly. With six to eight feedings each day, it's no surprise that parents have tried just about everything in the book to ease the burps out of their babies.
Though baby's burps need some coaxing to be heard, mom's and dad's may not. While sitting with a friend and her newborn recently, she placed her baby on her shoulder and began tapping away. A few seconds later, a distinctive burp could be heard — not from baby, but from the mama herself. After a nervous laugh she informed me that every time she burps the baby, she finds herself burping too. A quick survey of friends found this to be the case for several new moms. So be prepared to cover your mouth when burping!
We want to hear your shocking, funny, embarrassing, and insightful pregnancy and motherhood stories. Create a post and tell us all about it in our Why Didn't Anybody Tell Me? group.