Butternut Squash Risotto With Bacon Recipe From Rachael Ray
Kid-Friendly Thanksgiving Recipe: Bacon and Butternut Risotto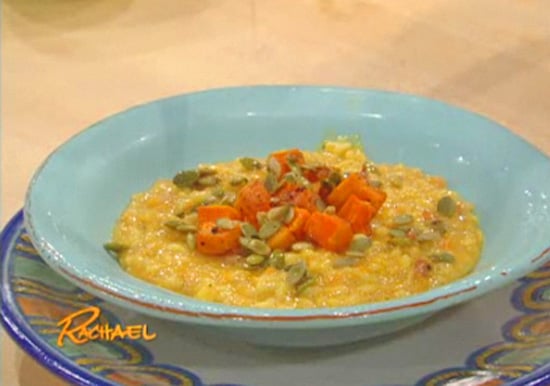 Change things up this holiday with a Thanksgiving dish from the queen of easy, delicious, and quick meals, Rachael Ray! On a recent episode of the Rachael Ray Show, Rachael unveiled her new favorite recipe, bacon and butternut squash risotto.
Risotto is an inexpensive and delicious meal for entertaining. It's sounds fancy and everyone loves it — including kids! — but it's just rice. This quick recipe only takes 20 to 25 minutes to prepare and works well as an entrée or main dish, so consider adding it to your Thanksgiving menu. Keep reading for the delicious, kid-friendly Thanksgiving recipe!
Bacon & Butternut Risotto
Ingredients
1 medium-large butternut squash, peeled and cut into 1-inch dice
EVOO – Extra-Virgin Olive Oil, for drizzling, plus 2 tablespoons
Salt and pepper
Freshly grated nutmeg
Honey, for drizzling
1 quart chicken stock
1 generous pinch saffron threads
1/4 pound slab bacon or pancetta, diced
1 small yellow onion, finely chopped
2 to 3 cloves garlic, very finely chopped
1 1/2 cups carnaroli or arborio rice
1/2 cup dry white wine
3 tablespoons butter
1/2 to 3/4 cup grated parmigiano-reggiano, a couple of handfuls
Directions
Preheat oven to 400ºF.
Place squash on baking sheet and dress with EVOO, salt, pepper, nutmeg and a drizzle of honey.
Toss to combine, then arrange in a single layer and roast til tender for about 20 minutes.
Remove half the squash to food processor and puree with a little water or stock.
Heat stock with saffron and 2 cups water in a sauce pot. Keep warm over medium-low heat.
In a medium pot with rounded edges at bottom, heat 2 tablespoons EVOO over medium-high heat.
Add bacon or pancetta and render to lightly crisp, for about 2-3 minutes.
Add onions and garlic and stir to soften, for about 2-3 minutes more.
Add rice and season with salt and pepper; toast for 2 minutes, then stir in wine and let evaporate.
Add a few ladles of stock at a time stirring rapidly with each addition to build starchy, creamy quality. Rice will take 18 minutes from first addition of liquid to cook to al dente.
Stir in squash puree and melt in butter.
Add grated cheese and taste risotto for seasoning.
Serve in shallow bowls garnished with reserved diced, roasted squash.
Servings: As entrée, serves 10 to 12; as main dish, serves 6 to 8
Information
Category

Rice, Main Dishes

Cuisine

Italian
Source: Rachael Ray