CBS' Accidentally On Purpose Season Finale
Mary Pols on Watching Her Accidentally on Purpose Life on TV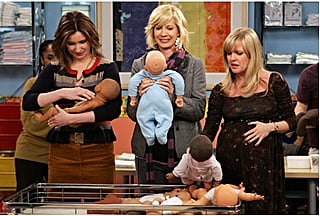 A mom's life may play out like a sitcom, but no woman ever expects to actually watch hers on the small screen. This is exactly what happened to Mary Pols, author of Accidentally on Purpose the brilliant memoir of a 39 year old who had a one-night stand and ended up pregnant. I recently had a chance to chat with Mary about how her book became a CBS show starring Jenna Elfman. The first part of the season finale airs tonight.
LilSugar: It's one thing to write a memoir that people can purchase and read, it's another to have your life (or a show based on your life) broadcast on national television, how did you deal with everyone knowing your business?
Mary Pols: The thing about the show is, it's so different from my actual life — which sadly, does not include having shirtless Jon Foster to make out with on a regular basis — that it now feels like it's its own entity. Billie's got the same profession I have, although a different employer (I no longer write for a Bay Area newspaper, I review movies for Time and write a parent-oriented entertainment column for MSN), and she got pregnant on a one-night stand with a much younger man, but after that, our paths really diverge. She's less controlling, freaked out by her situation and just generally nicer than me.
LilSugar: In More magazine you wrote that Accidentally on Purpose was something you "slaved and wept over" and were really proud of and that you hoped that the CBS show would get the memoir into more hands. Has it?
Mary Pols: I think the memoir has reached a few more hands, definitely. Perhaps mostly the writers and actors on the show, who seem to have diligently done their homework even though the story is so different. I got the loveliest email from Lennon Parham, the very funny actress who plays Billie's sister, after she read the book, which was so kind it made me cry! And I was really touched when Nicolas Wright, who plays slacker stoner Davis, told me during a set visit that he'd read Accidentally on Purpose and loved it. And I think some strangers are finding it too, just based on the emails I get. Although I think people expecting a light and frothy, sitcom-style story would be surprised. There's a lot of sadness in my book, a lot of trying to come to terms with things that don't work out in a happy, easy way. You know, like life.
To see how Accidentally on Purpose went to Hollywood and what Mary's baby's dad thinks of it all, just
.
LilSugar: How did the series come about and how involved are you in the show? What is it like to watch Jenna Elfman play you?
Mary Pols: The book was optioned and the producer, Gail Berman, who is cool and smart and a powerful woman, just took it from there. My only involvement is to be a cheerleader and to occasionally send emails like, "you know, the newspaper industry is in the toilet so if you want any background on that, give me a call." But I think it's healthier to stay out of it. I've been down to the set twice, and everyone was so nice to me. It was surreal beyond belief the first time and just kind of fun the second time. Here's what I'll say about Jenna Elfman: She looks about 25, is about 6 feet tall and even dragging around a vast and entirely authentic baby "bump," is just really, really lovely. So it's flattering. And I think she has great, very natural comic timing and even though she's positively dainty in person, projects an earthiness I enjoy a great deal. Also, it is so fun to see a real life pregnant woman on TV who is not hiding behind grocery bags or cereal boxes as she grows. In real life Jenna just had her baby, Easton, a few weeks ago, and she just sent me a photo. He's gorgeous and I feel a weird little thrill that she ended up having a little boy born in early March, just like I did. Cool little kharma thing there. With Dharma no less.
LilSugar: How did /does Matt feel about the book and subsequent show? Did parts like the "strawberry" bit upset him?
Mary Pols: I think the TV show was actually harder for Matt to come to terms with than the book. Which is surprising in a way because the book is all truth and the show is way kinder and gentler to his character than I was. He's only seen a few episodes, I think, and God knows, I'm not going to force it on him. But he's such a good guy that I believe he hopes, as I do, that the show will be renewed. He knows how much I want to buy our son a house.
Check out Lil next Wednesday to see what Mary had to say about raising her 6 year old, her relationship with his father, and the finale secret she divulged!

Photos copyright 2010 CBS Inc.