Gap is seeking photos of adorable tots from around the US as part of its hunt for the country's cutest kids. We are so excited to be partnering with Gap this year to help bring you the third annual Gap Casting Call.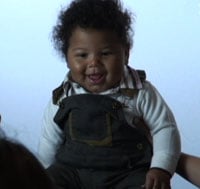 Twenty finalists will win a trip to our hometown of San Francisco for a professional photo shoot and other cool prizes — GapKids wardrobe, anyone? You can head over to the Gap Casting Call entry page and submit your child's photo today, or look for local casting calls in your area throughout the month of October.
For a list of Gap stores hosting Gap Casting Calls this month,
.


Gap Casting Call Date and Location
Contact Info and Hours
Friday and Saturday, October 3 and 4
Michigan Avenue
555 N Michigan Avenue
CHICAGO, IL 60611
Phone: (312) 494-8580
Casting Call open from 9am to 3pm
Friday and Saturday, October 3 and 4
Mall of America
60 E Broadway
BLOOMINGTON, MN 55425
Phone: (952) 854-1011
Casting Call Event Hours 10am to 4pm
Friday, October 3
Deer Park
20530 N Rand Road
DEER PARK, IL 60010
Phone: (847) 540-1948
Casting Call Hours 10am to 4pm
Friday, October 3
Old Orchard Shopping Center
4999 Old Orchard Shopping Center
SKOKIE, IL 60077
Phone: (847) 982-0505
Casting Call Event Hours 10am to 4pm
Saturday, October 4
Oakbrook Center
432 Oakbrook Center
OAK BROOK, IL 60523
Phone: (630) 573-5145
Casting Call Event Hours 10am to 4pm
Saturday, October 4
Orland Square
460 Orland Square Drive
ORLAND PARK, IL 60462
Phone: (708) 349-3135
Casting Call Event Hours 10am to 4pm
Friday and Saturday, October 10 and 1
Willowbrook
1400 Willowbrook Mall
WAYNE, NJ 07470
Phone: (973) 256-7122
Casting Call Event Hours 10am to 4pm
Friday, October 10
Cherry Hill Mall
2000 Route 38
CHERRY HILL, NJ 08002
Phone: (856) 663-3584
Casting Call Event Hours 10am to 4pm
Friday, October 10
Garden State Plaza
290 Garden State Plaza
PARAMUS, NJ 07652
Phone: (201) 368-0772
Casting Call Event Hours 10am to 4pm
Friday, October 10
South Shore Plaza
250 Granite Street
BRAINTREE, MA 02184
Phone: (781) 843-6693
Casting Call Event Hours 10am to 4pm
Saturday, October 11
Kings Plaza
5100 Kings Plaza
BROOKLYN, NY 11234
Phone: (718) 253-1125
Casting Call Event Hours 10am to 4pm
Saturday, October 11
Americana Manhasset
2054 Northern Boulevard
MANHASSET, NY 11030
Phone: (516) 627-6251
Casting Call Event Hours 10am to 4pm
Saturday, October 11
Northshore
210 Andover Street
PEABODY, MA 01960
Phone: (978) 531-0229
Casting Call Event Hours 10am to 4pm
Friday and Saturday, October 17 and 18
Dadeland
7271 N Kendall Drive
MIAMI, FL 33156-7853
Phone: (305) 662-8614
Casting Call Event Hours 10am to 4pm
Friday, October 17
Aventura
19575 Biscayne Boulevard
AVENTURA, FL 33180
Phone: (305) 935-4673
Casting Call Hours 10am to 4pm
Friday, October 17
The Gardens Mall
3101 PGA Boulevard
PALM BEACH GARDENS, FL 33410
Phone: (561) 624-1810
Casting Call Event Hours 10am to 4pm
Friday, October 17
Lenox Square
3393 Peachtree Road NE
ATLANTA, GA 30326
Phone: (404) 233-3229
Casting Call Event Hours 10am to 4pm
Saturday, October 18
Cocowalk
3015 Grand Avenue
COCONUT GROVE, FL 33133
Phone: (305) 529-9499
Casting Call Event Hours 11am to 5pm
Saturday, October 18
North Point
1082 North Point Circle
ALPHARETTA, GA 30022
Phone: (770) 751-9889
Casting Call Event Hours 10am to 4pm